For the fourth time now, AC Schnitzer has been involved in equipping a campaign vehicle for the TUNE IT! SAFE! initiative by the Association of German Automobile Tuners e.V. (VDAT), which celebrates its 10th birthday this year. The anniversary vehicle "Police BMW X4 20i TUNE IT! SAFE! by AC Schnitzer" by VDAT, which has been upgraded by the Aachen-based specialists, will be presented at the Essen Motor Show from 29.11. to 7.12.2014.
Every year since 2004, a special police concept vehicle has been presented which meets both the high demands of tuning fans and maximum safety standards. For the fourth time, BMW specialist AC Schnitzer has taken the lead in converting this police car as part of the campaign which is supported by the Federal Ministry for Transport, Building and Urban Development.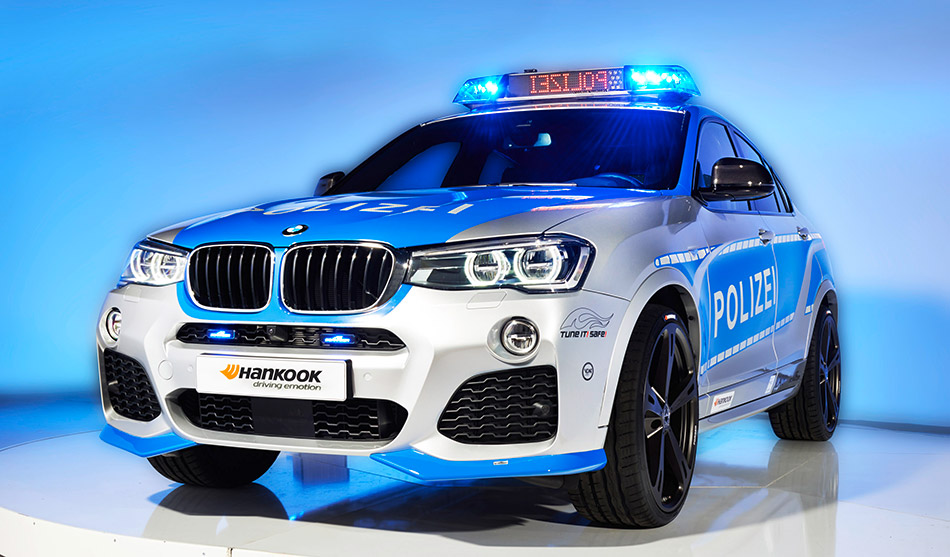 Candidates for police service are tested for their performance. The same applies to the BMW X4 20i, which in the TUNE IT! SAFE! variant by AC Schnitzer can expect a performance upgrade from 184 to 245 hp. The top speed limitation at 212 km/h doesn't hamper the X4 in the pursuit of offenders: the vehicle accelerates from 0 to 100 km/h in just 6.7 seconds, and on longer pursuits takes only 17.5 seconds to increase its speed from 80 to 180 km/h. The AC Schnitzer engine styling shows that the concept car convincingly passed the police performance test.
A further advantage for tricky situations is provided by the aerodynamic products from Aachen: AC Schnitzer front spoiler elements, rear diffuser (both for vehicles with M-Technik pack) and AC Schnitzer carbon mirror covers make the police BMW X4 20i TUNE IT! SAFE! by AC Schnitzer a worthy opponent which always gains ground even on corners, thanks to its suspension spring kit with lowering by around 30 mm (front) and 25 mm (rear).
The sonorous note comes courtesy of the AC Schnitzer silencer with 2 chromed "Sport" tailpipe trims each side in right/left combination, perfectly integrated into the rear diffuser. But to warn other road users even more clearly of the approaching police vehicle, there are the special police "RTK 7" signalling system and flashing lights from Hella. The latter come in AC Schnitzer design, the style of which continues into the interior: aluminium pedal set, aluminium foot rest, keyholder and velours floor mats make the X4 into a stylish utility vehicle.
AC Schnitzer Type V forged alloys in Anthracite, in conjunction with corresponding Ventus S1evo tyres in 265/30 R 22 from Hankook, keep the police BMW X4 20i TUNE IT! SAFE! by AC Schnitzer safely on the road. There, although the concept car may only be driven by the police, it impressively demonstrates the possibilities of safe tuning for private driving enjoyment. All tuning elements are naturally TÜV-approved and are also suitable for everyday use.
Source: AC Schnitzer
Gallery:
AC Schnitzer BMW X4 20i Police (2014)