The award-winning Hyundai Genesis sedan continues its segment leadership with exterior design improvements, new direct injection technology for its Lambda V6 engine, new eight-speed automatic transmissions, and enhanced chassis tuning. In addition, a new 5.0-liter direct injection V8 engine is now available exclusively with the 5.0 R-Spec model, which includes unique 19-inch machined-finish alloy wheels, optional Michelin Pilot Sport PS2 summer performance tires and sport-tuned transmission, suspension and steering calibrations for exhilarating vehicle dynamics.
New 5.0 R-Spec: most powerful hyundai V8 engine ever
The heart of the Hyundai Genesis 5.0 R-Spec model is a new Tau V8 engine producing 429 horsepower at 6,400 rpm and 376 lb. ft. of torque at 5,000 rpm. This new Tau V8 represents the most powerful Hyundai engine ever, with a higher specific output (85.8 hp/liter) than its normally-aspirated premium luxury competitors. For 2011, the Tau V8 engine family has again been named to the prestigious Ward's Ten Best Engines for the third consecutive time
The 5.0-liter cylinder bore was increased from 92 mm to 96 mm over the 4.6-liter bore for a total displacement of 5.0 liters (5,038cc). In addition to the enlarged displacement, direct injection technology has been added. This high-pressure direct injection system (over 2200 psi), dramatically increases power and torque while reducing fuel consumption and emissions. Compression ratio has been increased from 10.4 to 11.5:1 for greater thermal efficiency and output. The Tau also receives a revised bed plate for improved block rigidity and lower NVH as well as camshaft carriers and a roller timing chain to improve valvetrain stability.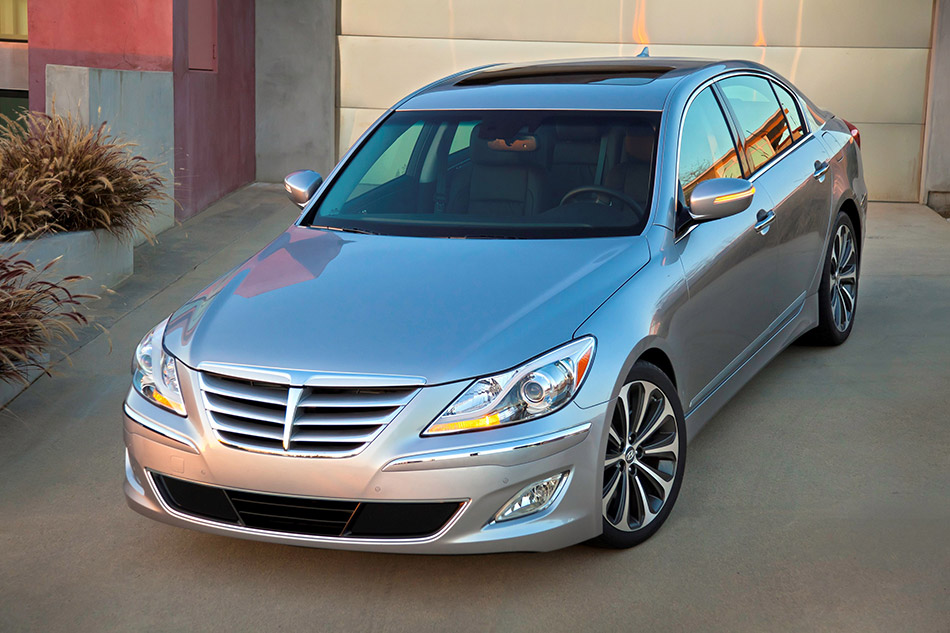 Even more, this new V8 still offers all of the premium engine technology from the 4.6-liter V8, including Dual Continuously Variable Valve Timing (D-CVVT), a tuned variable induction system, and low-friction diamond-like coatings (DLC) on piston skirts, rings and tappets. Even with these impressive power increases, fuel economy is estimated at 16 mpg city and 25 mpg highway, nearly matching the 4.6-liter V8 (17 mpg city/26 mpg highway). As an additional point of interest, this same 5.0-liter Tau V8 with eight-speed transmission will replace the current 4.6-liter V8 as the standard powertrain in the 2012 Hyundai Equus premium luxury sedan, on sale this summer.
The Tau 5.0-liter V8 is coupled with a new in-house eight-speed transmission. This new Hyundai-developed transmission adds two additional ratios to enhance acceleration, shifting smoothness, and transmission efficiency by six percent over the former six-speed. All eight-speed transmissions will include SHIFTRONIC® manual shift capability. This new eight-speed transmission is the first offered by a non-luxury branded manufacturer.
In keeping with Hyundai engineering philosophy, the R-Spec also will include more aggressive chassis tuning, matching its corresponding powertrain enhancements for optimal dynamic balance. For enhanced body roll control, front stabilizer bar diameter has been increased from 25 mm to 26 mm, and rear diameter from 18 mm to 19 mm over the 4.6 model. R-Spec will offer a unique sport design 19-inch alloy wheel with premium machined finish and optional Michelin Pilot Sport PS2 summer performance tires. The R-Spec steering calibration has been matched to this unique wheel and tire combination for optimized performance and driving refinement expectations in this segment. To complete the performance package, front brake rotors have increased from 13.0 inches to 13.6 inches over the 2011 4.6 model.
In addition to the more aggressive styling cues for all 2012 Genesis models, R-Spec will offer unique headlights with dark chrome inserts for a more distinctive front appearance. An R-Spec trim designation badge has been added to the rear deck, and black R-Spec embroidered floor mats daily remind the driver of the performance that awaits behind the wheel. Hyundai Genesis R-Spec only will be offered in three sport-oriented exterior colors: Black Noir, Titanium Gray, and Platinum Metallic, each with Black leather interior and an all-black leather steering wheel for a differentiated sport appearance from the 4.6 model.
Direct injection lambda 3.8-liter engine
In keeping with its 5.0-liter V8 sibling, the Hyundai Genesis 3.8-liter Lambda engine will receive direct injection (GDI) technology, boosting its output 15 percent from 290 to 333 horsepower, an impressive gain of 43 horsepower with no increase in displacement. In addition, peak torque rises from 264 lb.-ft. to 291 lb.-ft., a generous increase of 27 lb.-ft. from the same 3.8 liters. Compression ratio increases from 10.4:1 to 11.5:1 for greater thermal efficiency. This new direct-injected Lambda V6 produces a higher specific output (87.6 hp/liter) than its normally-aspirated premium luxury competitors.
The 3.8-liter engine retains all of the premium technologies that have made it outstanding since the launch of Genesis: Dual Continuously Variable Valve Timing (D-CVVT), variable induction, all aluminum block and heads, steel timing chain, and iridium-tipped spark plugs. Besides the generous horsepower and torque gains, direct injection technology produces a significant reduction in emissions through a 40 percent reduction in catalyst light-off time. Further, a variable vane oil pump has been fitted to precisely match oil pressure with engine lubrication requirements for increased efficiency at all engine speeds. As a result, 3.8-liter GDI fuel economy increases over seven percent from 27 mpg to 29 mpg on the highway.
All 3.8-liter engines will be coupled to an in-house-developed eight-speed transmission with SHIFTRONIC and precisely calibrated gear ratios for an overall transmission efficiency gain of six percent. These two additional ratios serve to achieve competing objectives of acceleration and economy without compromise.
Award-winning Tau 4.6-liter v8 engine with eight-speed automatic
For 2012, Hyundai Genesis' award-winning Tau 4.6-liter V8 powerplant will now be coupled exclusively with an in-house-developed eight-speed automatic transmission with SHIFTRONIC, adding benefits in acceleration and efficiency. Internal engineering tests estimate this new eight-speed transmission to be six percent more efficient at transferring power than the former 6-speed automatic, increasing highway fuel economy from 25 mpg to 26 mpg.
This same 4.6-liter Tau V8 engine was already significantly improved for 2010 with induction and tuning enhancements increasing peak output from 375 to 385 horsepower. A variable intake system, iridium-tipped spark plugs, anti-knock control, and multi-port injection further add to the sophistication of this engine.
Chassis refinement for 3.8 and 4.6 models
Always seeking to enhance the Hyundai Genesis driving experience, Hyundai engineers have made further refinements to the 3.8 and 4.6 model suspension damping calibrations. These precise adjustments serve to minimize the traditional compromises between handling precision and ride comfort. In addition, body roll control for the 3.8 model is enhanced, with the rear stabilizer bar diameter increasing from 17 mm to 18 mm. Braking is also improved on both the 3.8 and 4.6 models; the 3.8 model front rotor size increases from 12.6 inches to 13.0 inches, while adding by higher performance 4-piston brake calipers, and the 4.6 model front brake rotors increase from 13.0 inches to 13.6 inches for greater fade resistance.
Exterior design
Not content to rest on their laurels, Hyundai's design team has sought to make a great Genesis exterior design even better for 2012. For the front view, the front grille has been enhanced, a more aggressive front fascia with larger intake openings was developed, and the headlights have been redesigned, adding LED accents and daytime running lights (DRLs). From the side view, the standard 17-inch alloy wheel design has been freshened and the rocker panels have been refined. In addition, the mirrors now incorporate power-folding and puddle lamp functions, while the side window surround now receives a decidedly sporty brushed aluminum finish. From the rear view, the taillights have been redesigned and new dual asymmetrical exhaust tips are more cleanly integrated with a new bumper fascia.
New safety technologies
Maintaining Hyundai's emphasis on delivering leading safety technology, Hyundai Genesis boasts world-class active and passive safety features to help both prevent accidents and maximize the well being of its occupants in the event of a collision. Hyundai Genesis continues the Hyundai tradition of standardizing key life-saving safety technology with Electronic Stability Control (ESC), eight airbags and electronic active head restraints. Active front head restraints have been proven by the Insurance Institute for Highway Safety to help prevent whiplash.
Adding to this safety leadership for 2012, Hyundai Genesis adds new daytime running lamps to all models. Further, Genesis offers a newly-developed Lane Departure Warning System (LDWS), available on the 3.8 Technology package, 4.6 and 5.0 R-Spec models.
Hyundai Genesis' total of eight airbags includes advanced dual front airbags, front and rear seat-mounted side-impact airbags, and roof-mounted side curtain airbags for both front and rear outboard seat occupants.
Hyundai Genesis has a total of eight ultrasonic sensors located on the front and rear bumpers. The sensors, along with the rear backup camera, help detect how close objects are when parking. Distance is indicated on the in-dash screen and accompanied by an audible warning tone.
Hyundai Genesis is brought to a halt by large four-wheel anti-lock disc brakes with Brake Assist and Electronic Brake Distribution (EBD). Hyundai Genesis 3.8 models now have large 13.0-inch front rotors with four-piston fixed calipers, while 4.6 and 5.0 models have oversized 13.6-inch front rotors.
New technology and features
Hyundai Genesis 3.8 Standard Equipment - 2012 Genesis also will increase its impressive list of standard equipment, adding headlight LED accents and daytime running lights (DRLs) and outside mirror puddle lamps.
Hyundai Genesis 3.8 Premium Package - The 3.8 Premium Package will now offer newly-developed power-folding outside mirrors and heated rear seats with console controls. For 2012, the 3.8 Premium package will also include rearview camera, DVD navigation system with seven-inch touchscreen, XM NavTraffic, and 18-inch Hyper Silver split-spoke alloy wheels.
Hyundai Genesis 3.8 Technology Package - The 3.8 Technology package will continue to satisfy tech-savvy buyers, adding a newly-developed Lane Departure Warning System (LDWS), and thin-film-transistor LCD gauge cluster readout.
Source: Hyundai
Gallery:
Hyundai Genesis (2012)