Hyundai introduced its cutting-edge Hyundai Veloster three-door coupe in a world debut at the 2011 North American International Auto Show. The 2012 Veloster delivers innovation to the compact coupe segment with a unique third door for easy rear-seat access, Hyundai's Blue Link telematics system, Pandora internet radio with seven-inch touch-screen display, and a new 1.6-liter direct-injected four-cylinder engine mated to Hyundai's first dual-clutch transmission.
Motorcycle inspiration
Hyundai Veloster's unique design takes inspiration from a high-performance sport bike. Veloster has distinctive black A-pillars that give the glass a motorcycle helmet visor appearance. In the front is an aggressive form of Hyundai's signature hexagonal front grille, hood scoop detailing, and unique Hyundai-signature LED position lights. Optional packages add a chrome grille surround, piano black highlights, fog lights, and a massive panoramic sunroof.
In profile the Hyundai Veloster features "Fluidic Sculpture" character lines, muscular wheel arches, bodycolor door handles and mirrors, and wraparound headlights and taillights. Hyundai Veloster comes standard with 17-inch alloy wheels and offers two types of 18-inch wheels. The top-of-the-line 18-inch wheel comes with painted inserts, a segment first.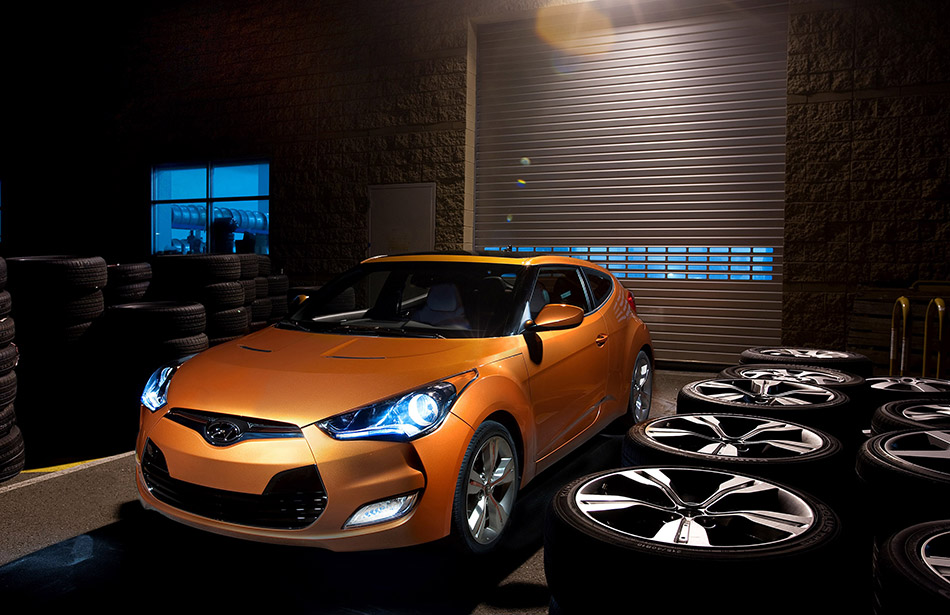 Hyundai Veloster's dynamic rear design has a distinctive glass hatch, dual centered chrome exhaust tips and black lower fascia that complements the assertive front fascia.
Inside, the center stack and controls resemble a sport bike fuel tank and incorporate an available push-button starter. The air vents are inspired by motorcycle tailpipes, while the floor console mirrors the seat of a bike. Metallic accents abound throughout the interior. Alloy pedals and a leather wrapped steering wheel and shift knob are also available.
The third door
Hyundai Veloster combines the style of a coupe and the functionality of a hatchback, while also incorporating an additional passenger-side door. In the past, some coupes have used smaller rear-hinged access doors. These coupes have always been compromised by having to open the driver-side door before the rear door could be opened, proving to be inconvenient for both the driver and passenger, and extremely difficult to operate in tight parking lot situations. Hyundai's fresh take here implements a conventionally hinged door on the passenger side of the Hyundai Veloster, providing safe and ready access to the surprisingly spacious rear seats. The passenger-side rear door handle is hidden to maintain the coupe design.
Gamma 1.6-liter GDI engine
The all-new Gamma 1.6-liter four-cylinder engine is the smallest Hyundai engine to use Gasoline Direct Injection (GDI). GDI technology helps deliver estimated highway fuel economy of up to 40 mpg, lower emissions and higher reliability.
"Gasoline-direct-injection technology allowed Hyundai engineers to create an engine that is powerful, fuel-efficient, and has fewer emissions," said Hyundai American Technical Center Inc. (HATCI) powertrain director, John Juriga. "Despite its small size, it generates some big numbers, with both impressive horsepower output and up to 40 mpg on the highway."
Through the use of GDI, the Gamma 1.6-liter engine delivers an estimated peak output of 138 horsepower at 6,300 rpm and maximum torque of 123 lb.-ft. at 4,850 rpm. But GDI is only part of the story as the new Gamma also features Dual Continuously Variable Valve Timing, an electronic throttle control, a roller timing chain, variable induction and innovative anti-friction coatings such as CrN Physical Vapor Deposition (PVD) coating and Diamond Like Carbon (DLC) coating.
New six-speed dual-clutch transmission
Hyundai's commitment to making the Gamma engine extremely fuel efficient continues by pairing it with a standard six-speed manual transmission or an all-new, six-speed dual-clutch transmission (DCT) developed by Hyundai.
Hyundai's new DCT takes the benefits of a manual transmission, including low fuel consumption and sporty driving, and blends them with automatic transmission benefits, such as high comfort levels and smooth shift quality. In addition, the DCT enables direct connection for high efficiency and uninterrupted torque transfer during shifts. Automatic transmissions lose power and fuel economy in the torque converter.
Other improvements of a DCT over a traditional automatic include a five to six percent improvement in fuel efficiency as well as a three to seven percent improvement in acceleration performance.
Hyundai Veloster's DCT can be thought of as two traditional manual transmissions, each with its own clutch operating in parallel and alternating shifts. Hyundai Veloster is a six-speed with one clutch acting on gears one, three and five and the other used for two, four, six and reverse. This shifting process results in quick smooth transitions with none of the efficiency loss normally associated with torque convertors. The clutch actuator assembly features electric motors for actuation, and an external damper improves NVH.
This powertrain also has an Active Eco mode which modifies engine and transmission control for improved fuel economy that translates into more than a seven percent improvement in real-world fuel economy.
World-class weight efficiency
World-class weight efficiency is a program target for all Hyundai models. This strategy delivers outstanding fuel economy and performance simultaneously. At just 2,584 pounds, Hyundai Veloster is more than 400 pounds lighter than the Scion tC. This priority on weight efficiency allows the Hyundai Veloster to deliver a great combination of agility, performance, and fuel efficiency.
Fun to drive
The Hyundai Veloster is fitted with a McPherson strut front suspension, coil springs, gas shock absorbers and a 24 mm diameter front stabilizer. The rear suspension is a light-weight V-torsion beam, a Hyundai-first with an integrated 23 mm stabilizer bar to allow bracing of the arms for greater stiffness and to further control body roll. The rear suspension also uses monotube shock absorbers for ride comfort.
Hyundai Veloster features sport-tuned electric power steering that adjusts instantly to changing driving conditions while improving fuel economy over a conventional steering system. A quick-ratio steering rack is used for crisp feel on turn-in. Hyundai Veloster's turning diameter of 34.1 feet is better than tC's 37.4 feet, CR-Z's 35.4 feet, Mini's 35.1 feet and Mini Clubman's 36.1 feet. Standard are 215/45HR17 tires on 17-inch alloy wheels. There are two optional 18-inch alloy wheels with lower profile 215/40VR18 performance rubber.
Advanced standard safety technologies: Part of hyundai's assurance commitment
Veloster has an exceptional level of standard safety features for the sporty car segment. Hyundai Veloster has a Vehicle Stability Management (VSM) system which optimally manages ESC (Electronic Stability Control) and the Motor-Driven electric Power Steering (MDPS).
VSM works to control two effects. The first is when a driver accelerates or brakes on a split-mu surface (slippery on one side, dry pavement on the other) and the vehicle wants to pull in one direction. VSM detects this condition and sends a signal to the MDPS to apply steering assist. VSM counters the pull and automatically provides eight Newton meters of counter steering. VSM reacts the same way during sudden lane changes or fast cornering.
Hyundai Veloster features six airbags—including dual front, front seat-mounted side-impact, and front and rear side curtain airbags.
The Hyundai Veloster also features a state-of-the-art braking package. The package includes four-wheel disc brakes and an Anti-Lock Braking System (ABS) including Brake Assist, which provides maximum braking force when a panic stop is detected, and Electronic Brake-force Distribution (EBD), to automatically adjust the braking force to front and rear axles based on vehicle loading conditions.
Connectivity/Technology
In the digital age everyone wants to be connected to their electronics at all times, so Hyundai Veloster comes standard with a multifunction seven-inch touch-screen display. At engine start-up, the screen comes to life with a Hyundai Veloster image and a unique sound. There are three interface layouts the user can choose from.
Pandora internet radio is integrated into Hyundai Veloster. The display screen has a Pandora icon to stream internet radio from an iPhone, Android or Blackberry. Pandora can also be viewed on the display screen and songs can be given the familiar Pandora thumbs up or thumbs down by pressing an icon.
Gracenote improves how Hyundai Veloster drivers access and manage their music through licensed cover art, enhanced voice recognition capabilities and "More Like This" automatic playlisting. Gracenote helps organize song metadata from a driver's music collection, and associates specific genre classifications (e.g. Indie Rock, R&B, Classical) with the identified tracks. This lets Hyundai Veloster drivers create targeted similar music playlists with a single button or voice command using Gracenote's Playlist Plus™ technology.
Gracenote MediaVOCS® technology improves the accuracy of the system's voice recognition capabilities for music search and navigation, letting drivers pinpoint bands, artists and albums with hard-to-pronounce names, irregular spellings and nicknames. For instance, Gracenote MediaVOCS helps the system understand artist names like Beyoncé and AC/DC. And drivers can use "The Boss" as a voice command to access tracks from Bruce Springsteen.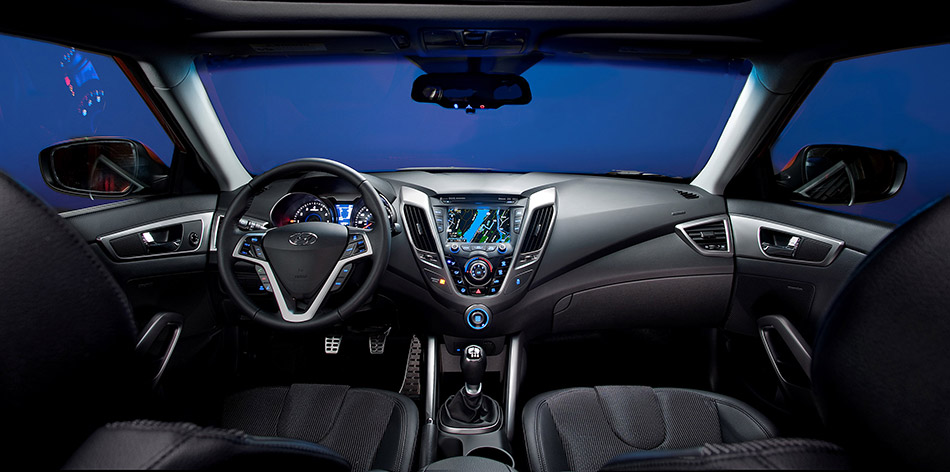 Gracenote also powers the Hyundai Veloster's 3D carousel of album cover art, producing a driver-friendly interface that makes it easy to search for music, select albums and display cover art during playback. The combination of these Gracenote technology features provides Veloster drivers a safe and easy way to manage and enjoy their music on the open road.
The head unit features virtual CD downloading which is like having a 10-disc CD changer on board. This feature allows for up to 10 CDs to be stored on the systems memory. The systems memory also allows for viewing and storing of jpeg images, AVI videos and Mpeg videos from a USB stick.
One of the display's unique features is an Eco Coach scoring system. This system acknowledges fuel-efficient driving with an eco rewards score and it accumulates points over time for a total Eco Score. The Eco Coach also provides instant fuel economy feedback so drivers can compare their average fuel economy with other Veloster owners.
With video games being an important element of entertainment, Hyundai integrated a USB jack, RCA jack and 115-volt power outlet in Hyundai Veloster to support gaming consoles for ultimate gaming sessions when in park.
Hyundai Veloster is available with two audio systems. Standard is a 196-watt AM/FM/Satellite Radio/CD/MP3 audio system with six-speakers and iPod®/USB/auxiliary input jacks. A 450-watt Dimension Premium Audio system with eight speakers including an eight-inch subwoofer and external amplifier is available. An XM Satellite Radio interface is also integrated into the head unit and features channel logos and XM Data services, such as XM NavWeather®, XM Stock Ticker and XM Sports Ticker.
A Bluetooth hands-free phone system with voice recognition, address book download and audio streaming is standard. Touch-screen navigation is optional. The system also integrates a rear-view camera, which cannot be found on the CR-Z or tC.
Hyundai blue link
"Blue Link combines safety, service and infotainment into a complete package that works to both help simplify Hyundai owners' lives and reduce distracted driving," said Barry Ratzlaff, director of customer satisfaction and service business development, Hyundai Motor America. "We've carefully studied how drivers rely on smart phones and navigation systems as an innovative link to the outside world. Blue Link brings that seamless connectivity directly into the car with technology like voice text messaging, POI web search download, turn-by-turn navigation, and monthly vehicle reporting. Our agent-assisted advanced voice recognition system offers a 21st century solution to performing POI searches in the vehicle. This unique and innovative approach enables Hyundai to deliver fast, accurate searches and downloads of POIs to vehicles without the unnecessary costs of traditional operator-only type systems of our competitors."
As part of the Blue Link launch, Hyundai also will provide Blue Link Assurance on Blue Link-equipped vehicles, which includes core safety services for an introductory period. These key safety services include: Automatic Crash Notification (ACN) and Assistance, SOS Emergency Assistance, and Enhanced Roadside Assistance. After the introductory period, owners of Blue Link-equipped vehicles can choose to extend these and other services as desired. Blue Link package subscription fees will be announced this spring on Sonata.
Blue Link Assurance further expands Hyundai's industry leadership formerly established by Hyundai Assurance, the industry's most comprehensive suite of new-vehicle protection. Hyundai Assurance already offers a 5-year/60,000-mile fully transferable bumper-to-bumper warranty, Hyundai's 10-year/100,000-mile powertrain warranty, 5-years complimentary Roadside Assistance, and Buyer Protection - a credit-protecting job-loss vehicle return program.
Source: Hyundai
Gallery:
Hyundai Veloster (2012)