To demonstrate the aftermarket potential for the all-new Veloster, Hyundai has partnered with PM Lifestyle, a leader in creative innovation and digital media distribution in the automotive industry, and the Universal Technical Institute (UTI) to develop a powerful and interactive custom Veloster for this year's SEMA Show. The bold, blue Veloster with a carbon-fiber hood, Konig Deception wheels and custom leather interior will be in Hyundai's display at the Las Vegas Convention Center Nov. 1–4, 2011.
"The Veloster is the perfect platform for enthusiasts looking to make everyday modifications to their vehicles and for students who are learning what it takes to be a mechanic," said Jayke Milton, Build Coordination, PM Lifestyle. "It's fairly simple to bolt equipment on and off the Veloster sub-frame, making it easy for people to make modifications in their own garages. Plus, the three-doors on the Veloster give it a unique look, making it a very exciting, stand-out car."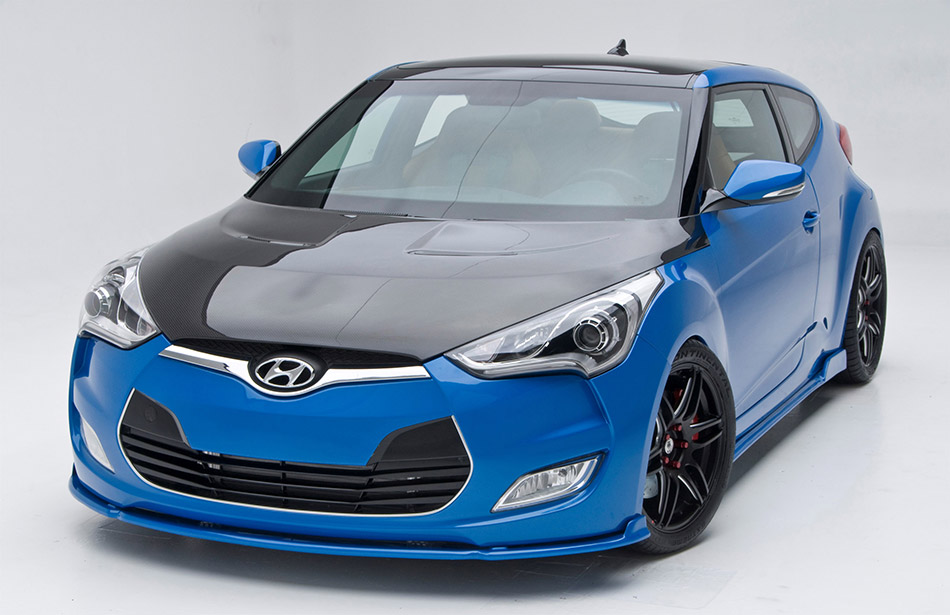 After its debut on the SEMA Show floor, the PM Lifestyle Veloster will go on a three-year show tour with UTI, making appearances at over 120 autocross, supercross and school demonstration events. UTI is a nationwide provider of technical education training for students seeking careers as professional automotive, diesel, collision repair, motorcycle and marine technicians. UTI gives its students hands-on training, helping to jump start their careers in the automotive and technical industries.
"The modifications made by PM Lifestyle and UTI to the all-new Veloster will highlight vehicle modifications that can be achieved in real-world garages," said Mike O'Brien, vice president, Product and Corporate Planning, Hyundai Motor America. "This year's SEMA crowd will be able to interact with the final design of this Veloster on the showroom floor, providing a unique and tangible look at the tuning process."
With an anticipated performance of 163-horsepower, PM Lifestyle's custom Veloster will showcase many special modifications, making it a guaranteed highlight at this year's SEMA Show.
Source: Hyundai
Gallery:
PM Lifestyle Hyundai Veloster (2012)