The award-winning Hyundai Elantra returns for 2014 with extensive design upgrades and a more powerful GDI engine in the new Sport trim. A host of new features have also been added, while maintaining the roominess, warranty and safety that has made Elantra a three-time recipient of the ALG Residual Value Award. In total, more than 75 Elantra major sub-systems are new or redesigned. The all-new 2014 Elantra Sport and the rest of the Elantra line up was introduced today at the 2013 Los Angeles Auto Show.
The 2014 Elantra receives all-new front and rear exterior designs, along with interior styling upgrades. Sport-tuned steering and suspension calibrations sharpen the new Elantra Sport's handling, while extensive technology upgrades improve ergonomics for the entire Elantra Sedan lineup.
New technologies built into the 2014 Elantra include the application of the next-generation navigation and audio technology, which feature simpler user interfaces, enhanced voice recognition commands, improved navigation screens and available Pandora internet radio. A 4.3-inch color touchscreen with integrated rearview camera is now available on the entry level SE, in the Preferred Package, and as standard equipment on the Elantra Sport and Limited. Also new to Elantra Limited is Hyundai's Blue Link and Assurance Connected Care safety, service and infotainment telematics system.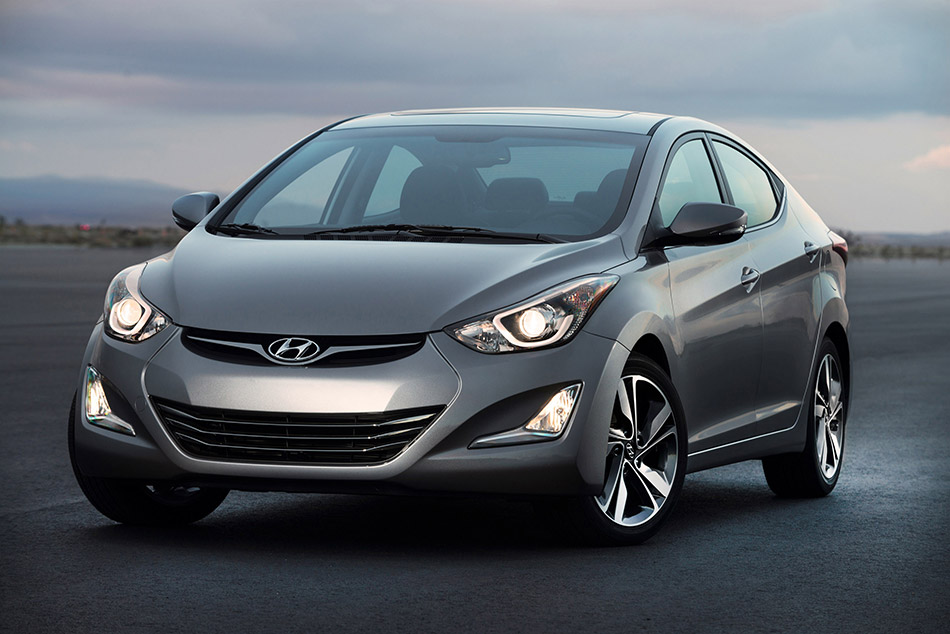 Refreshed exterior design
For 2014, the Elantra has received a host of exterior design changes. The front and rear styling of the 2014 Hyundai Elantra have been altered for a more stable, balanced look. Up front, a new open-mouth lower bumper, grille, more technical foglights and projector headlamps with LED accents add a dynamic, precise feel to Elantra. The whole L-shaped foglight graphic stabilizes the front end and gives the car a more grounded look, while maintaining a greater sense of width that forces the eye to the corners. The headlamp and taillamp LED accents were also given a more technical appearance to give the Elantra a stronger attitude. From the profile, a chrome beltline molding and new sets of 17-inch alloy wheels on the Elantra Limited and Sport accentuate the Elantra's premium image. A new black, two-tone rear diffuser also sharpens the look of the 2014 Elantra.
Interior refinements
Inside, refinements in design give the entire 2014 Hyundai Elantra a more premium feel, with an all-new third-generation navigation and audio technology, available aluminum accents and new HVAC controls. Subtle changes to the placement of HVAC vents, controls and the height of the front center armrest lend a higher-quality, simplified look. Providing a more upscale environment is accomplished with a slightly darker, more neutral beige interior color choice, aluminum pedals on the Sport and aluminum door sill plates on the Sport and Limited.
The Elantra Limited offers a new optional multifunction seven-inch touch-screen display with navigation. This third-generation display features a simpler user interface, enhanced voice recognition commands and improved navigation screens. The system is more intuitive for commonly used tasks. Simple pop-up messages now appear to help pair a cell phone and the voice recognition software understands street addresses and cities all in one sentence. The route screens display speed limits and details the next three maneuvers. One or two button pushes now complete most functions. The systems memory also allows for viewing and storing of jpeg images and Mpeg music files from a USB stick.
Pandora internet radio
Pandora internet radio is integrated into the Elantra Limited's optional multifunction seven-inch touch-screen display with navigation. The display screen has a Pandora icon for internet radio from an iPhone. Pandora can also be viewed on the display screen and songs can be given the familiar Pandora thumbs up or thumbs down. (By selecting the thumbs down icon, that particular song will never be played again.) Pandora can be connected to the head unit via a USB cable and integrates album cover art.
Pandora, the leading internet radio service, gives people music they love anytime, anywhere, through personalized radio stations available on a wide variety of connected devices
Personalized radio stations launch instantly from a single song, artist or composer "seed" and are refined to each listener's taste through simple thumbs-up and thumbs-down feedback
Pandora has more than 200 million registered users and more than 70 million monthly active listeners who stream more than a billion hours every month
More than 80% of Pandora's total listening hours occur via mobile and other connected devices
Approximately one out of every two U.S. smartphone users has listened to Pandora in the past month
Hyundai Elantra SE and Sport have an AM/FM/SiriusXM/CD/MP3 audio system with six speakers. This system also includes iPod®/USB auxiliary inputs. The Sport and Limited trims come equipped with a 4.3-inch color touchscreen audio with standard rearview camera. This system is part of the Preferred Package on the Elantra SE. Elantra Limited features an optional premium audio system with navigation that pumps out 360-watts of sound and includes an external amplifier. It also accesses digital music files employing Bluetooth streaming audio and allows the driver and passengers to access their personal listening devices through the iPod/USB/auxiliary inputs. Bluetooth audio wirelessly streams music from a phone to the audio system.
NVH improvements happen at hyundai speed
Since the launch of the current generation in 2010 as a 2011 model, Elantra has undergone significant changes to reduce cabin noise. These engineering changes will be noticed immediately by driver and passengers:
Features to help block engine noise:
New HVAC duct absorption material
Increased anti-vibration upper cowl pad thickness and coverage area
New hood insulator added to Elantra Sport and Limited
Raised cowl top
Features to help block road noise:
New higher density carpet
Increased anti-vibration floor pad thickness
Additional expandable foam in the A pillars
New 16-inch and 17-inch wheels for improved NVH
Applied full underbody cover
Features to help block combustion noise:
New perforated anti-vibration material in dash panel
Powertrains
The 2014 Hyundai Elantra now offers the 2.0-liter "Nu" GDI engine in the all-new Sport trim. This addition will be very popular with consumers who are looking for exceptional responsiveness, refinement and more performance. The 2.0-liter Nu GDI engine in the Elantra Sport produces 173 horsepower at 6500 rpm and 154 lb.-ft. of torque at 4700 rpm. This adds 25 more horsepower (+ 17 percent) and 23 lb.-ft. of torque (+18 percent) when compared with last model year's 1.8-liter Nu engine from the prior model year. These performance gains were achieved by increasing the displacement of the 1.8-liter Nu engine to 2.0 liters and equipping it with a GDI fuel delivery system. The stroke of the 1.8-liter Nu engine was increased from 87.2 mm to 97 mm to get the displacement up to 2.0 liters. The 2.0-liter Nu has been tuned to provide more torque at 1,500 rpm than the outgoing 1.8-liter Nu. The engine also delivers more torque - from 4,000 rpm to 5,500 rpm - for impressive linear power delivery all the way up to redline. Equipping the Elantra Sedan Sport with the 2.0-liter Nu four-cylinder engine with GDI ensures a great balance between performance and fuel economy. The Elantra Sedan Sport with the 2.0-liter GDI engine and six-speed automatic transmission achieves an EPA estimated 24 city/35 highway mpg with a ULEV emissions rating. The 1.8-liter Nu four-cylinder engine with six-speed automatic when equipped with 15 or 16-inch wheels achieves an EPA estimated 28 city/38 highway mpg.
Under the hood of the Elantra SE and Limited sedans is the 1.8-liter Nu four-cylinder engine with 145 horsepower and 130 lb.-ft. of torque.
The benefits of gasoline direct injection
This shorter, more direct path of fuel delivery, allows for greater control of the fuel mixture at the optimum moment, thus improving efficiency. The fuel is injected by a camshaft-driven, high pressure pump that operates at pressures up to 2,176 psi. Direct injection also utilizes a higher than normal 11.5:1 compression ratio for increased power. The pistons are "dished" to increase combustion efficiency in the cylinder.
Nu engines feature an aluminum block with a cast iron cylinder liner and aluminum cylinder head. They also offer Dual Continuously Variable Valve Timing (D-CVVT) camshafts and hydraulic engine mounts for optimum power, efficiency and refinement. Using CVVT on both camshafts has several advantages when compared with using it just on the intake camshaft, including a two percent improvement in performance (increased volumetric efficiency), two percent improvement in fuel economy (reduced pumping loss) and a 30 percent reduction in hydrocarbon emissions. In the valvetrain, roller swing arms and hydraulic lash adjusters reduce valve driven friction to improve fuel economy one percent compared with direct valve driving. The Nu engine family also features a maintenance-free silent timing chain system to enhance durability and improve Noise Vibration and Harshness (NVH).
The application of a plastic two-stage Variable Intake System (VIS) versus aluminum, enables switching between long and short intake manifolds, resulting in a four percent improvement in performance.
Another tool Hyundai engineers have incorporated into Elantra is an electronic throttle control. The electronic throttle control replaces the conventional cable and mechanical linkage with fast responding electronics. This system accurately controls air intake and engine torque, improving drivability, response and fuel economy.
The Nu four-cylinder engine also has an offset crankshaft design that reduces friction between the piston and cylinder wall for a one percent improvement in fuel economy.
Chassis and steering refinements
Under the skin, the new 2014 Hyundai Elantra Sedan Sport trim level has significant alterations aimed at enhancing handling and steering. A reworked Motor Driven Power Steering (MDPS) setup reduces friction and provides a quicker ratio for a more responsive cornering attitude. Stiffer dampers, rear springs and a larger front stabilizer bar on the Sport deliver better front roll control / stiffness and more fluid suspension action.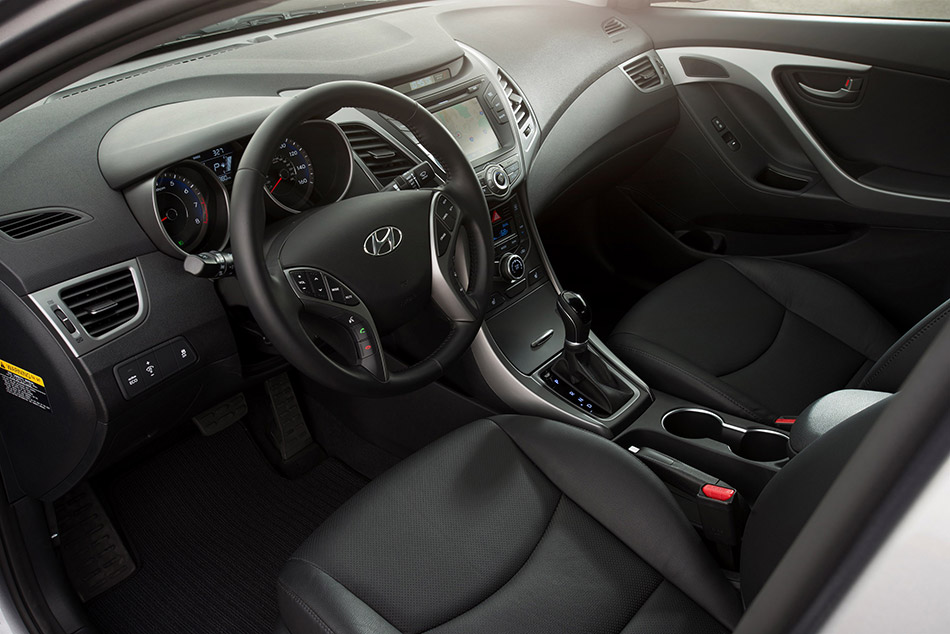 Behind the wheel of the entry level Elantra SE and top-of-the-line Elantra Limited, drivers benefit from Hyundai's Driver Selectable Steering Mode, with three operating modes - Comfort, Normal and Sport. This innovative system allows drivers to adapt the Elantra's steering characteristics to varying driving preferences and road conditions. Comfort mode is ideal for city and parking environments, offering the greatest ease of steering with a decrease in steering effort. Normal mode is ideal for a mix of driving conditions. Meanwhile, Sport Mode is optimized for higher-speed freeways or winding roads and decreases power steering assistance. The Driver Selectable Steering Mode not only adjusts power assistance levels in each mode, but also adjusts on-center build-up feel and steering build-up curves throughout the steering range, for a very natural and progressive feel. Steering dampening characteristics, active return and friction levels have also been optimized in Elantra.
Overall dimensions
Elantra is still a "class above" some competitors when it comes to interior room. In fact, the Elantra is so roomy the U.S. Environmental Protection Agency (EPA) classifies it as a mid-size car, rather than a compact car like Civic, Mazda3 and Focus. Elantra's total interior volume of 110.4 cubic feet beats the 2013 Honda Civic sedan, 2014 Chevrolet Cruze, and 2014 Ford Focus. Surprisingly, it even surpasses the Acura TSX (108.5 cu. ft.), Nissan Maxima (110.0 cu. ft), and VW CC (106.8 cu. ft.) in total interior volume. Ultimately, the long wheelbase allows for compact car efficiency with mid-size car comfort. An example of this is found in the long seat track, delivering best-in-class front seat legroom. Elantra's trunk volume at 14.8 cubic feet also beats Civic and Corolla. This means Elantra's trunk can fit three sets of golf clubs versus only two for Focus and Civic.
Safety
Named a "2013 Top Safety Pick+" by the IIHS and the holder of a NHTSA five-star overall crash safety rating, the Elantra returns for 2014 with a Hill-Start Assist Control (HAC), driver's blind spot mirror and Blue Link. HAC minimizes rolling backwards on steep ascents while the blind spot mirror provides a view of the driver's blind spot.
2014 Standard Safety Features:
Six airbags
Vehicle Stability Management
Electronic Stability Control (ESC) /Traction Control (TC)
ABS with Electronic Brake-force Distribution (EBD) and Brake Assist
Hill-Start Assist Control (HAC)
Seatbelt pretensioners
Tire Pressure Monitoring System (TPMS)
Daytime Running Lights (DRL)
Driver's blind spot mirror
Hyundai assurance connected care powered by blue link®
Hyundai's industry-leading telematics services program, Assurance Connected Care, is standard on the 2014 Elantra Limited, for three years. This innovative ownership program provides Hyundai owners with proactive safety and Car Care services via the Hyundai Blue Link telematics system. These services include Automatic Collision Notification, Enhanced Roadside Assistance, Automatic Diagnostic Trouble Code Notification, Monthly Vehicle Health Report and in-vehicle Car Care maintenance scheduling.
Hyundai also recently introduced an all-new mobile app for the Blue Link telematics platform. The mobile app allows subscribers to remotely access various optional Blue Link features and services through compatible mobile devices. Completely redesigned from the ground up, the app has been significantly enhanced from the previous version and boasts a new user experience, faster navigation and innovative new features. Google Android® and Apple® iOS users can download the app from Google Play or Apple iTunes, respectively.
Blue Link is an innovative telematics solution that brings seamless connectivity for safety, service and infotainment capabilities and is offered in three packages: Assurance, Essentials and Guidance.
Source: Hyundai
Gallery:
Hyundai Elantra Sedan (2014)