For added convenience and security, the 2014 Santa Fe now offers Hyundai's Blind Spot Detection system (BSD) and a rear parking assistance system. Using advanced sonar sensors, the BSD system continually monitors traffic around the Santa Fe and if another vehicle is detected within a set distance, audio and visual elements alert the driver. Blind Spot Detection is standard on all Premium Package vehicles, Santa Fe Sport 2.0T and Santa Fe Limited. In addition to the BSD, 2014 Santa Fe models equipped with the Technology package will have color keyed rear parking assistance sensors discreetly mounted in the rear bumper to enhance safety by sounding an audible alarm when an obstacle is detected in reverse. These new features enhance Santa Fe's Insurance Institute for Highway Safety's (IIHS) highest honor as a Top Safety Pick. To improve form and function, HID Xenon headlights and LED taillights will be available on the 2014 Santa Fe models. Also by popular demand, Santa Fe Sports equipped with panoramic sunroofs are now equipped with roof rails. The 2014 Hyundai Santa Fe lineup will be available at Hyundai dealerships in fall of 2013.
New advanced standard safety technologies: Part of hyundai's assurance commitment
All models have a standard Vehicle Stability Management (VSM) system, which optimally manages Electronic Stability Control (ESC) and the Motor-Driven electric Power Steering (MDPS). VSM works to help control two effects. The first is when a driver accelerates or brakes on a split-mu (slippery on one side, dry on the other) surface and the vehicle wants to pull in one direction. VSM detects this condition and sends a signal to the MDPS to apply steering assist. VSM counters the pull and automatically provides counter-steering. VSM reacts the same way during sudden lane changes or fast cornering. Active Cornering AWD drive models integrate torque and brake vectoring.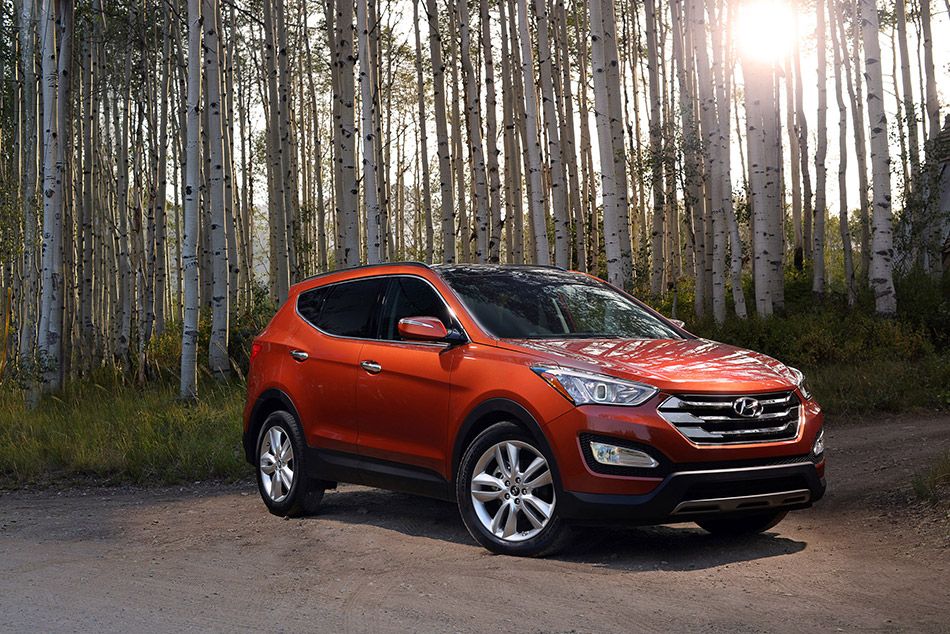 All Santa Fe models feature seven airbags, including side curtain airbags and a driver's knee airbag along with rollover sensors for the side curtain airbags. When the sensors detect a potential rollover, the control module triggers the head-curtain side airbags and safety belt pre-tensioners to help protect passengers against injury.
Santa Fe also features a state-of-the-art braking package. The package includes four-wheel disc brakes (12.6 inch front and 11.9 inch rear), an Anti-Lock Braking System (ABS) including Brake Assist providing maximum braking force when a panic stop is detected, and Electronic Brake-force Distribution (EBD) to automatically adjust the braking force to front and rear axles, based on vehicle loading conditions. Additionally, Santa Fe offers family-friendly passive safety features, including a Lower Anchors and Tethers for Children (LATCH) system for children's seats on the second row and three-point seatbelts for all seating positions.
No lines standing still
Hyundai designers crafted Santa Fe Sport and three-row Santa Fe together, with the signature differentiating element being the side view daylight opening (side window shape) – the larger Santa Fe features a shape that highlights the increased passenger and cargo room behind the third-row seat. Santa Fe also has its own bodyside character lines from the B-pillar back, grille design, 18-inch alloy wheels, chrome-tipped dual exhaust and a flush-mounted tow hitch design. Taking a page out of the larger Santa Fe's playbook, the 2014 Santa Fe Sport 2.0T is now fitted with brand new standard 18-inch wheels. All Santa Fe models can also now be equipped with HID headlights and LED taillights for a striking appearance at night.
Both Santa Fe trims feature the same flowing interior look, designed for family functionality and comfort. From the available heated rear seats and eight-way power driver seat with four-way lumbar support, to a standard 40:20:40 split-folding rear seat back, both models boast flexibility and a pleasant cabin for all. Also for 2014, Santa Fe helps keep clothes neat and crisp on hot, humid days with the option of ventilated front seats. These seats work via fans in the seat cushion and seat back blowing a gentle stream of air through the miniature perforations in the leather. The driver's seating position and exterior mirrors can also be set and saved using the integrated memory seat available for the 2014 model year. Standard on all Santa Fes equipped with cloth seats is a 'YES Essentials' seat fabric treatment that provides soil-resistant, anti-odor and anti-static properties for added longevity and livability. Special care and attention went into other interior details, such as an optional panoramic sunroof, which allows more natural light into the cabin and rear side window sunshades. Available on all Santa Fe models, is a push-button starter with proximity key, electroluminescent gauge cluster with color LCD trip computer and a heated steering wheel.
The three-row Santa Fe increases second-row legroom by 1.9 inches and cargo capacity by 5.5 cubic feet and features standard rear-passenger HVAC controls and vents to increase family comfort, while also offering a standard 50:50 split folding third-row bench seat with 31.5 inches of legroom. Second row captain's chairs are also available on the three-row Santa Fe.
Theta II GDI 2.4-liter engine
The Theta II GDI 2.4-liter four-cylinder engine with a Gasoline Direct Injection (GDI) fuel delivery system contributes to improved fuel efficiency and lower emissions in Santa Fe Sport. This shorter, more direct path of fuel delivery, allows for greater control of the fuel mixture at the optimum moment, thus improving efficiency. The fuel is injected by a camshaft-driven, high pressure pump that operates at pressures up to 2,175 psi. Direct injection also utilizes a higher-than-normal 11.3 compression ratio for increased power. When compared to other naturally-aspirated engines, this power plant has best-in-class power-to-weight ratio. The high-tech, all-aluminum, 16-valve engine also features Dual Continuously Variable Valve Timing (DCVVT) and a Variable Induction System (VIS) for better engine breathing.
2.0-liter Theta II turbocharged engine
The Santa Fe Sport 2.0T combines both GDI technology and a turbocharger. The 2.0-liter turbocharged GDI four-cylinder engine in the 2014 Santa Fe Sport 2.0T produces 264 horsepower and 269 lb-ft of torque with regular grade fuel. Hyundai's 2.0-liter Theta II turbocharged engine features a twin-scroll turbocharger that when combined with the GDI system, results in instantaneous power delivery. The Ford Edge, like the Santa Fe Sport 2.0T, uses a turbocharged GDI four-cylinder engine. However, the Santa Fe Sport 2.0T has upped the ante with 24 more horsepower and, a better power-to-weight ratio.
Highly acclaimed LAMBDA 3.3-liter gdi V6 engine
The three-row Santa Fe is powered by the highly acclaimed 3.3-liter V6 engine, which is also found in the Hyundai Azera. This V6 engine will suit a shopper's needs in terms of towing, drivability and fuel economy. The Santa Fe's Lambda II 3.3-liter GDI also has a high-pressure direct injection system (over 2,200 psi), which dramatically increases power and torque, while reducing fuel consumption and emissions. This system eliminates the need for a larger displacement V6 engine and increases the compression ratio for greater thermal efficiency and output. Santa Fe's V6 tow rating of up to 5,000 pounds is perfect for towing small boats or other weekend toys. The three-row Santa Fe's powertrain was tuned in Ann Arbor, Michigan to satisfy American driving expectations.
Six-speed automatic transmission
All Santa Fe engines are mated to Hyundai's six-speed automatic transmission with SHIFTRONIC® manual control. This transmission offers smooth shifts and a wide ratio spread that suits the engine's characteristics. An automatic transmission warmer is included with the V6 engine to keep the transmission oil at its optimal temperature, which helps to improve real-world fuel economy. Additionally, all models have an Active ECO System that modifies engine and transmission control to smooth out throttle response and to help increase real-world fuel economy.
"VERSATILE CAPABILITY" WITH Torque Vectoring Cornering Control
Santa Fe customers will feel the benefits of the optional Active Cornering Control All-Wheel-Drive (AWD) system, which cooperatively helps control torque and braking in conjunction with the Vehicle Stability Management System. This system can anticipate traction requirements and deliver additional stability through braking via continuous monitoring of driving conditions. Most other AWD systems can only react to conditions after they occur. The Dynamax AWD system supplied by Magna Powertrain accesses an intelligent control unit that continuously analyzes data from the vehicle controller and distributes torque to any single wheel through a multi-clutch plate. The coupling system is fully controllable via an electro-hydraulic actuation system. Braking force can also be sent to any single wheel via the software. These processes are known as torque vectoring and torque braking. All this analysis is completely transparent to the driver.
Drivers of the Santa Fe equipped with Active Cornering Control AWD will realize the following advantages:
    Improved lateral stability while cornering
    Reduced of unintended over- and under-steer, by reducing unwanted traction to the front and rear axle
    High thermal capacity, which helps prevent overheating during hill climbs and trailer towing
In addition, greater efficiency is achieved through the intelligent control electronics that provide the torque needed for enhanced traction in a variety of driving situations. As a result, lower fuel consumption and reduced emissions are achieved. The electronic components are also optimally sized for minimal energy usage. This intelligent system allows for even more driver control.
All 2014 Santa Fe trims feature Hyundai's Hillstart Assist Control (HAC) and Downhill Brake Control (DBC) to maximize control on steep hills. HAC minimizes rolling backwards on steep ascents, while DBC helps the driver maintain vehicle control and speed on steep downhill descents. By selecting the DBC switch, the Hydro-Electronic Control unit manages the wheel speed sensors, steering angle sensor and acceleration sensor to maintain control and speed on steep declines without having to use the brake.
Fun to drive cuv driving dynamics
For enhanced ride performance, all Santa Fe models employ a compact and light MacPherson strut front suspension and a fully independent multi-link rear suspension. The front suspension has a 26 mm hollow stabilizer bar to save weight. The rear suspension uses a 21 mm solid stabilizer bar in the front wheel drive model and a 19 mm solid stabilizer bar in the all-wheel drive Santa Fe.
Behind the wheel, drivers benefit from Hyundai's Driver Selectable Steering Mode, with three operating modes – Comfort, Normal and Sport. This innovative system allows drivers to adapt the Santa Fe's steering characteristics to varying driving preferences and road conditions. Comfort mode is ideal for city and parking environments, offering the greatest ease of steering with a decrease in steering effort from Normal mode. Normal mode is ideal for a mix of driving conditions. Meanwhile, Sport Mode is optimized for higher-speed freeways or winding roads and decreases power steering assist from Normal mode. The Driver Selectable Steering Mode not only adjusts power assistance levels in each mode, but also adjusts on-center build-up feel and steering build-up curves throughout the steering range, for a very natural and progressive feel. Steering dampening characteristics, active return and friction levels have also been optimized in Santa Fe.
Santa Fe cabin space advantage
The sleek design of the Santa Fe, combined with Hyundai's expertise in interior engineering, delivers a great presence on the road, while improving functionality and convenience. The spacious cabin has more passenger and cargo volume along with more second and third row leg room than Toyota Highlander. Seating utility is also improved, due to a standard 40:20:40 split-folding rear seat back with available sliding function. This seat back is perfect for seating five passengers comfortably or accommodating four passengers, plus long items like skis, golf clubs, snowboards or surfboards. Fold down two seats to seat three people and hold larger packages or fold down all rear seats to maximize cargo space. The three-row Santa Fe also features an available power liftgate for added convenience.
Santa Fe includes a number of convenient, standard stowage and storage features, including an overhead console sunglass holder, two front and two rear seat cup holders, door bottle holders, enlarged central storage console, front storage bin, front seat-back pockets and generous under-floor cargo storage.
Available dual-zone automatic temperature controls ensure a comfortable environment for all occupants during long journeys. The dual-zone climate controls also incorporate an automatic defogging system, which detects humidity levels using a sensor and removes it from the windshield. Another premium feature is a CleanAir Ionizer that produces negatively charged ions to help purify the air when the heater or air conditioner is running.
Overall dimensions
The larger Santa Fe rides on a 110.2-inch wheelbase, which is 3.9 inches longer than the Santa Fe Sport's wheelbase. Its overall length of 193.1 inches is 8.5 inches longer compared to Santa Fe Sport. The 74.2-inch width is slightly wider (0.2 inch) than Santa Fe Sport. The Santa Fe's overall height is 66.5 inches, which is 0.4 inches higher than Santa Fe Sport.
Ultimately, the long wheelbase allows for maximum comfort. An example of this is found in the second row seat track, delivering more second-row legroom. The three-row Santa Fe's cargo volume is 40.9 cubic feet behind the second row seats and 13.5 cubic feet behind the third row seats.
Improved rigidity and ultra-high strength tensile steel
The Santa Fe architecture incorporates a design that not only improves torsional rigidity, it also incorporates an increase in the use of ultra high-strength-tensile steel to improve collision energy management. High-strength steel reduces weight and also allows the suspension to work optimally. Ultra-high strength tensile sheet metal has also been applied to the outer door panels for the first time in the company's history.
Hot stamping and roll-forming methods have also been applied to impact members, which provide added strength, reduce the number of body parts and make the architecture lighter. The amount of structural adhesives has also been increased significantly for improved body rigidity, crashworthiness and durability.
World-class weight efficiency
World-class weight efficiency is an essential part of all Hyundai models and the Santa Fe hits its target. The curb weight for a FWD three-row Santa Fe is 3,933 pounds with AWD models weighing 4,085 pounds. Santa Fe provides outstanding fuel economy and is over 100 pounds lighter than Highlander and over 200 pounds lighter than Pathfinder. This priority on weight efficiency allows the three-row Santa Fe to deliver carlike handling, outstanding acceleration and fuel efficiency.
Third-generation navigation and audio technology
All Santa Fe models offer an optional multifunction eight-inch touch-screen display with navigation. This third-generation display features a simpler user interface, enhanced voice recognition commands and improved navigation screens. The system is more intuitive for commonly used tasks. Simple pop-up messages now appear to help pair a cell phone and the voice recognition software understands street addresses and cities all in one sentence. The route screens display speed limits and details the next three maneuvers – one or two button pushes now complete most functions.
HD Radio technology is also integrated into all Santa Fe equipped with color audio displays. An HD Radio icon on the display appears next to the channel frequency to notify the user when a station is broadcasting in HD.
All models are available with four audio systems. Standard is an AM/FM/Satellite Radio/CD/MP3 audio system with six-speakers and iPod®/USB/auxiliary input jacks. The upgraded audio system boasts a 4.3-inch full color LCD screen with HD Radio and rear view camera. The third system consists of the Gen 3.0 Navigation unit with Dimension audio with 10 speakers. Finally, the premium navigation system includes an Infinity® 550-watt, Logic 7® surround sound audio system with 12 speakers, including an available eight-inch subwoofer and external amplifier. A SiriusXM Satellite Radio interface is integrated into each head unit and features channel logos and Data services, such as NavWeather®, Stock Ticker and Sports Ticker. A Bluetooth hands-free phone system with voice recognition, address book download and audio streaming is also standard. Both navigation systems integrate rear-view camera output. Blue Link™ turn-by-turn navigation is standard on all Santa Fe models (complimentary trial period).
Hyundai assurance connected care powered by blue link®
Hyundai's industry-leading telematics services program, Assurance Connected Care, is standard on all 2014 Santa Fe crossovers equipped with Blue Link, for three years. This innovative ownership program provides Hyundai owners with proactive safety and Car Care services via the Hyundai Blue Link telematics system. These services include Automatic Collision Notification, Enhanced Roadside Assistance, Automatic Diagnostic Trouble Code Notification, Monthly Vehicle Health Report and in-vehicle Car Care maintenance scheduling.
Hyundai also recently introduced an all-new mobile app for the Blue Link telematics platform. The mobile app allows subscribers to remotely access various optional Blue Link features and services through compatible mobile devices. Completely redesigned from the ground up, the app has been significantly enhanced from the previous version and boasts a new user experience, faster navigation and innovative new features. Google Android and Apple iOS users can download the app today from Google Play or Apple iTunes, respectively.
Blue Link is an innovative telematics solution that brings seamless connectivity for safety, service and infotainment capabilities and is offered in three packages: Assurance, Essentials and Guidance.
Source: Hyundai
Gallery:
Hyundai Santa Fe Sport (2014)