Infiniti today lifts the virtual covers off the INFINITI CONCEPT Vision Gran Turismo, a vision of what a high performance Infiniti could look like in the future. It was created through close collaboration with the creators of Gran Turismo®, the racing game franchise developed by Polyphony Digital Inc. that has sold more than 72 million copies worldwide. The INFINITI CONCEPT Vision Gran Turismo will be available for download starting today in Gran Turismo®6 (GT6™) exclusively on the PlayStation®3 system.
The INFINITI CONCEPT Vision Gran Turismo is a project that started as an ambitious global Infiniti Design competition to "design a pure Infiniti GT car." The winning model was born from the theme put forward by Infiniti's Design team in Beijing. Part beauty, part beast, its shape is powerful, sensual and audacious – a mix of a track machine and the dream of our Chinese design team to create an ambitious racing language for Infiniti.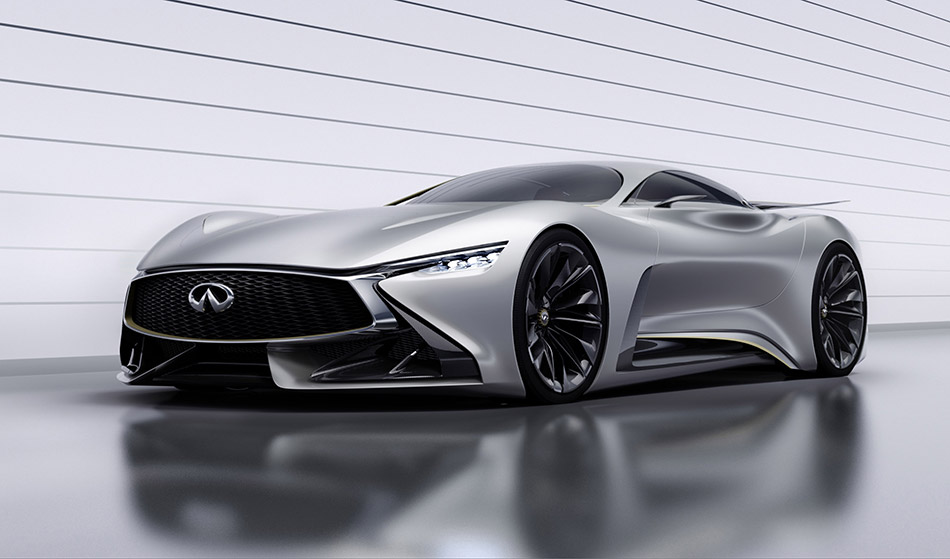 The process of developing the design of the INFINITI CONCEPT Vision Gran Turismo started with hand sketching, then refined digitally, refined again by hand sculpting, and then returned to digital for final refinement.
This project went much further than being a mere design exercise. It included thorough examinations and calculations of technical features such as aerodynamics and engine performance. The front mid-ship / trans-axle powertrain enables the finely distributed 45:55 front/rear weight balance that fills users with the joy of driving by actively drifting the rear. As for aerodynamics, the under-floor airflow control, front and back diffusers, and uniquely shaped rear spoiler enable this car to demonstrate high performance without compromising the impact of the body design.
Source: Infiniti
Gallery:
Infiniti Vision Gran Turismo Concept (2014)