Dark blue – a color that reflects elegance and freedom in a wonderful way. So it fits perfectly to a SUV of superlatives like the QX80 - LR3, which LARTE Design refined with some luxury highlights. Especially the new body color dark blue is very graceful. It emphasizes the appearance of the Infiniti QX80 - LR3 and optimally accentuates his details.
Apart from his new look in dark blue, also the "inner qualities" of the QX80 - LR3 by LARTE Design shine with a 400 HP (approx. 300 kW) strong V8 and that turns it into a real power package. Furthermore the forceful vehicle convinces with high-quality components and light-alloy rims sourced from the production of first-class suppliers. Only high-quality composite materials for example, has been used as the material for the QX80's body kit. LARTE has intentionally chosen a martial design with edges, corners, indicated spoilers and air intakes.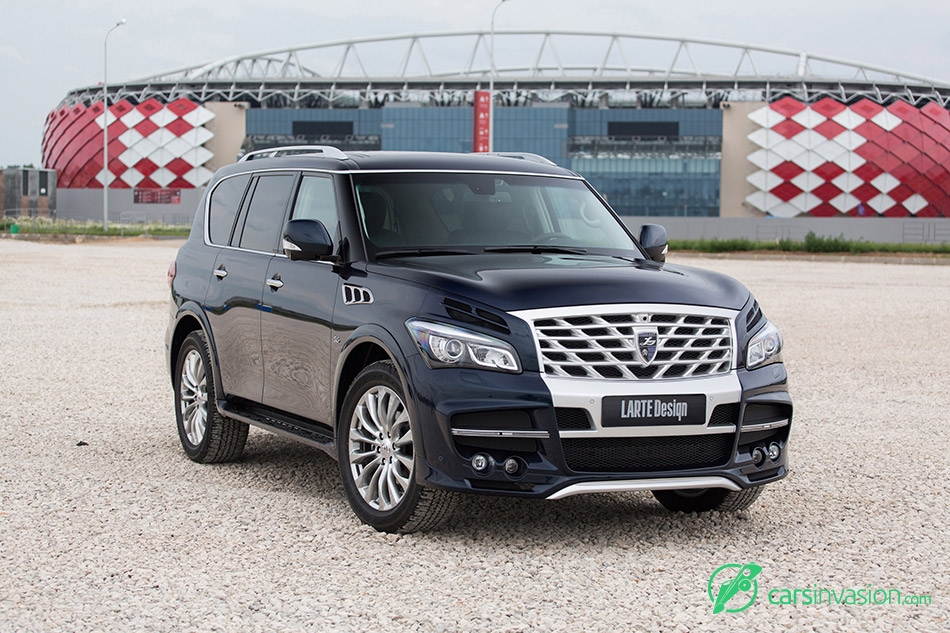 Two pairs of round additional lamps, which assume the function of daytime running lights, have also been installed. LARTE also chose to install a sophisticated stainless-steel exhaust system that has been sourced from the production of a leading OEM manufacturer and that as a sign of its quality bears the laser-engraved company logo. The four pipes – each possessing a diameter of 101 millimetres – have been held in chrome and arranged in two pairs on the left and right rear. In conjunction with the entirely newly designed LARTE apron in the style of the front bumper, the eye-catching exhaust system constitutes the dominating element of style: the new bumper is more square, three-dimensional and much more aggressive than Infiniti's original.
The bright light-alloy wheels with their angular spokes perfectly match the ensemble. The large spaces in between that show off the brake system make the rims appear light and sporty in spite of their presence. LARTE also attached importance to a special design for the interior: The foot spaces and the luggage compartment may be are featured with high-quality teak flooring as optional. The car-tuning company has also used the same material for the door-sill protectors that are encased in the frame that is made of brushed metal.
All in all, the appearance of the LARTE Infiniti QX80 - LR3 in dark blue looks markedly precious. The well-conceived design and the recurrent combination of the colors blue and silver create noticable highlights. And this promises especially one thing: That vehicle is a top-class eyecatcher.
Source: Larte Design
Gallery:
Larte Infiniti QX80-LR3 (2015)