Jaguar debuts the latest dramatic evolution of its supercharged Jaguar XKR coupe at the 2010 Geneva Motor Show. The stunning new Jaguar XKR Special Edition delivers a significantly raised maximum speed - 174mph (280km/h) - and bold exterior styling changes that create the ultimate supercharged Jaguar.
The Jaguar XKR Special Edition combines a number of new features and option packs that are introduced to the XK range at 2011 Model Year. Jaguar customers have the option to personalise their vehicle by building on the existing Jaguar XKR package to deliver a car that offers even greater performance without sacrificing the refinement and luxury for which every Jaguar is renowned.
Introduced in 2009, the Jaguar XKR boasts a state-of-the-art 5.0-litre supercharged AJ-V8 Gen III R engine that delivers 510PS (510bhp SAE), 625Nm of torque and propels the coupe to 60mph in just 4.6 seconds. Now, in Special Edition guise, the Jaguar XKR's top speed climbs significantly from an electronically limited 155mph (250km/h) to 174mph (280km/h) thanks to the addition of the Speed Pack. Allied to that remarkable engine is an advanced six-speed automatic transmission with steering-wheel mounted paddles, lightweight aluminium body structure and a range of computer-controlled systems including Active Differential Control and Adaptive Dynamics that ensure the supercharged car accelerates even faster, handles even more precisely and sets new standards of ride and comfort.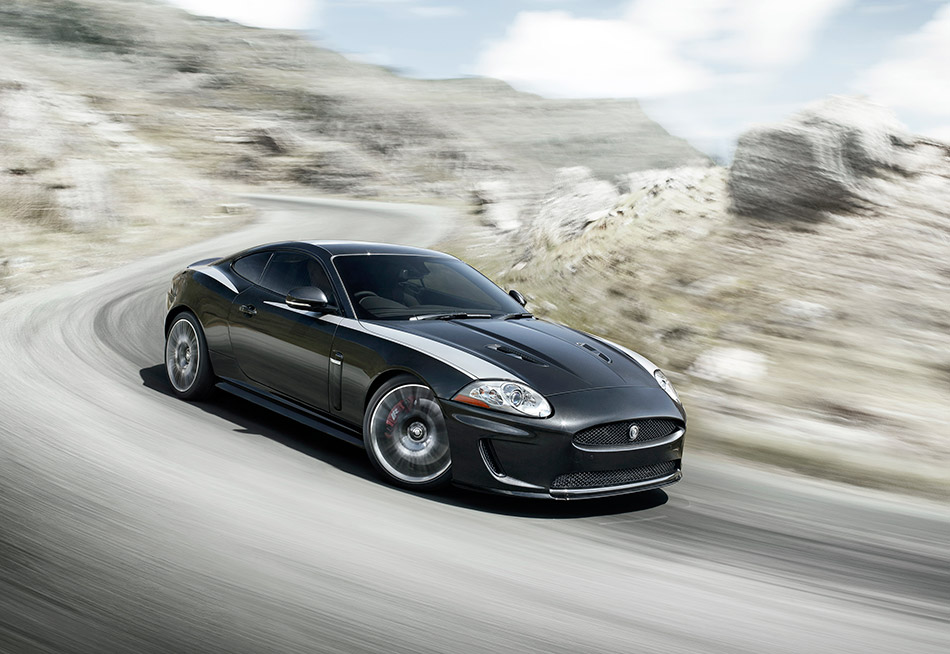 The benefits of the Jaguar XKR's lightweight but stiff and strong advanced all aluminium body are already acknowledged. Not only does this architecture bring dynamic benefits thanks to its torsional rigidity, it also offers excellent safety and crash repair features and provides the ideal base to improve performance across the board - including optimised fuel economy and CO2 emissions. Thanks to the combination of excellent powertrain efficiency and the Jaguar XKR's advanced lightweight body architecture, its fuel economy is comparable to the previous generation of Jaguar XKR - despite the significant increases in power and performance.
The Jaguar XKR Special Edition pairs the optional Speed and Black Packs to create the bold new model unveiled in Geneva, which also sports optional Piano Black veneers on the dashboard and red brake callipers. Both option packs are also available separately for customers who seek to personalise their cars in terms of either styling or additional performance. Whatever combination is chosen, every Jaguar XKR delivers that classic Jaguar blend of seductive, powerful and elegant looks, beautifully finished interiors and even more comprehensive specification.
The driver is the centre of attention in the Jaguar XKR Special Edition, with exciting new features including the acclaimed JaguarDrive Selector™, and high levels of specification such as the 7-inch Touch-Screen, 16-way heated and cooled memory seats, Jet Suedecloth premium headlining and Flint Grey premium carpet. In addition, a bespoke new Jaguar XK suitcase (which will be available as an option for all XK models) has been fashioned for the Jaguar XKR Special Edition. From 2010, the Jaguar XK range (UK and certain European markets only) will be fitted with the tyre repair Instant Mobility System. By adopting IMS on all models, the XK frees up its 30-litre wheel well, which is now carpeted and can hold the specially designed and tailored XK accessory suitcase, substantially increasing the versatility of the car.
The new 2011 Jaguar XKR Special Edition consists of two new styling and performance packs - the Speed and Black Pack. Both are available to Jaguar XKR coupe customers separately and provide new levels of styling and performance for owners looking to further personalise their Jaguar.
The Jaguar XKR Speed Pack
The Jaguar XKR with new optional Speed Pack allows customers to further strengthen their XKR's already impressive breadth of capability, by extending the car's top speed from 155mph (250km/h) to an electronically limited 174mph (280km/h), thanks to a unique engine and transmission recalibration.
To ensure the Jaguar XKR with Speed Pack remains stable at high speeds, the coupe uses a revised front aerodynamic splitter and larger rear spoiler to provide increased balance and a reduction in lift. The Jaguar XKR's computerised Active Differential Control also adjusts to reduce steering sensitivity at very high speeds, further improving stability and driver control.
Customers who order the Jaguar XKR coupe with the Speed Pack will be offered a paint palette that is part of the Jaguar Designers' Choice programme - a range of colours that have been specifically chosen to compliment the performance potential of the car. Seven colours are available on Speed Pack models - Ultimate Black, Polaris White, Salsa Red, Liquid Silver, Lunar Grey, Kyanite Blue and Spectrum Blue.
Every Jaguar XKR with the Speed Pack will come with body-coloured side sills and rear diffuser, and a chrome finish to the window surrounds, upper and lower mesh grilles, side Power Vents and boot lid finisher. Red brake callipers with a Jaguar 'R' logo sit inside 20-inch Kasuga alloy wheels.
By raising the Jaguar XKR's maximum speed the new car has extended its sporting credentials, taking it even further into supercar performance territory. Russ Varney, Chief Programme Engineer, XK Series, explains the philosophy behind the uprated Jaguar XKR: "With 510PS and 625Nm of torque, the Jaguar XKR has immense reserves of power and acceleration which impress everyone who experience it. The car has always had the potential to reach speeds far beyond its original electronically limited maximum and many of our customers have expressed an interest in a car that can safely be driven faster where conditions permit. The new Speed Pack allows them to release some of that potential and give them control of the fastest Jaguar XK we've made to date."
The performance potential of the supercharged AJ-V8 Gen III R engine comes courtesy of its highly advanced design. The all-aluminium four-cam power unit has a number of features that deliver power with very high efficiency, including spray-guided direct injection (SGDI), which improves performance and economy, and dual independent variable cam timing (DIVCT), which benefits performance and economy, while also reducing emissions.
The AJ-V8 engine is built around a stiff, aluminium block with cast-in iron liners and cross-bolted main bearing caps to reduce noise, vibration and harshness. The block is high pressure die-cast, providing a superior finish and greater dimensional accuracy. The engine uses aluminium heads, with four valves per cylinder and spheroidal-graphite cast-iron crankshafts and forged steel connecting rods. The cylinder heads for the first time are specified with a secondary (recycled) aluminium alloy thus reducing the environmental impact of manufacturing the new engine.
A sixth-generation, twin vortex system supercharger is fitted to the Jaguar XKR's 510PS engine. It is a compact Roots-type unit, feeding air through twin intercoolers, which in turn are water-cooled by their own discreet cooling circuit. The high helix rotor design improves the supercharger thermodynamic efficiency by more than 20 percent over its predecessor. It also improves noise quality to the point where the unit is virtually inaudible (making supercharger whine a thing of the past). The intercoolers reduce the temperature of the pressurised intake-air and so optimise power and efficiency. Mechanically, the new supercharger and its intercoolers are efficiently packaged in the 'V' of the engine to deliver a lower overall engine height in support of pedestrian safety requirements.
An industry-first, centrally-mounted, six-hole, spray-guided fuel injection system delivers fuel at a pressure of up to 150bar directly to the cylinder. This substantially contributes to improved low-speed, dynamic response. The positioning of the injectors ensures fuel is precisely delivered to the centre of the combustion chamber, maximising air-fuel mixing and improving combustion control. Fuel is delivered through twin, high-pressure fuel pumps that are driven via an auxiliary shaft in the all-new engine block.
The charge cooling effects of the direct-injection fuel system have allowed the compression ratio of the supercharged engine to increase from 9.1:1 to 9.5:1, further optimising fuel economy. During the engine warm-up phase, the combustion system employs multiple injection mode strategies to deliver 50 percent more heat for fast catalyst warm-up and emissions reduction.
A new type of variable camshaft timing (VCT) system introduces another new technology. The four VCT units are activated by the positive and negative torques generated by opening and closing the intake and exhaust valves, instead of by oil pressure. This has allowed the engine oil pump to be reduced in size, saving energy and improving fuel consumption.
VCT units work independently on all four camshafts with 62 degrees of authority on the inlet cams and 50 degrees of authority on the exhaust cams. Timing is optimised by the engine control unit for torque, power and economy at every point in the engine's speed range. The new VCT units are capable of a response rate up to three times faster than in previous Jaguar engines, with actuation rates in excess of 150 degrees per second. This delivers a more immediate engine response to the driver's demand for power.
Minimising internal friction is key to improving fuel consumption and CO2 emissions, and as such was a key aim when it came to the design of the engines. As a result, the new Jaguar AJ-V8 Gen III engines achieve another best in class, setting a new industry benchmark for cranktrain efficiency.
All engine bearings were engineered for reduced friction without compromising reliability. Diamond-Like Carbon Coating (DLC) has been used to reduce friction on the fuel pump tappets and a solid film lubricant has been used to coat the piston skirts. New engine oil has a lower viscosity, contributing to an extension in service intervals from 10,000 miles to 15,000 miles (or 12 months). The V8 engine is fitted with an electronic oil-level indicator for added peace of mind.
Sound quality is a key characteristic of all Jaguars and is one particular aspect that customers relish. With that in mind, Jaguar engineers have accentuated the acoustic feedback into the cabin in order to further enhance the driving pleasure.
In addition to the fully active exhaust system in which valves open to provide a more rewarding note, the new Jaguar XKR has been engineered to provide an intake feedback system to enhance the V8 sound character commonly absent on supercharged engines. Intake manifold pressure pulsations are fed into an acoustic filter at the rear of the engine that is tuned to provide an edgy sports car 'crescendo' at high revs. The filter is controlled by the engine management system, which only allows the sound to enter the cabin under the appropriate driving conditions.
The new intake feedback system combined with the fully active exhaust system provides the most exhilarating aural experience yet delivered on a Jaguar.
The Jaguar XKR Black Pack
For customers looking to create a real statement with their Jaguar XKR, the new optional Black Pack allows them to own a bold and purposeful Jaguar with undeniable visual impact thanks to menacing gloss black wheels and exterior detailing.
Like the Speed Pack, XKRs fitted with the Black Pack have a paint palette that is restricted to colours that Jaguar's Design team believe to be ideal for creating a coupe with immediate exclusivity. The Black Pack models will be available in Ultimate Black, Polaris White or Salsa Red and boast eye-catching 20-inch gloss black Kalimnos alloy wheels. Further gloss black finishing is applied to the window surrounds, front grilles and side Power Vents. Optional red painted brake callipers contrast strongly with the black alloy wheels, while body coloured front and rear spoilers and boot lid finisher round out the package. Customers also have the option to apply a sweeping 'XKR' side body graphic that runs along the door sills.
Jaguar's Design Director, Ian Callum, says the new Black Pack is a fitting addition to the Jaguar XKR: "While Jaguars are about beauty, they are also about speed and power. With the optional Black Pack you can now add a sense of drama and severity to that performance."
In addition to the Black Pack's exterior changes, the Jaguar Designers' Choice programme has also selected a range of interior trims that support the visual impact of the car. All XKRs with the Black Pack will be trimmed with Charcoal leather hides that can be personalised with a range of colour stitching and grain. Three interior finishes and veneers for the fascia and door trims are also available - Dark Oak, Dark Mesh Aluminium and Piano Black.
Whatever interior trim is selected, the Jaguar XKR's cabin is evidence of contemporary, sporting luxury, exceptional quality of craftsmanship, and Jaguar's renowned attention to detail. The interior is clean, elegant and spacious, and remains entirely in harmony with the sporting character of the revised exterior.
The latest feature enhancements are showcased by the JaguarDrive Selector™, which is neatly and elegantly packaged in the centre console. First seen on the Jaguar XF saloon, the JaguarDrive Selector™ features a rotary shift control which rises into the driver's hand as the car is started, to give intuitive, ergonomically efficient transmission control from a neat, space-efficient interface.
The selector is, in fact, much more than just an unobtrusive yet completely practical solution to selecting an automatic gear mode. It also imbues the car with a strong driver 'handshake' - get into an Jaguar XKR and the start button in front of the JaguarDrive Selector™ pulses red, like a heartbeat; press this button to start the engine and the cast alloy JaguarDrive Selector™ rises into the palm of your hand.
From there, automatic transmission functions are selected simply by turning the control with the fingertips. As an example, Drive to Drive Sport selection is accomplished with a simple push and turn action. Returning from S to D, the rotary control operates with spring-assistance, which eliminates the need to pull the Selector. It couldn't be simpler. And when the engine is stopped, the JaguarDrive Selector™ returns automatically to its Park position.
The welcome to the car is also enhanced by bright treadplate inserts. Many of the other changes emphasise high levels of Jaguar craftsmanship with jewel-like touches. The three-spoke steering wheel contains a leather-wrapped lower spoke, and Jaguar's striking 'growler' badge. The Jaguar XKR's instruments further emphasise the car's performance character with red pointers and white illumination.
The door casings are even more luxuriously crafted than before, with saddle-stitched lines and a new interlayer to give a softer touch to the top shoulder of the casing. The leather door pulls also introduce twin-needle stitching and a soft-feel interlayer. In each door, the modified seat switch pack includes single-piece chrome 'highlight' switches.
In true, contemporary Jaguar fashion, a great deal of relevant and intuitive technology is controlled by the clear and elegant seven-inch Touch-screen in the centre console. The Touch-screen provides access and control for the Climate Control and Audio systems, for the Satellite Navigation System, for Bluetooth mobile connectivity, and for Jaguar's Portable Audio Interface - which are all standard equipment. The satellite navigation system offers DVD mapping, postcode entry, and a traffic message channel. The Portable Audio Interface offers iPod connectivity, and the connection of other storage devices through a USB port, to the in-car sound system, with full Touch-screen control.
The audio system for the new Jaguar XKR is the ultimate Bowers & Wilkins 525-watt system with Dolby® ProLogic®II Surround Sound, three-channel stereo with unique amplifier, Kevlar mid-range speakers with high output and low distortion, and specially designed aluminium tweeters.
Depending on market, a number of Digital Radio options are available: HD radio is available for North American market cars, SDARS satellite radio for North America and Canada, and Digital Audio Broadcasting (DAB) is offered in selected European markets.
Source: Jaguar
Gallery:
Jaguar XKR (2011)