As Nissan expands its NISMO line of factory performance models, it is revisiting the small car performance genre and teasing the future with the Los Angeles Auto Show world debut of the Nissan Sentra NISMO Concept.
The Sentra NISMO Concept is built on the solid foundation of the latest generation Nissan Sentra, which offers an outstanding balance of premium style, innovative technology and fuel-efficient performance. The concept injects performance and design tuner elements into the mix. Among the Sentra NISMO Concept's many departures from a production 2014 Sentra are its race-inspired exterior with enhanced aerodynamic performance, NISMO-tuned suspension, steering and transmission and engaging motorsports-style cockpit.  And under the hood, the concept adapts a 1.8-liter direct injection turbocharged engine producing more than 240 horsepower and 240 lb-ft of torque, mated to a 6-speed manual transmission.
"Fans have asked that we bring back a high-performance Sentra straight from the factory, just like in generations past," said Nissan Vice President of Product Planning, Pierre Loing. "With NISMO, our in-house motorsports arm already producing versions of the 370Z NISMO, JUKE NISMO, JUKE NISMO RS and upcoming GT-R NISMO, we wanted to demonstrate where we could go in the future."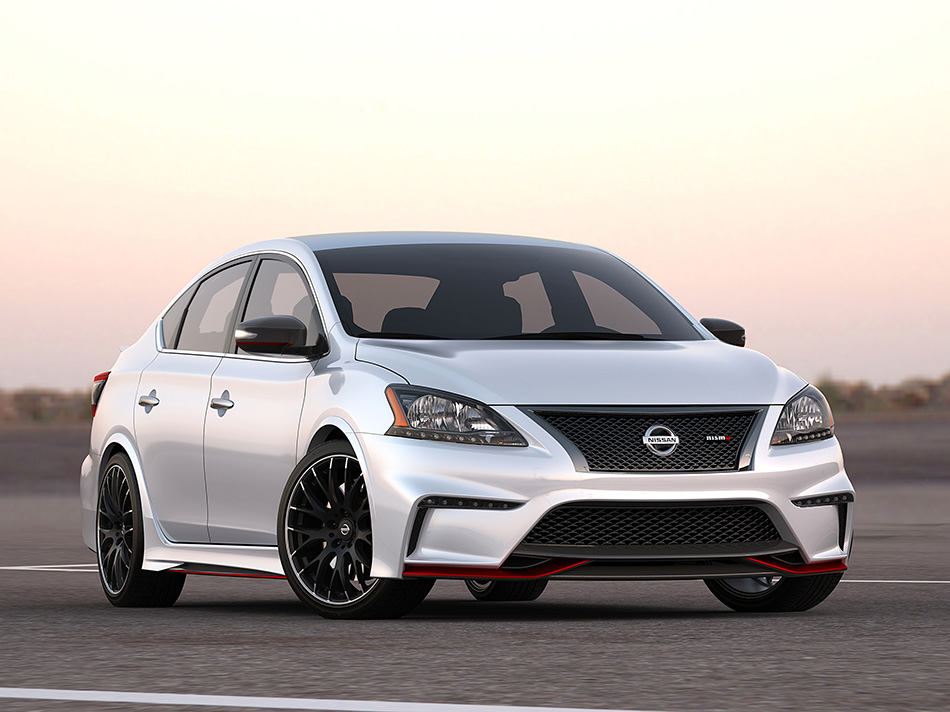 A Powerful Presence

The look of the Sentra NISMO Concept, like previous Nissan performance sedans, is somewhat understated – more sophisticated and confident than "in-your-face" boy racer. Exterior modifications, designed to enhance Sentra's already good aerodynamics, start with a deep front fascia with lower LED lights and wide lower grille that match the stock Sentra's standard LED daytime running rights and upper grille.
The aerodynamic look continues with a wide lower front spoiler and along the sides of the vehicle with the oversized fender flares and integrated side sills flowing into a deep-skirted rear fascia accentuated by large dual exhaust tips. A custom rear spoiler and center rear fog lamp, which echoes the design of the 370Z's rear diffuser, complete the look. All lights on the vehicle feature a smoked look.
A thin, signature NISMO red accents accentuate the areas where aerodynamics have been emphasized such as the lower spoiler, while more discreet striping is found on the side mirrors and side sills. NISMO badges – with signature matching red "O" – are located front and rear.
The body is painted in a custom Bright Pearl White. The aerodynamic side door mirror covers, front splitter and rear diffuser are finished in a high-gloss, genuine carbon fiber diagonal pattern. The special Black Chrome-finished mesh grille is surrounded by Dark Chrome, adding to the Sentra NISMO Concept's imposing presence.
"The exterior treatment takes Sentra's mature, premium presence and infuses it with an added dimension of excitement and dynamic energy," said Loing. "Still easily identified as a Sentra, it evokes a strong sense of the power that lurks just below the surface."
While production 2014 Sentras combine responsive acceleration with excellent fuel efficiency from a 130-horsepower 1.8-liter DOHC 16-valve inline 4-cylinder engine, the Sentra NISMO Concept borrows technology from the new JUKE NISMO RS's DOHC 16-valve, turbocharged, intercooled, sequential Direct Injection Gasoline (DIG) equipped 4-cylinder, enlarged to 1.8 liters. The NISMO-tuned engine produces an estimated 240+ horsepower and more than 240 lb-ft of torque – enough to show its taillights to ordinary sedans.
The engine is matched with a beefy 6-speed manual transmission and limited-slip differential to help make sure that the power is directed firmly to the road surface. The stock Sentra's independent strut front and torsion beam rear suspension receive the NISMO tuning treatment, complete with custom performance shocks and springs.
Wide 19-inch RAYS aluminum-alloy wheels mounted with 225/35R19 Michelin Super Sport performance tires and red-painted 370Z brake calipers complete the package.
A true performance sports sedan demands an equally engaging cockpit. The Sentra NISMO Concept interior features an array of NISMO-inspired upgrades, including Recaro "Sportster" front seats with custom black leather and Alcantara® appointments. The rear seats are treated to a mix of perforated black Alcantara® in a similar pattern to the front seats. Alcantara® is also used for the pillars and headliner.
The racing-inspired interior continues with a NISMO-style leather/Alcantara®-wrapped steering wheel with red leather at the 12 o'clock position, along with matching shift knob and shifter lever boot surround.  The instrument cluster features a satin carbon fiber finish and all chrome accents are treated to a Dark Chrome finish.  Both the start button and tachometer include iconic NISMO anodized red rings.
The Ultimate Essence

"NISMO is the 'Ultimate Essence' of Nissan's 'Innovation and Excitement' as a performance and personalization brand. With its highly credible motorsport heritage and passionate attitude in pursuing victories and continuous performance improvement, the NISMO name is not to be taken lightly," said Loing. "Neither are vehicles that wear the NISMO badge. For those who love their sports sedans with a little adrenaline, a Nissan NISMO product should be on their shopping list."
Source: Nissan
Gallery:
Nissan Sentra NISMO Concept (2014)