Kia Motors America (KMA) today provided the perfect rolling soundtrack to Las Vegas' never-ending light show as the 2013 Specialty Equipment Market Association (SEMA) Show opened with five music-inspired all-new 2014 Soul urban passenger vehicles, collectively making their presence known with a display worthy of the best Las Vegas nightclub parties.  The five sound-blasting creations feature music-themed builds including a DJ Booth Soul, an "Amped" Soul, the museum-like Music Memorabilia Soul, a Soul inspired by NBC's hit show, The Voice, which Kia has sponsored for four seasons, and a Soul highlighting the brand's partnership with the Vans Warped Tour.  All five Souls of SEMA tell their own unique story with music as their common language.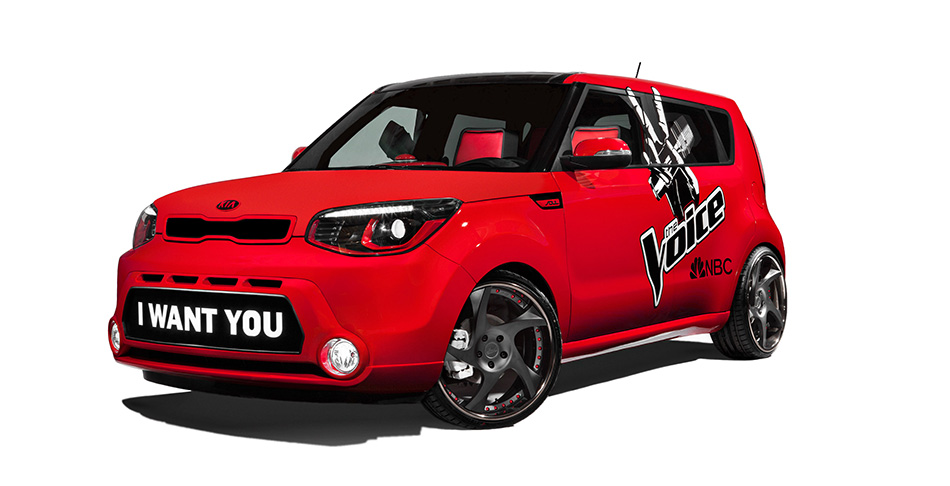 "Since the Kia Soul first arrived on the scene in 2009, it has established a very real and remarkable connection with music," said Michael Sprague, executive vice president, marketing and communications, KMA.  "After harnessing five major marketing campaigns with songs spanning from Black Sheep to LMFAO to this year's Lady Gaga spot, which debuted during MTV's Video Music Awards, music has become a core attribute of the Soul's persona. The SEMA show presented the perfect opportunity to bring that personality to life – with the volume turned up to 11."
Built by Galpin Auto Sports and LUX Motorwerks, three of the vehicles feature premium audio components intended for live performance, while the others showcase musical lifestyles and trends.
Source: Kia
Gallery:
Kia The Voice Soul (2014)