Lamborghini Gallardo, the smaller cousin of the Lamborghini Murcielago, was design to be a cutting edge sports car that could still be used as an everyday car - a task that seems next to impossible. In order to succeed engineers had to achieve high comfort standards while maintaining the savage performance expected of a Lamborghini. The result is a 4.3 meters long 2-seater raging bull capable of over 300 km/h, fulfilling the high-performance sports car pedigree for which the company is famous, while still being enjoyable to drive outside the race track, in the city or country lanes.
It was designed to preserve the attributes of previous Lamborghini cars, but also to add a sense of extreme individuality and a modern feel. The final product looks great, even when standing still the Lamborghini Gallardo feels fast and uncompromising. The interior looks modern and is of superb build quality, but you can recognize some Audi bits here and there. Unfortunately the car lacks the famous Lamborghini scissor doors, which are reserved for V12 lineage.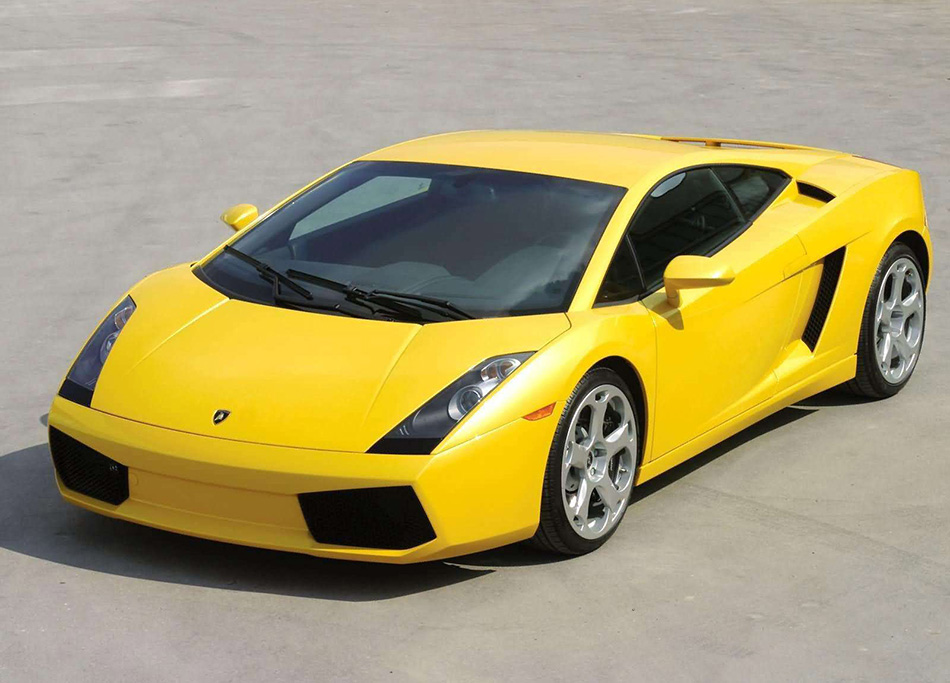 Lamborghini Gallardo is powered by an incredible 5-liter V10 engine generating maximum power of 500 hp (368 kW) at 7,800 rpm, 510 Nm of torque at 4,500 rpm (with as much as 80% available as low as 1,500 rpm) and made entirely from aluminum. Throttle is controlled by a Drive by Wire system with two electronic throttle bodies. The power is sent to all four wheels by a Lamborghini Viscous Traction system which, in normal conditions, distributes the traction at about 30% front and 70% rear. The system is considered to be "self-regulating" and does not require any additional electronic management. The car uses a 6-speed manual gearbox with an option of a sequential gearbox - the e-gear - providing gear changes using paddles mounted to the steering column. In order to further lower the centre of gravity the car uses a reduced diameter double plate clutch.
Suspension in both front and the rear utilizes a double wishbone setup typical for high-performance sports cars. In order to offer exceptional handling the Lamborghini Gallardo has also been fitted with front and rear limited slip differential. To assure the finest grip in various weather conditions Lamborghini Gallardo is equipped with Pirelli PZero tires - 235/35 ZR19 front and 295/30 ZR19 in the rear. The ensure outstanding brake efficiency the car uses large brake disks combined with Brembo clippers - 365 mm / 8-piston front, 335 mm / 4-piston rear. ABS and the ESP system have been set up to allow a proper sports driving excitement while still keeping the ride safe.
The top speed of the Lamborghini Gallardo is an impressive 309 km/h (192 mph). This incredible machine will go from 0 to 100 km/h in 4.2 s and cover the first 1000 meters in just 22.3 seconds. The car's fuel consumption figures are 9 mpg (29.1 liter/100km) in the city and 15 mpg (13,9 liter/100km) extra urban. Lamborghini Gallardo's MSRP Price Range is $175,000 - $195,000.
Source: Lamborghini
Gallery:
Lamborghini Gallardo (2003)