Lincoln's next-generation Aviator will "crossover" to a car-based platform, enhancing Lincoln's lineup, while maintaining its place as Lincoln's entry in the mid-sized SUV segment. A teaser of the luxury SUV debuts at the 2004 North American International Auto Show in Detroit.
The medium-size utility vehicle segment is one of the fastest-growing premium segments in the industry. Dubbed a crossover sport utility vehicle, Aviator's move to a car-based platform will help Lincoln deliver a very competitively priced vehicle – one with exceptional comfort, elegant design and effortless driving – everything customers expect from a Lincoln.
"The next-generation Aviator is a new kind of Lincoln; it's our first-ever, car-based SUV," said Phil Martens, Ford Motor Company group vice president, Product Creation. "Aviator is here to stay and is evolving to meet customer demand."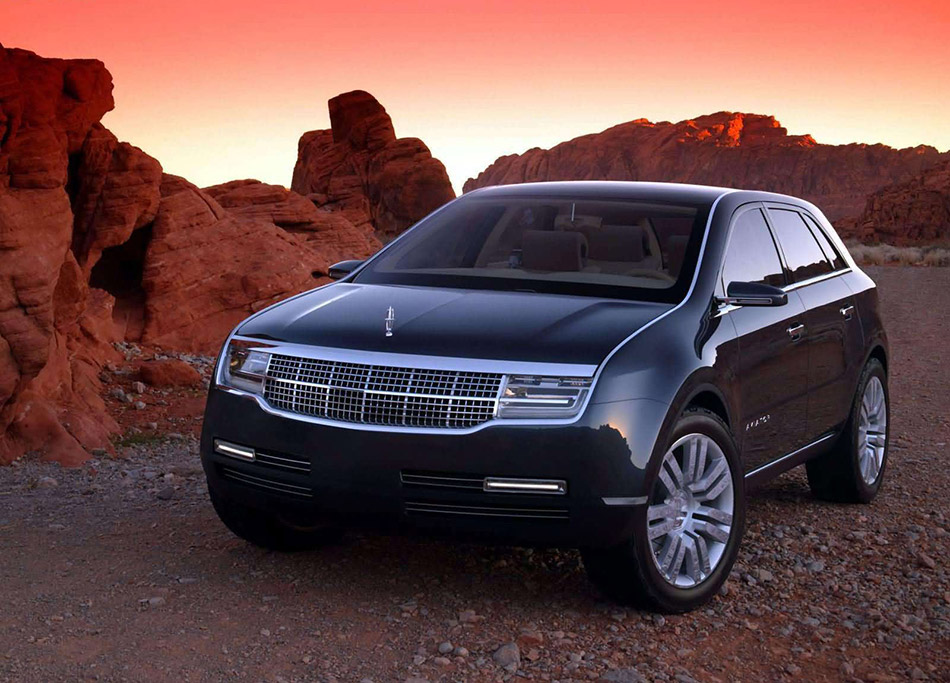 Lincoln Design Soars
The next-generation Aviator will get an all-new look and architecture. This sneak peek strongly suggests the direction that the exterior design will take moving forward. As the first Lincoln car-based SUV, it is designed with sporty lines while incorporating current Lincoln design cues. It also applies classic design elements from the past, modernized for use in future applications.
"We wanted to create a new type of premium crossover," said David Woodhouse, chief designer. "The teaser, much like the future Aviator, is a midsize sports crossover designed with distinction, but it does not forget where it came from."
A signature bright metal strip inspired by the 1961 Continental begins at the grille, runs over the fenders, frames the full-length glass roof and ends at the lower tailgate, accentuating the vehicle's profile. The all-glass roof provides a panoramic, overhead view.
One of the most noticeable characteristics is a new Lincoln grille, a trait to watch for on future Lincoln models. The polished egg-crate grille, reminiscent of elegant Continental models of the past, features a rhythmic pattern of solid horizontal and vertical chrome trim. The grille surround encompasses the headlamps, a cue also from the 1961 Lincoln Continental. The new face incorporates a nearly 2-by-4-inch Lincoln star and a bright horizontal blade by the lower air intake.
Its 21-inch spoked wheels, made from a combination of cast and polished aluminum, feature wheel caps with the Lincoln star at the center. Additional polished bright work can be found running the length of the side windows, on the door handles, head and tail lamps and vehicle badging.
The richness of the exterior color, combined with the vehicle's bright detailing, create a feeling of urban sophistication. When approaching the vehicle, the exterior appears to be black in color, but up close, its tone changes to a deep Pacific Blue.
This Aviator teaser shows off a uniquely wide C-pillar, giving the vehicle's visual stance a sense of balance. It also features a recessed Lincoln star with intricate detailing.
The upper glass lift gate features a nearly 3-by-6-inch floating Lincoln star, integrating horizontal taillamps that stretch the full breadth of the rear and emphasizing the vehicle's width – another echo of past Lincoln proportions. The tailgate hinges flat, offering an unobstructed entry to an unexpected amount of interior cabin space.
First-Class Travel
Staying true to its Aviator name, this vision for the next generation Aviator features a conceptual interior that couples an aviation theme with an innovative use of space, unique materials, comfort and convenience features that unmistakably make it a luxurious Lincoln.
"This dramatic one-and-a-half-box design features a modern, efficient package where occupants are accommodated in a versatile and generously spacious 'lounge-like' interior," said Woodhouse. "The vehicle is designed to make you feel as though you've purchased a first-class ticket on a most exclusive airliner."
The Aviator features flexible storage and seating. Adjustable first- and second-row seats, as well as two storage consoles that move forward and rearward between the occupants, allow passengers to arrange the cabin in different configurations for long trips.
The rear console also features personal climate and navigation controls; additional storage is found in all four doors and seat backs.
Keeping with the aviation theme, lap tables with a leather-trimmed pad deploy from the rear center console to be used for a laptop computer, snacks or travel games in the second row. Aviator's four reclining captain-style chairs have integrated leg rests for an extra level of comfort and luxury. To complete the travel experience, DVD screens are integrated into the front row seat backs.
Genuine aeronautical vents and map lights are found on the cantrails and headers with additional illumination in the upper door trims for theater-like ambiance.
Unique Materials
True to Lincoln, the interior features a combination of unique materials, creating a luxurious and relaxing interior environment.
The symmetrical floating instrument panel exhibits a combination of brushed and brightly polished aluminum accents on the cluster, radio, navigation and climate controls, elongated vents and Lincoln star – adding jewel-like detail and contrast to the interior. The instrument panel also features a laser-inscribed "Aviator" vanity plate of polished aluminum above the glove box, again giving the Lincoln stamp of luxury.
The seats feature a combination of light and dark plush leathers with textured leather accents on the headrest, lumbar support and footrest.
Light-colored leather is found from the belt line up and helps lift attention upward. It's also found on the steering wheel, dash and door accents. The reddish undertones of the dark leather used from the belt line down give the interior space a feeling of richness.
A continuous, Behr, pure hardwood floor with bright aluminum strip accents begins at the instrument panel and flows uninterrupted into the cargo space, maximizing the interior space. Behind the occupant cabin, the Aviator teaser's cargo area features 30 cubic feet of storage space, enabling customers to pack for any trip. The hardwood flooring is carried through to the inner tailgate, a design detail that provides an impactful first impression upon opening the cargo bay.
Meantime, the all-glass roof is framed by a repeat of the exterior signature bright strip, adding to the interior's super sensory experience.
Comfort and Convenience Features
The center stack features a multifunction information screen displaying satellite navigation, climate control status and vehicle information like seat memory and tire pressure. Occupants also can access concierge services, weather forecasting, hotel or restaurant information via the Internet.
The teaser features Lincoln's exclusive THX®-certified audio system for the purest sound available in a vehicle. This hi-fi system has nine speakers with automatic mute control. Also, for passenger comfort, the radio's volume automatically adjusts to the vehicle's speed – raising the volume as the speed increases.
Aviator also boasts a collection of luxury features that enhance the occupants' journey, including rain-sensing windshield wipers, self-leveling headlamps, power and heated exterior rear view mirrors with integral direction indicator, automatic dimming rear view mirror, height- and reach-adjustable steering column, built-in capability for hands-free telephone, driver and passengers independent climate control with pollen filtration and an integrated global vehicle theft location system.
Travel With Confidence
As a representation of the next-generation Aviator, the teaser combines sporty lines, a broad stance and generous ground clearance to assert the vehicle's off-road capability while echoing its on-road refinement.
For a smooth progression of power, the show vehicle boasts a six-speed automatic transmission to deliver torque on demand.
The vehicle's front suspension features adjustable dampers to deliver improvements in overall ride quality. A rear multilink suspension delivers a well-controlled ride and responsive handling.
For occupant safety, high-strength steel, monocoque construction utilizes hydroformed components to create a rigid, safe body shell for optimal protection. Additional safety features include dual stage driver and passenger air bags, including side air bags, integrated seat belts in all seats with belt pretensioners, three-point rear safety belts, automatically monitored and adjusted tire pressure sensing system and high performance brakes with ABS.
Source: Lincoln
Gallery:
Lincoln Aviator Concept (2004)