Lotus Cars unveils its latest special edition - the Exige Scura, so called due to its dramatic matt black and carbon fibre theme, at the Tokyo International Motorshow on 21st of October 2009.
Translated as 'dark' from Italian, the name 'Scura' reflects the stealth character of this already fierce looking Lotus and its stunning soft-feel matt black paint finish. Limited to just 35 cars globally, this Exige evokes a desire to 'indulge your dark side'. This is a serious looking car and enhancements to performance and a reduction in weight from the production level Exige S means that the Exige Scura demands to be driven by a serious driver.
Contrasting high gloss 'Phantom Black' triple stripes run the length of the car and a carbon fibre front splitter, oil cooler inlet vanes, side airscoops and rear spoiler enhance the stunning distinction between the different textures and exaggerate the tactile quality of the velvety touch to the matt black paint finish.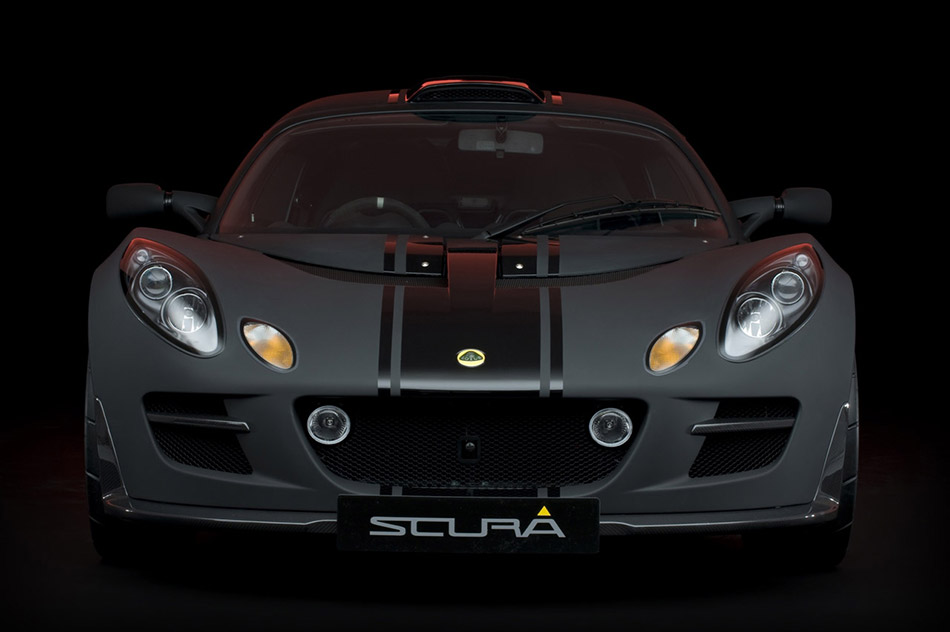 Luke Bennett, Director of Lotus Cars said, "The Exige Scura is a stunning vehicle which offers an adrenaline fuelled experience and is a real head-turner! Our Exige customers choose Lotus because we deliver thrilling performance and dynamic design and this special edition fits the bill on both counts."
Continuing the dark 'Scura' appearance into the interior, carbon fibre is used extensively to compliment the exterior theme and reduce weight. The seats and centre console are crafted from carbon fibre and the handbrake and gear knob have a special anodized treatment which leaves the metal with an anthracite colour finish. All carbon fibre components have been beautifully finished in high-gloss clear lacquer allowing the weave to remain exposed which gives the cabin a raw and racy ambiance.
Whilst there is no doubt that this is a visually stunning car, the Exige Scura is not just about its looks – it begs to be taken on track, and its racing character encompasses poise, power and technology to make it a serious contender. Equipped with the most powerful engine in the Exige range and generating 260PS, the Exige Scura achieves a top speed of around 245 km/h and reaches 0-100 kmh in just 4.1 seconds.
Suspension
To suit individual driving styles and road conditions, drivers will now be able to tune the Exige suspension with the Ohlins two-way adjustable dampers (which have 60 compression and 22 rebound settings) and ride height adjustment to reduce the ride height from 130 mm to 120 mm.
Performance, Economy and Emissions
The Lotus Exige Scura is capable of incredible track performance which and at the heart of its success is the aerodynamic package, which produces 42 kg of downforce at 160 km/h (100 mph) increasing grip and stability at higher speeds. This downforce, coupled with a top speed of around 245 km/h (152 mph) and a zero to 160 km/h (100 mph) in circa 9.9 seconds, 0 to 100 km/h in circa 4.1 seconds (0 to 60 mph in around 4 seconds), means that the Exige Scura is not only stunning to look at but a phenomenal performer too. Combined cycle fuel consumption is 8.5 l/100km and the CO2 emissions of 199 g/km.
Engine
The supercharged and intercooled engine in the Exige Scura has a maximum power output of 260 PS (257 hp) at 8000 rpm and a torque figure of 236 Nm (174 lbft) at 6000 rpm. This significant amount of extra power and torque over the production level Exige S together with the VVTL-i variable cam system ensures that there is a smooth and linear delivery of power from low engine speeds all the way to the maximum 8000 rpm (8500 rpm transient for 2 seconds). The supercharger (with a sealed-for-life internal mechanism meaning that it does not require the use of the engine's oil) is run from the crankshaft and has an integral bypass valve for part load operation. Charge air (air under pressure from the supercharger) is cooled through an air-to-air intercooler (the air enters via the enhanced roof scoop) before being fed into the engine itself. All charge air ducting has been kept as short as possible with large diameter pipes to minimise restriction and maximise throttle response and efficiency. Four high capacity injectors and an uprated fuel pump add additional fuel under hard acceleration or continuous high speed driving – only on the track, of course!
A lightweight flywheel is fitted (giving even greater flexibility and response to the gear change), a sports-type clutch plate and heavy duty clutch cover transfer the engine power and torque to the lightweight C64 six-speed gearbox (with an aluminium casing) – with the same perfectly spaced ratios as the Exige S. An Accusump (engine oil accumulator unit) is included in the whole package as an oil reservoir back-up for extreme track use ensuring that, under those conditions, the engine oil pressure remains constant.
Paint Warranty
The Lotus Exige Scura is painted in a 'soft feel' water borne matt black paint finish that is resistant to most normal forms of atmospheric attack provided the special cleaning and maintenance requirements as specified by Lotus are strictly adhered to. However due to the textured matt finish, fading or discolouration of all or part of the matt paint finish may occur during the early life of the vehicle and this is considered normal and is specifically excluded from any warranty given by Lotus. The special matt paint finish utilised on the Lotus Scura is provided with a limited warranty of the earlier of 12 months or 12,000 miles/20,000 km from the date of first registration of the vehicle. Please consult your Authorised Lotus Dealer for full details.
Source: Lotus
Gallery:
Lotus Exige Scura (2010)