The new 2011 model year Elise range is on sale now and will be in showrooms from April 2010. The body of the new 2011 model year Elise is an evolution of the iconic Elise design, retaining the character and style, while offering a more planted, purposeful stance and a pure, contemporary look that links it to the Evora. As with all Lotus product the design is an exciting blend of dramatic style and functional efficiency.
The new Elise body has a fresh sculptured front, including a new bumper, front clam and access panel that combine to give the Elise a wider look with more road presence.
At the rear of the car the new engine has been encased by a distinctive "twin-spine" engine cover whilst lower down a more aggressive diffuser is tightly wrapped by an elegant new bumper design that now includes the rear licence plate.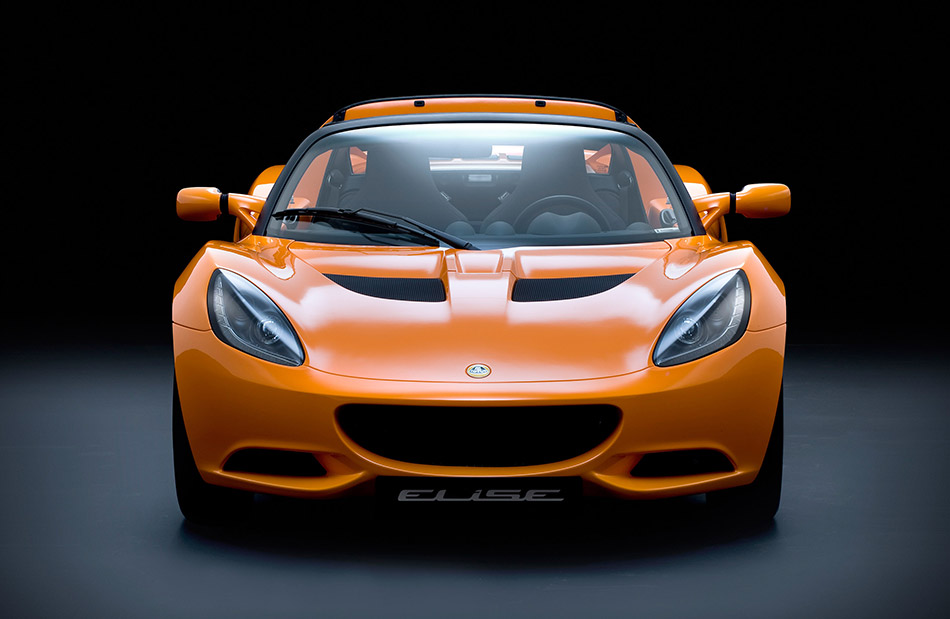 New headlamp units with distinctively sculptured LED lighting guides (incorporating daytime running lamps and direction indicators) give a contemporary twist to this classic design. Elsewhere, the signature, Lotus "mouth" and familiar sculptured forms have been sensitively refined to give a crisper, more dynamic look. The repositioning of lamp functions has enabled the creation of broad clean surface between the fenders which combines with sleek corner intakes and prominent splitter detail to give a broader more planted stance.
The theme of purity is carried through to the cooling apertures that are efficiently finished with a new lightweight aluminium mesh that gives the car a classically sporting character.
The rear boot is now opened from the cockpit rather than via a separate key operation. The high quality feel of the Elise is continued throughout the car with the Elise graphic incorporated into the new side LED direction indicators, like those on the Evora.
The driving position, from the perfectly positioned pedals and steering wheel, to the comfortable and supportive seats with ProBax** technology means that, like all Lotus cars, the driver becomes part of the car rather than being just a passenger.
With the sleek new body the aerodynamics have improved giving a reduction in the coefficient of drag of 4%.
Finally, a choice of two beautiful, light weight wheel designs are available; an incredibly light forged wheel and a new cast wheel completes the picture for this sensitive update of a Lotus Icon.
Source: Lotus
Gallery:
Lotus Elise (2011)