The British Grand Tourism is equipped with the MANSORY front spoiler, integrated are state of the art permanent daylights (alternative cornering lights) bordered with sword design elements carried through to the fully chromed air intake grills which add a striking effect. All MANSORY spoiler equipment is so manufactured that no additional mounting orfitting points need to be drilled, utilizing all existing mounting points for simple installation.
The MANSORY redesigned side skirts give the Coupe a longer sleeker appearance and the fully chromed embellishment in stainless steel the exclusive touch.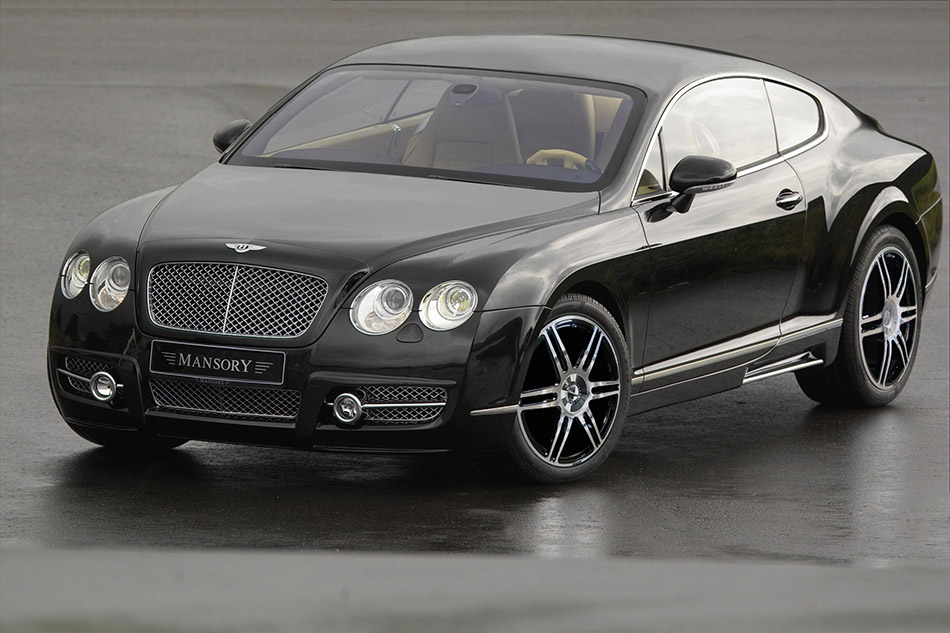 The complete redesigned rear skirt incorporates MANSORY's quad chromium plated stainless steel exclusive over and under exhaust tips, which makes an extreme statement of performance and speed coupled with a dominating sound regarding the tuning capacity. The standard production performance level of 560 bhp/412kW can be improved using MANSORY's electronic engineering package which increases the output to 630 bhp/463kW this will give your Bentley Continental GT performance figures of 0 - 62 mph or 100 km/h in 4.5 seconds going on to a top speed in excess of 203 mph or 327 km/h evolving in a gigantic peak torque of 750 Nm by only 1,600 rpm.
Also new the very discreet redesigned rear spoiler adapted to the pneumatic series spoiler.
Find your individual look with the MANSORY wheel range: the classic ones, chromium plated, 7 spoke star design in size 9x20J up to the absolutly lightweight fully forged wheels size 10 x 22J which contribute to a sporty appearance, these are available colour coded to your specification or diamand high polished with 275/35/20 respectively 295/30/22 wide low high performance profile tyres.
Compatible to the wheels combination MANSORY offers the special developed break system with his high end co-operation partner BREMBO. It depends on the wheel size if you choose between 405/38mm or 412/38 break discs all with 6 piston aluminium fixed calipers for the front and disc dimension 405/22 for the rear. So on the auto body can get lower with a direct intervention to the electronical air suspension down to 25 mm. And when it comes to the interior of your new Bentley, MANSORY will leave nothing to the imagination, you can choose from the finest Nappa leather, Alcantara to the sportiest steering and carbon fibre, illuminated MANSORY stainless steel sill plates and polished aluminium foot pedals.
Source: Mansory
Gallery:
Mansory Bentley Continental GT (2005)