The new Mazda RX-8 is truly a sports car like no other, with a revolutionary concept — a twin rotary engine sports car, an exterior design that is pure emotion, along with four doors and room for up to four adults. No other model bearing the five- point grille exemplifies Zoom-Zoom as clearly as this. The new Mazda RX-8 is indicative of the future of sports car technology at Mazda — sporty and functional, but never boring.
A True Four-Seater
With the RX-8, Mazda has created a new class of "true" four-seaters in the sports car segment. The back seats are not simply meant to carry school children, but are meant to provide comfort and room for two adults, even on longer trips. This special combination of sportiness and functionality make the new Mazda RX-8 a unique driving machine. With high levels of everyday practicality, unique engine technology and a revolutionary centre-opening door system, Mazda RX-8 is a sports car that also takes aim at the performance derivatives of sedan and coupe-class vehicles.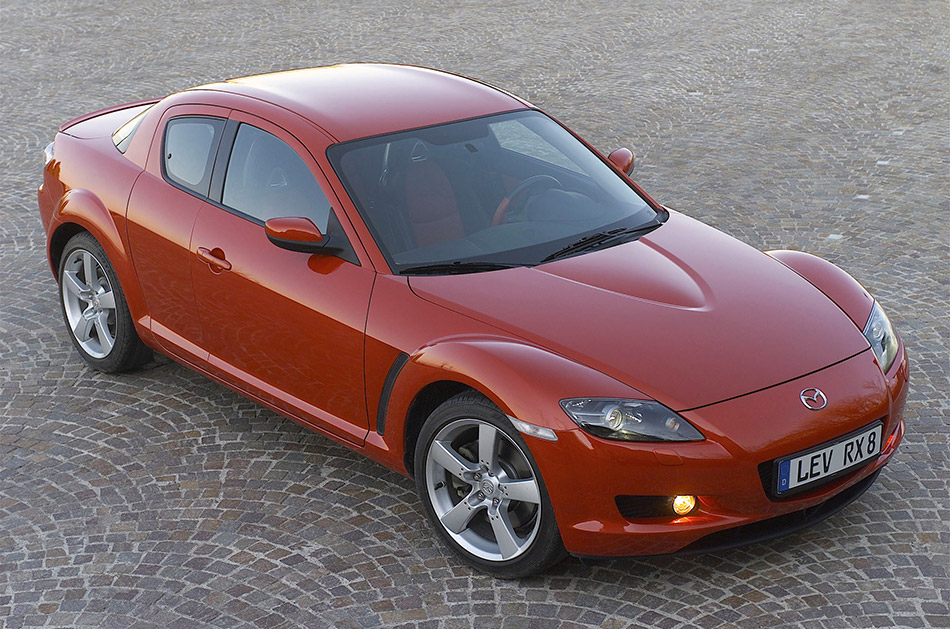 The Customer: Beyond the Mainstream
Mazda RX-8 customers can be characterized as being technophiles, who tend to make emotional purchases, and who see themselves as being outside the mainstream, who like to set standards, rather than follow them. For this reason, the Mazda RX-8 has individualists as its main target group, men and women who see their purchase of the Mazda RX-8 as a reflection of their individuality, character and competence. In fact, these elements exemplify Mazda RX-8: highly unique with intelligent engine technology (rotary engine), combined with a unique design focus (centre-opening door system and four adult-size seats).
RENESIS - the Rotary Heart of the Mazda RX-8
Heart of the new Mazda RX-8 is a newly developed rotary engine, RENESIS. The name itself represents "rotary engine (RE) genesis" and is symbolic of RENESIS's revolutionary rotary technology that combines high levels of performance potential, with acceptable fuel consumption and low emissions.
RENESIS is a water-cooled, twin-rotor engine with two chambers, each with 654 cm3 of displacement volume that will be offered in two power versions. The Standard Power version produces 141 kW/192 PS of power at 7,000 rpm, with maximum torque of 220 Nm achieved at 5,000 rpm. The High Power version produces 170 kW/231 PS at 8,200 rpm and achieves maximum torque of 211 Nm at 5,500 rpm. The Standard Power version does 0 to 100 km/h in 7.2 seconds and has a top speed of 223 km/h. The High Power version sprints from 0 to 100 km/h in only 6.4 seconds and has a top speed of 235 km/h.
Superior Driving Dynamics
A newly developed chassis system, with a new double-wishbone front suspension and a newly developed multi-link rear suspension, give the Mazda RX-8 excellent on-road characteristics. The compact size of Mazda RX-8's RENESIS engine allowed engineers to place it more towards the centre of the vehicle, in a so-called front-midship layout. This allowed for an ideal 50/50 weight distribution over the front and rear axles, which makes a decisive contribution to the dynamic potential of the new Mazda RX-8, which is more than just competitive. Mazda RX-8's chassis system proves its metal every time the car is pushed to its limit. It is flawless in the straight- ahead position, remains neutral when taking curves fast, and only when challenged does it display a subtle, typically sports car oversteering. Mazda RX-8's electric power-assisted steering means the car responds precisely to even the smallest driver inputs, and allows the car to take load changes in stride. Simply put, the new Mazda RX-8 is fun to drive anytime, but especially when it's driven like a sports car.
A Highly Functional Sports Car
The new Mazda RX-8 fulfils all the basic requirements of a modern sports car, with front engine/rear-wheel drive and a design that reflects the sporty ambitions of its developers. Mazda RX-8 exhibits its performance potential optically with short overhangs, a striking fender and bumper design, and an eye-catching bonnet shape. The compact size of RENESIS, and its front-midship placement, enabled designers to place the A-pillar springing point further towards the front of the car, and to give it a flatter incline. This places the optical centre of the vehicle's mass more towards the back of the car, giving Mazda RX-8 a sleek athletic tension.
Mazda RX-8 is a completely new car. It is 4,435 mm long, 1,770 mm wide and 1,340 mm tall. Its copious wheelbase of 2,700 mm provides for roomy interior dimensions. Its extremely short overhangs emphasize Mazda RX-8's dynamic potential and also contribute to a minimal yaw moment. Its track width of 1,500 mm front and 1,505 mm back lend the new Mazda RX-8 a dynamic appearance and improves the car's stability in all situations. Interior space and functionality are superior to what drivers have expected of a sports car until now. The Mazda RX-8 offers room for four adults and their luggage. Its spacious 290-litre (VDA) luggage compartment provides far more load volume than most current sports cars.
Freestyle Door System Combined with a Sporty Interior
The new Mazda RX-8 has four doors in a centre-opening configuration. This "Freestyle" door system means the Mazda RX-8 has no B-pillar, with the rear doors hinged at the back of the car, and provides a wide door opening. The front doors open at a maximum angle of 67 degrees, the back doors 80 degrees, making getting in and out of the Mazda RX-8 easier than a traditional two-door sports car. The rear doors can only be opened when the front doors are open, making Mazda RX-8's Freestyle door system completely safe.
The body structure of the Mazda RX-8 has been designed to resist flexural and torsional bending. Techniques used to suppress noise and vibration have contributed to an extremely comfortable interior atmosphere for passenger and driver alike. For the interior itself,
Mazda concentrated on creating a contemporary and sporty ambience. Analogue and digital instrumentation have been combined into a unified, easy-to-use whole. The driver's field of vision is dominated by the tachometer, with the zero position at six-o'clock, which is appropriate to a sports car with high rev capacity. All controls are within easy reach of the driver. Sport buk- ket seats provide excellent side support, even when taking a curve at high speed.
Next Generation Craftsmanship
In developing the new Mazda RX-8, engineers focused on creating a vehicle with high levels of quality that a discerning customer will instantly recognize. They have added a new dimension to the superior quality of recent Mazda vehicles, venturing into another area of craftsmanship called "customer delight." Seeking to provide enjoyment for driver and passengers, they optimised features in those areas where customers would most notice them. These included quality construction initiatives to narrow gaps between body panels and other exterior parts, but they also extended to the interior. Numerous in-depth studies were conducted to identify where interior feel is critical to achieving customer delight, and used materials that are pleasing to the touch in these locations.
Not only were seats optimised for comfort and side-support, instrument panel layout was optimised for ease-of-use and for quality feel, lighting optimised and aluminium finish details refined to convey a premium sports car feel.
The Latest in Safety Technology
Mazda RX-8 has been designed and constructed to provide a maximum in driving safety. Mazda RX-8 is extremely balanced and delivers class-leading handling, precise steering and excellent driving behaviour under normal driving conditions. In addition, Mazda RX-8 offers the latest in active safety technology. Anti-lock brakes (ABS), electronic brake force distribution (EBD), dynamic stability control (DSC) with a traction control system (TCS) as well as a limited slip differential (LSD) mean that the car stays on the road, even if the driver pushes the Mazda RX-8 a bit over the limit. If the driver chooses to experience the sporty nature of the Mazda RX-8 even closer, the DSC can be deactivated by the push of a button.
In the unlikely event of an accident, impact energy is distributed over pre-defined load paths through the body of the Mazda RX-8, so that — depending on severity — the passenger cell remains intact. Three-point seat belts with belt pretensioners and load limiters are standard. Standard front airbags, side airbags and curtain airbags combine to provide excellent passive protection to passengers and driver. Mazda RX-8 engineers have introduced a robust steel pipe reinforcement in the rear door that, when closed, functions as a B-pillar and provides the necessary stability in case of side impact.
Unique Among Sport Cars
A unique design and revolutionary engine technology put the new Mazda RX-8 in a special category in the sports car segment. With its unique combination of rotary engine, Freestyle door system, and muscular exterior design, the new Mazda RX-8 has raised the bar of sports car customer expectations around the world.
Source: Mazda
Gallery:
Mazda RX-8 (2003)