Aston Martin is today revealing details of a raft of important enhancements to two of the brand's most popular and successful sports cars: the Vanquish ultimate GT and Rapide S four-door, four-seat, sports car.
With the arrival of 15 Model Year (15MY) cars in markets around the world over the next few months, the luxury British brand is offering not only considerably enhanced performance and much-improved fuel economy and emissions, but also an even more honed, precise and responsive driving experience.
With the debut of the new Touchtronic III eight-speed automatic gearbox in both Vanquish and Rapide S – the first time that this state-of-the-art gearbox has been incorporated into a transaxle layout – Aston Martin is improving every major area of the cars' performance and fuel economy. The brand's engineers have worked meticulously with technical partner, ZF, to develop the eight-speed technology and integrate it perfectly into the latest generation of the iconic and much-imitated Aston Martin VH architecture.
The 0-60 mph times for both the Vanquish and Rapide S are reduced in 15MY cars: The Vanquish drops from 4.1 seconds to just 3.6 seconds (3.8 seconds 0-100 km/h) and the Rapide S is capable of the same sprint in only 4.2 seconds (4.4 seconds 0-100 km/h) – also down by a full half second from its previous figure of 4.7 seconds. These impressive gains not only ensure the cars' exceptional competitiveness in their respective sectors, but also confirm Vanquish as the quickest accelerating series production Aston Martin in the company's 101-year history.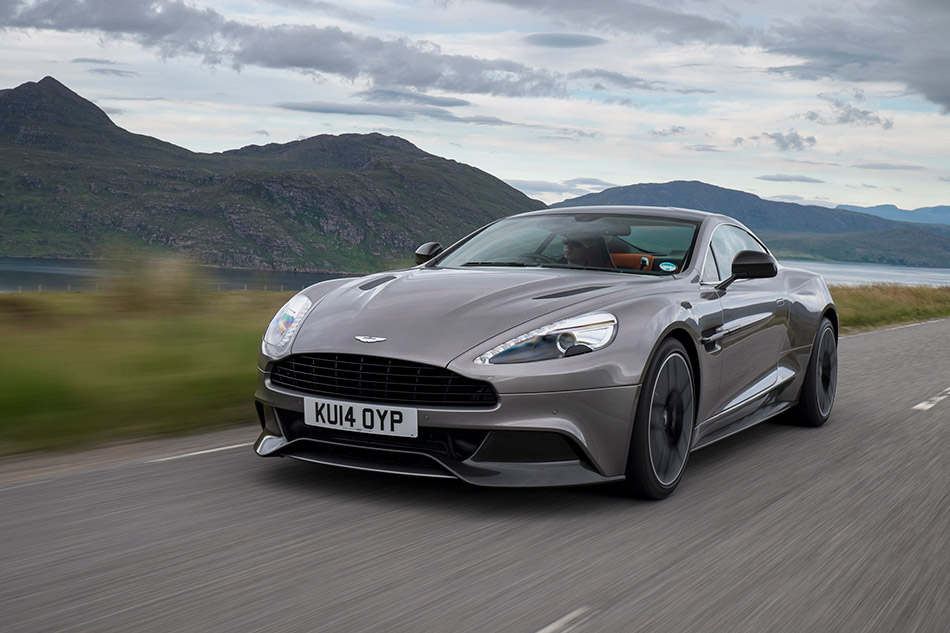 Changes to gear and final drive ratios allow the cars to be not only quicker but also more frugal, with reduced emissions too. In both sports cars the CO2 figure drops by an average of ten per cent – down to 298 g/km for Vanquish and 300 g/km for Rapide S – while economy is boosted to 31 mpg, on average an 11% improvement, on the EU's extra urban cycle for both the Vanquish and the Rapide S under the same stringent test conditions.
Combined with a revised final drive, the ratio changes also mean both cars are, for the first time, now capable of top speeds of 200 mph or above.
A reduction in exhaust gas back pressure as a result of ratio adjustment and other changes also benefits peak power, which rises by up to three bhp to a peak of 568 bhp (576 PS) in Vanquish, and two bhp, 552 bhp (560 PS), in Rapide S. Peak torque is up by 10 Nm, too, to 630 Nm at 5,500 rpm in all the cars.
The new eight-speed Touchtronic III automatic gearbox is not only three per cent  lighter than its predecessor, it is also packaged more efficiently occupying precisely the same space within the car yet adding two further ratios over the outgoing transmission.
Touchtronic III delivers exceptional shift speed and moves between ratios as quick as 130 milliseconds – far quicker than even the most accomplished racing driver is capable of – while better gearbox efficiency allows more power and torque to be transmitted to the road more of the time.
Ian Minards, Product Development Director at Aston Martin, explained: "We have a long and successful technical partnership with ZF and so it was a natural step for us to adapt and integrate their world class 8HP transmission in to our transaxle layout."
"This has been a detailed piece of work involving careful consideration of many technical parameters including gear ratios, software integration and shifting strategies.  This has delivered a significant step change in both vehicle performance and economy whilst preserving the unique Aston Martin V12 driving experience."
Gearbox software changes make for a truly comprehensive selection of available driving features such as 'Drive' and 'Drive Sport' modes along with 'Paddle Shift' and 'Paddle Shift Sport' options for more engaging, sporting, shift control.
Optimal, multi-ratio downshifts are available by pulling and holding the down shift paddle, allowing for the car to select the lowest available gear when under braking. Adaptive Drive Recognition (ADR), meanwhile, tailors shift points to the individual driver's style. Thus a more spirited driver in standard 'Drive' mode will rapidly adapt to enjoy a shift map more akin to the settings found in 'Drive Sport'. As the programming is reset during each key cycle – when the car is locked and unlocked – the perceived 'changes' to the car's nature are similarly reset.
Engine management upgrade
Away from the gearbox, 15MY Aston Martin Vanquish and Rapide S models benefit from the addition of the latest Bosch Engine Management System. The new system, which delivers more precise engine control and seamlessly communicates with the new gearbox, receives its first application in an Aston Martin that combines the AM29 V12 engine and an automatic gearbox.
Meanwhile other electronic and engineering changes have taken place in 15MY cars to deliver a consistent GT character by perfectly aligning the chassis with improvements in powertrain performance and accessibility. For instance, a revised torque tube reduces transmission noise transfer into the passenger compartment while revised DSC sees the retuned stability system optimised for the new gearbox. A revised steering ECU delivers an even more crisp and precise steering response.
Uprated dampers on the new Vanquish – 15% stiffer at the front and a full 35% stiffer at the rear – improve the dynamic characteristic of the car in line with its significantly enhanced performance. Rapide S, meanwhile, gets uprated larger front brakes. Both cars also benefit from a retuned brake booster and amended rear suspension bushes that are now 20% stiffer than before.
There are also subtle but important styling enhancements, both inside and outside the cars, that add extra visual appeal for 15MY Vanquish and Rapide S.
Outside there's the arrival of new ten-spoke forged alloy wheel designs, available in a variety of finishes, that not only enhance the cars' looks but save almost seven kilos in weight versus the standard wheel. There are also new paint colour options including, for the first time on Vanquish and Rapide S, the availability of the special paint colour Diavalo Red, previously limited to the breath-taking V12 Zagato.
Inside, the cars get new leather trim colour options including the contemporary blue-black Dark Knight, and bold Fandango Pink. Rapide S also gains the exciting option of a new Duotone leather seat finish in Sahara Tan and Vibrant Red, as well as a range of new headlining options that mix quilting with the finest leathers or Alcantara.
Director of Design Marek Reichman explained: "More bold and dynamic interior and exterior treatments are the perfect offering for customers of the latest models.
"It is, of course, possible to add more colour to our cars while maintaining Aston Martin's reputation for elegance and beauty, and I'm very happy to see this enhanced and extended colour palette offered to our loyal customers around the world."
The global market introduction of 15MY sports cars begins in Q3 of 2014, with more details on market-specific pricing and options available in due course.
Source: Aston Martin
Gallery:
Aston Martin Vanquish (2015)