The original Mazda 5 introduced new attributes to the compact multi-activity vehicle (C-MAV) segment in Europe in 2005, with the segment's only double sliding doors and innovative Karakuri seating and storage system, a comfortable and communicative interior and Zoom-Zoom handling and driving fun. Since launch, more than 275,000 units have been manufactured (through November 2007). Mazda 5 is the company's thirdbest-selling vehicle globally. In Europe, Mazda 5 quickly became a product essential to Mazda Motor Europe's continuing growth, with more than 100,000 units finding owners since launch (through October 2007), and taking an estimated 3.3 percent share of the important C-MAV segment. The new Mazda 5 facelift is set to continue this success with a refreshed design, a new automatic transmission, more individualised Sports Appearance Package, a more sophisticated interior finish, more comfort and convenience, new suspension settings for optimised handling, improved fuel economy and lower CO2 emissions.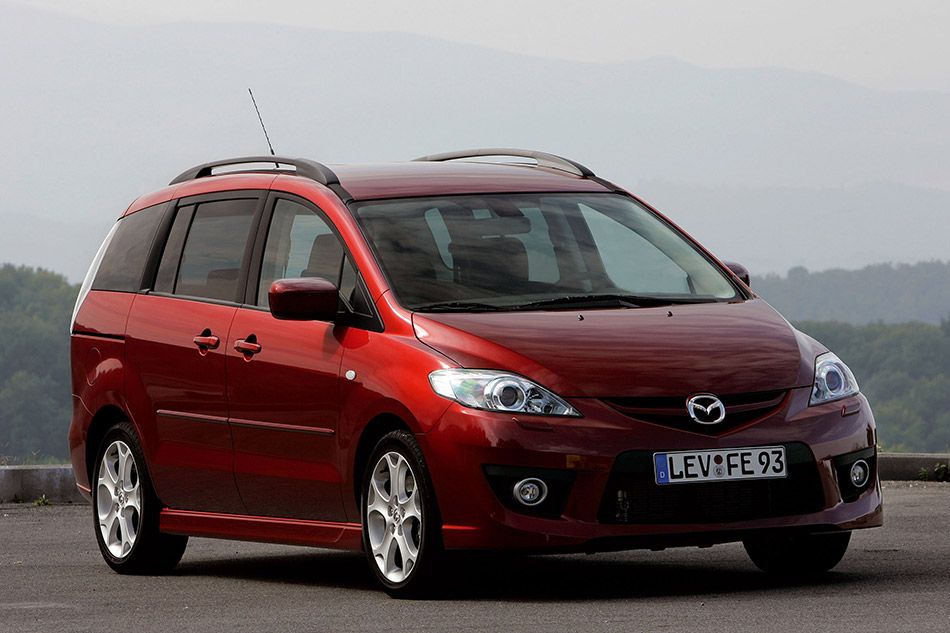 Design - Refreshed Looks and a more aggressive Sports Appearance Package
The European C-MAV segment is not renowned for products with eye-catching designs. In 2005, Mazda 5 bucked this trend by introducing a stylish, sportier exterior that stood out in the crowd of look-alike mini-vans - with a dynamic wedge-shaped form, strong front end and arched roofline, and a rear end tapered slightly inward. Now the Mazda 5 facelift enhances the vehicle's unique image even further with fresh updates to its strong design and a Sports Appearance Package that is even sportier and more distinctive than before.
Mazda 5 facelift has a design that targets customers looking for a balanced exterior that hints at the vehicle's fun-to- drive character. It features a new front bumper design that makes the car look lower and sleeker, a new underspoiler for a touch of performance, and a larger integrated housing for the front fog lamps that gives the nose a powerful look. The headlamps have a new silver bezel design and a new textural finish at the edges for a look of high quality. These frame a more clearly-defined Mazda five-point grille with a new sporty-looking honeycomb mesh. Auto-levelling xenon headlamps are available as option. At the back, the standard version has new rear combination lamps that are vertically divided for a fresh, two-colour effect.
A Sports Appearance Package is also available, and designed to appeal to Europeans looking for a dynamic compact MAV in a sporty suit of clothes. It features an updated winged grille design, a new front bumper design with front spoiler (making the vehicle 10 mm longer than the previous Sports Appearance Package version and 60 mm longer than the regular Mazda 5 facelift) and pointed fog lamp housings for a more aggressive road presence compared to the regular version. The silhouette is also sportier with side sills that make the car appear lower and a subdued rear roof spoiler. The front lamps and special 12 LED rear lamps have black bezels for an even more dynamic appearance.
The individuality of both appearance packages is further enhanced by new 16 and 17-inch alloy wheel designs , along with 11 exterior colours - including seven new colours called Icy Blue, Stormy Blue, Aurora Blue Mica, True Red, Copper Red Mica, Crystal White Pearl and Golden Sand Metallic. The latter has changing nuances depending on light conditions.
On the inside, Mazda 5 facelift still has the same stylish interior designed around an open, communicative space where up to seven people can travel in comfort. The updated interior is now a touch more distinctive with two new black trim packages (depending on grade) with higher-quality seat materials. A new centre panel , either titanium look or black, is introduced. Black leather seats are now available as an option.
New Power Sliding Rear Doors for Maximum Comfort
Mazda 5 facelift enhances the high convenience of its segment-unique, double sliding rear doors - with an opening width of 700 mm and an opening height of 1,083 mm - by adding power assisted door opening and closing functionality. The doors can be operated from the driver's seat with buttons on the dashboard, with the exterior and interior door handles, and with the remote central locking key. The doors open in less than 4 seconds and close very smoothly in less than 5 seconds. And for added safety, they stop reliably if any kind of obstruction is detected.
Functionality, Comfort & Equipment - Quieter and more Practical
Mazda 5 facelift retains all interior features that have made it so popular with families around the globe. Still onboard are its innovative Karakuri seating and storage system (see box), 45 storage compartments , cockpit with all-round adjustability and a high-mount shift lever, one-touch second- row seat-tip functionality for easy entry to the third row and a practical dual-stage liftgate with two opening heights (1,810 mm and 1,910 mm) that prevents scratches in garages and is convenient to use for people of different body sizes. The trunk offers a volume of up to 1,678 litres (Five-seat version with second row down).
Still Versatility at its Best - Mazda 5's Seven-Seat Karakuri Seating and Storage System
Mazda 5's Karakuri seating and storage system offers sufficient space for up to seven people and allows to quickly and easily transform the interior into a variety of seating arrangements. If you need more luggage space, just fold the third row seats fl at into the floor, and you have five seats and a large boot. A four-seat configuration is also possible by storing the cushion of the middle seat in the second row beneath the left seat. Just tip the left seat cushion forward, fold the middle seat cushion into the space below it, and put the left hand seat cushion back into its original position. Then drop down the middle seat's seatback, and it will serve as an extra-wide centre armrest. This allows four passengers a maximum of space and convenience. A practical Karakuri utility box can be folded out of the middle row's right seat into the centre. It has a top tray big enough to hold smaller toys, snacks, cups or baby bottles, and in the box below there is a net that can hold various items. If the second row centre seat or the Karakuri box is in use, a 6.3 litre storage space is available under one of the second row outer seat cushions.
Volume all seats up (to belt line) 112 l
Volume 3rd row down (to belt line) 426 l
Volume 2nd and 3rd rows down (to belt line) 857 l
Volume 2nd and 3rd rows down (fl oor to ceiling) 1,566 l
The updated Mazda 5 adds features that make the vehicle even easier to use on a daily basis. Black-out meters with improved white illumination , for instance, are now standard. The size of the centre monitor (displaying clock, audio and AC info) is now larger , placed higher and further forward so it is easier to read. The layout of the centre panel switches are optimised to make the hazard lamp switch and the clock adjustment buttons easier to reach. A new auxiliary (AUX) jack with a niche at the front of the floor console are standard on all models. This feature allows you to stow, hook up and listen to an MP3 player using Mazda 5's audio system .
When equipped with the optional DVD entertainment system, Mazda 5 features a second AUX jack in the rear seat trim , allowing rear passengers to play a console game, watch a movie or listen to music on headphones.
Mazda 5 facelift also has a new DVD navigation system (depending on grade and market) designed to be easier to read and use, with a new 7-inch multifunctional touch screen and voice command that is now integrated into the centre panel. As before, the DVD navigation system includes a rear view camera , a very useful item when parking or manoeuvring in narrow spaces. The normal CD player now plays MP3-formated CDs, an in-dash 6 CD changer is now available, as well as a Bluetooth® telephone system with steering wheel controls and voice command (depending on grade).
Mazda 5 Facelift - An even Quieter Place to be
Mazda 5 facelift is not only more practical and easier to use, it is also a quieter place to be, making its passenger cell even more communicative and relaxing. Engine sound, for instance, has been reduced (for all engines) by the introduction of a multi-resonator around the fresh air intake duct. It has six different types of resonators that are designed to cut noise at frequencies between 80 to 470 Hz. Road noise has also been reduced by increasing the rigidity of the rims of the alloy wheels. This reduces load wheel vibration, which is transmitted to the body and experienced as road noise by passengers, by 1 dB. And, Thinsulate® insulation sheeting has been added to the roof liner, which absorbs high-pitched road noise (at 250 Hz and above) transmitted through the body shell.
Powertrains - Improved Fuel Efficiency, less CO 2 and new Automatic Transmission
Mazda's push to reduce the impact of its vehicles on the environment continues with the Mazda 5 facelift, which features an updated engine line-up that uses less fuel and produce fewer emissions. The MZR 2.0-litre petrol , which produces 107 kW/146PS at 6,500 rpm , has undergone a major update. It now comes with electric throttle for even livelier pedal response, and sequential valve timing (S-VT) which improves cylinder charging efficiency for more torque throughout the rev range. This allowed engineers to make maximum torque of 185 Nm available at a lower engine speed , now at just 4,000 rpm (500 rpm earlier than the outgoing engine).
The updated MZR 2.0-litre petrol can be paired to a new five-speed automatic transmission (see box) or a newly- introduced six-speed manual transmission that enhances even further the lively character of the top-end petrol engine. The six-speed manual's closer gear ratios, along with a newly- introduced electric throttle and S-VT, deliver a responsive and powerful drive with improved elasticity . Mazda 5 facelift with this new powertrain does 0 to 100 km/h in 10.2 seconds, down from 10.8 seconds of the outgoing powertrain (with five- speed manual transmission). Its sixth gear is laid-out to reduce fuel usage when cruising at high speeds. Combined with the new S-VT system that improves fuel economy at low engine speeds and Mazda 5's low drag coefficient (Cd) of just 0.29, and you have a powerful, top of the range petrol version that uses just 7.9 litres per 100 km (combined), which is 0.3 litres or 4 percent less than in the previous 2.0-litre petrol model .
Mazda's updated MZR 2.0-litre petrol also produces fewer emissions . A new oxygen sensor is added to the exhaust system's close coupling catalyst and under-floor catalyst , which helps the engine control module optimise the air-fuel mixture to keep emissions as low as possible. This, combined with the improved fuel-efficiency described above, means the updated MZR 2.0-litre produces 11 g/km less CO 2 than the outgoing engine.
New Five-Speed Automatic Transmission
A new five-speed automatic transmission with manual shift mode is introduced for the MZR 2.0-litre petrol engine, a first for the Mazda 5 line-up. It has a new torque converter that achieves an optimal balance between performance and fuel efficiency by reducing energy loss produced by slip, by employing a wide lockup range and acceleration slip control function. These features, combined with special tuning of the engine's electric throttle system, produce positive acceleration response in city driving and nimble passing on country roads and motorways.
Retained is the MZR 1.8-litre petrol with five-speed manual transmission from the outgoing model known for its agile, fun and frugal nature. It produces 85 kW/115 PS of power at 5,300 rpm and a maximum torque of 165 Nm at 4,000 rpm . Its needs just 7.6 litres of fuel per 100 km (combined), 0.3 litres or 4 percent less than before , and produces 8 g/km less CO 2 .
The MZR-CD 2.0-litre common-rail turbo diesel is retained as well. It comes in two power derivatives, a Standard Power version producing 81 kW/110 PS at 3,500 rpm and maximum torque of 310 Nm at just 2,000 rpm , and a High Power version producing 105 kW/143 PS at 3,500 rpm and robust maximum torque of 360 Nm at 2,000 rpm . Both versions use a variable-geometry turbocharger for maximum torque even at low engine speeds, ensuring lively pedal response, along with a dual-mass flywheel and common-rail multi- stage injection technology (with up to six injections per cycle) for smooth, nearly petrol-like operation. The efficiency of its exhaust gas recirculation (EGR) cooler has been improved for the Mazda 5 facelift. Both diesel derivates are equipped with a six-speed manual transmission as standard . They use just 6.1 litres per 100 km (combined), 0.2 litres or 3 percent less than the outgoing engine, and produce 162 g/km CO 2 , which is 11 g/km less . A diesel particulate filter (DPF) remains standard for both diesel versions.
Driving Dynamics & Safety - Suspension Updates for Even More Stability
The original Mazda 5 was one of the first new Mazda vehicles to employ high-tensile steels in the body shell for an ideal combination of reduced weight combined with high torsional and flexural rigidity. The facelift version inherits this robust structure and adds suspension updates front and back for improved driving stability and optimised ride comfort. The new dampers for the MacPherson strut front suspension reduce damping force lag between compression and extension. The multi-link rear suspension's forward lateral links are now raised by 2 mm , which increases toe-in by 30%. These updates help further increase grip and stability when Mazda 5 facelift corners at higher speeds, especially with a full load of passengers and luggage.
The original Mazda 5 scored 33 points and was awarded five stars on Euro NCAP testing, which is still one of the highest rankings in this class. The Mazda 5 facelift retains this safe and strong body shell with its unique triple-H structure, six airbags , and a collapsible brake pedal . In addition to this, active safety is enhanced with improved brake response . The brake booster was optimised to increase the speed that the fluid pressure rises when the driver first steps on the brake pedal for more positive feedback. Carryover options like an automatic light system and rain sensors also contribute to active safety. Large ventilated front disc brakes and solid rear disc brakes, four-channel ABS, EBD and brake assist are standard. A DSC system , combined with Traction Control System (TCS) , is either standard or optional, depending on grade and market.
The new LED rear combination lamps that are part of the Sports Appearance Package, are not only a design plus, they also make the Mazda 5 facelift more visible to following cars. The rear lamps use 12 LEDs each , which increases their brightness and makes them easier to see when deceleration occurs. They also come on 0.15 seconds quicker than incandescent bulbs when the brakes are applied. Moreover, they use far less energy: only 9 instead of 52 Watts.
Source: Mazda