Since launch in 2006, the stylish Mazda BT-50 pickup has been very popular throughout the world. This tough but sophisticated-looking lifestyle vehicle can do it all - carry bricks to a construction site or a surfboard to the beach, and after a wash-up cut a good figure for a night on the town. Its appeal reaches across target groups like no other car in the Mazda portfolio: from commercial users in rural areas of Europe and Asia, to fire-fighters in Greece, to young urbanites with sporty or adventurous lifestyles. Since launch, Mazda has sold over 60,000 units globally (over 19,000 in Europe) while winning several awards along the way during the 30 months period. These include Ute of the Year in Australia and Off-road Competition's Car of the Year in Russia.
Mazda now introduces a facelift version of the Mazda BT-50 with updates that underscore its strengths without taking anything away from the original model's appeal. The Mazda BT-50 facelift now looks even tougher than before with design cues to emphasise that it can also sprint and run with the best in its segment. The sedan-like quality of the interior has been enhanced as well, and new equipment added to meet the lifestyle demands of even more people than before.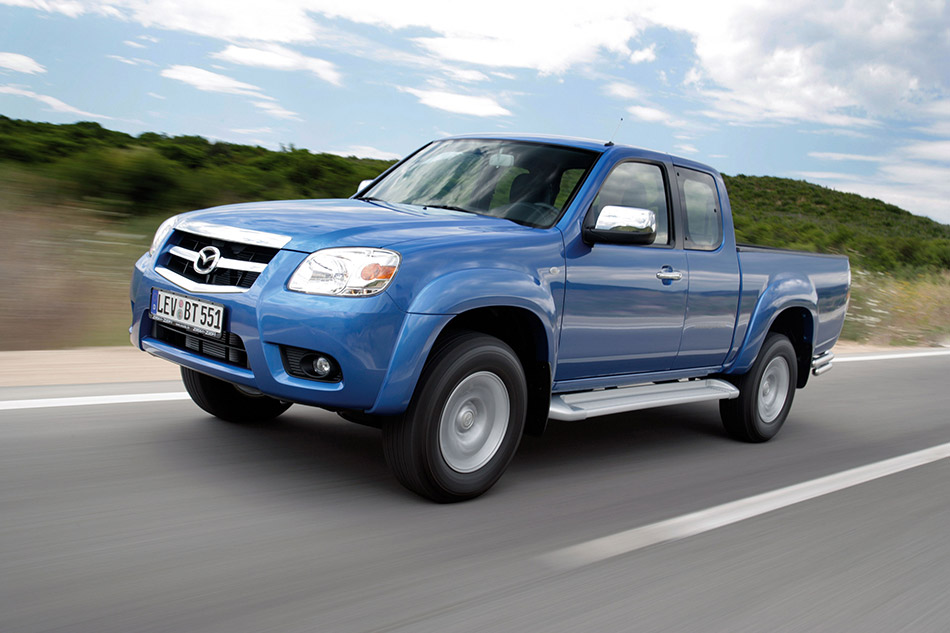 Exterior updates for higher quality look and more choice
The Mazda BT-50 facelift can handle whatever a commercial user or an off-road adventurous lifestyle demand of it. As with the outgoing model, three cab versions are available (depending on market) with room for two (Regular Cab), four (Freestyle Cab) or five passengers (Double Cab) and cargo box lengths of 2,280 mm, 1,753 mm or 1,530 mm respectively. It retains its high quality, single-fascia front bumper, but now with an all-new design. The facelift front end has a large 'oblique H' with upper arms that grow out of the bonnet's character lines, and lower arms at the base of the lower bumper. This visually integrates the individual parts of the front end into a strong, harmonious Mazda family face. The Mazda five-point grille, for instance, is more clearly defined here, and the trapezoidal shapes of lower openings hint at the pickup's high level of driving fun. Designers then added new front headlamps with bright silver mouldings that make the front end seem wider giving the facelift version a stylish and muscular look.
More variability - a larger list of exterior combinations now available
The Mazda BT-50 facelift adds exterior features that will allow customers to differentiate their own models to a greater degree than ever before. The choice of single colours is increased from 9 to 11, including 5 new colours, and all 3 two-tone colours are replaced - highlight silver metallic combined with either titanium grey metallic, lagoon blue mica or black mica. Body coloured overfenders are now standard for all mica/metallic exterior colours on Mid and High Grades, the vehicle's side sills are now in a new silver metallic colour and a new 16-inch alloy wheel design (for 4WD models) is introduced. Customers looking for even more style can now order dark tinted glass for the side and rear windows for High Grade models as well (depending on market).
Interior - new fabrics, colours and lighting
The original Mazda BT-50 delivered interior stylishness and build quality befitting a sedan. The facelift model inherits its predecessor's interior it and finish with very small gaps between the dashboard and door trim, and adds higher quality fabrics, colours and lighting for even more sedan-like feel. For a fresher ambiance, lighting for the driver metres, climate and audio controls, and for the indirect lighting at the base of the centre console, is now amber. New fabrics are also introduced for the seats and door trim. High and Mid Grade seats now have a new chequered fabric for the seat centre, woven to give off a quality lustre, and Low Grade seats also have new patterned fabrics in the centre, replacing the plain grey of the outgoing model. The centre panel is also upgraded for the Mazda BT-50 facelift with an all-silver look that matches the new fabrics and lighting for more sedan-like sophistication.
High Grade models now come with leather shift boot, shift knobs, steering wheel, and centre console lid as standard. Black leather seats and trim are available for High Grade as an option.
Comfort like a passenger car
Sedan-like ambience is combined with sedan-like comfort, equipment, and interior functionality you would expect from a pickup. All versions of the Mazda BT-50 facelift have front seats that offer full sedan-like comfort, and the Double Cab features a large centre armrest between its bench-type rear seats, providing four adults with superior comfort. The pickup's high seating position is optimised by a front bonnet and a cargo box wall designed to support front and rear visibility, which is important for a vehicle with as many uses as this. The facelift version adds new heated side mirrors (depending on grade), which defog/defrost quickly. Inherited from the original Mazda BT-50 is a climate system that includes a two-intake duct blower for superior heating/cooling. Mazda BT-50 facelift also inherits its quiet interior - with large amounts of insulation, a low-noise air cleaner and radiator fan, and a smooth-running common-rail diesel with dual-mass flywheel.
Superior functionality inside and out
Loading and using the Mazda BT-50 facelift on a daily basis is easy, making it the ideal companion for work or play. The Freestyle Cab features Mazda's unique centre-opening doors that provide a wide opening for getting into and out of the rear seats, or for loading something behind the front seats. It still has a single-action lever in the tailgate for easy opening and closing, there are rope hooks on the outer edge or the insides of the cargo-box walls, and there are load rest stoppers (depending on grade and market) at the rear of the cabin that can be raised to secure items too long for the cargo bed. There are even guiding grooves on the cargo-box walls for sliding in dividers, which create two load areas in the back.
The front seats are slide adjustable and can be tilted forward. The steering wheel is tilt adjustable, allowing just about anyone to find the right driving position. Interior storage is at a level not usually seen in a pickup interior. There is a slide-out tray above the glovebox strong enough to hold up to 10 kg, a large floor console storage box and even a handy tool box under the rear cushion of the left rear seat (Freestyle Cab). There are pockets in the front and rear doors for bottles, power adjustable side mirrors, and a remote fuel cap cover release. Power windows with safety power cut-off all around and a one-touch up and down function for the driver, power door lock/unlock from the driver's seat, as well as a retractable key with keyless entry system (on Mid and High Grades) provide additional convenience.
The floor console is large and flexible. It combines two storage boxes (with a 1.7-litre upper and a 5.1-litre lower box), a removable ashtray (accessory item), three cupholders in front, two cupholders in back, and an armrest (when closed) all in a single unit.
New equipment - AUX jack for connecting an MP3 player
To take full advantage of the Mazda BT-50 facelift's quiet interior is an audio system (depending on grade and market) that employs a high-performance amplifier and audio level control (ALC), which automatically adjusts the tone characteristics between three levels to match the speed of the pickup at any given moment for just the right volume level. The audio system includes a radio, a CD player and up to four speakers (Regular Cab has two speakers). High Grade versions are equipped with a six speaker system with a 6-CD changer. The facelift adds an auxiliary (AUX) jack to the audio system, which allows you to play music from your MP3 player directly using the audio system of the vehicle.
Strong and fun to drive
The Mazda BT-50 facelift retains the MZR-CD 2.5-litre common-rail from its predecessor, known for being strong, reined and fuel- efficient. It is a DOHC 16-valve diesel engine that employs a variable- geometry turbo charger and a large intercooler to produce maximum power of 105 kW/143 PS at 3,500 rpm, and maximum torque of 330 Nm as low as 1,800 rpm. This gives lively engine response to pedal input for Zoom-Zoom driving fun when unloaded, and takes care of business towing up to 3,000 kg with a braked trailer (4x4 models). A variable swirl control valve (VSCV) is also employed and is combined with an optimised exhaust gas recirculation (EGR) system and a high-efficiency EGR cooler to ensure Euro Stage IV compliance and low tax costs in most countries.
The facelift version of the Mazda BT-50 inherits the acclaimed rear-wheel drive transmission of the outgoing model that meets the demands of commercial customers, lifestyle customers, or both at the same time. It has Mazda's precise, easy-to-shift five-speed manual transmission in either a 2WD only version or a 2WD/4WD version. The latter transmission not only has a large and robust transfer case that converts the engine's high torque into great traction in any on-road or off-road situation, it is also easy and convenient to use. It includes an electric Remote Free Wheel (RFW) hub system that allows shifting between 2WD and 4WD while driving up to 100 km/h. Back on solid roads and in 2WD mode, pushing the 'RFW' button automatically disconnects the front differential and prop shaft from the front wheels. This function enables you to drive at motorway speed right after driving offroad, without stopping in between. It contributes to better fuel economy, lower noise and optimal durability of the transmission. All models (except some 2WD Low Grade versions) are equipped with a rear limited- slip differential (LSD) with an enhanced torque ratio in line with the engine's higher torque, which automatically adjusts drive power between the two rear wheels to maintain traction on just about all kinds of surfaces.
Enhanced ride comfort
The Mazda BT-50 uses the same durable and dependable chassis as its predecessor. Its double wishbone front suspension has large diameter dampers for good ride comfort. The rear leaf springs supporting its rigid rear axle with 'Berlin Eye' mounts are extra long and larger dampers are used here as well. This improves rear damping response during unloaded driving, and delivers the strength needed to handle a load of up to 1,181 kg in the cargo deck of the 4WD versions. The Mazda BT-50 facelift has the same steering system as the outgoing model that provides predictable control under all load conditions. And because it has hydraulic power assist, it is easy to back up and park, with good road feedback at higher speeds.
Active and Passive Safety
A high hip point gives the Mazda BT-50 facelift good overall visibility from behind the wheel. Its large ventilated front disc brakes have two-piston callipers (4WD versions) for predictable braking under load and its rear brake drums have a load sensing proportioning valve(LSPV) that optimizes brake pressure for excellent deceleration effectiveness. Low pedal play and a solid feel when braking are supplied by high-efficiency wheel cylinder caps, a low lever ratio, and an LSPV design that needs a rather small amount of brake fluid. Four-wheel ABS and electronic brake-force distribution (EBD) are standard (Mid and High Grade) or optional (Low Grade) in most markets. A host of passive safety features are onboard including a strong cabin structure that resists deformation in a crash, front and side airbags (depending on grade), height-adjustable seatbelts for the front seats (Double Cab), child-proof door locks and power windows with safety power cut-off, and a collapsible steering column that helps reduce potential chest injuries to the driver during a serious front impact.
Source: Mazda
Gallery:
Mazda BT-50 (2009)