Exterior design appeal combined with a spacious and functional interior is one of the current Mazda 6's strongest selling points. Mazda's new family face is introduced with the updated model for a strong, sporty look that's carried out in solid build quality. On the inside, a number of changes to the interior make the cabin even more reined. There are new decorative surfaces, new materials for the dash and steering wheel, new upholstery and colour combinations.
Exterior Design
New fog lamps bezels are introduced that are more pointed and lowing. These bezels frame an "inner eye" made up of a round fog lamp inside a lowing lower lid for a strong sense of refinement. There are also newly-designed headlamps , and an upper grille with a new winged Mazda logo that is black on all grades and body-coloured on the Sports Grade. Deeply etched character lines running up from the grille between the fenders and the bonnet complete the most athletic Mazda 6 front ever.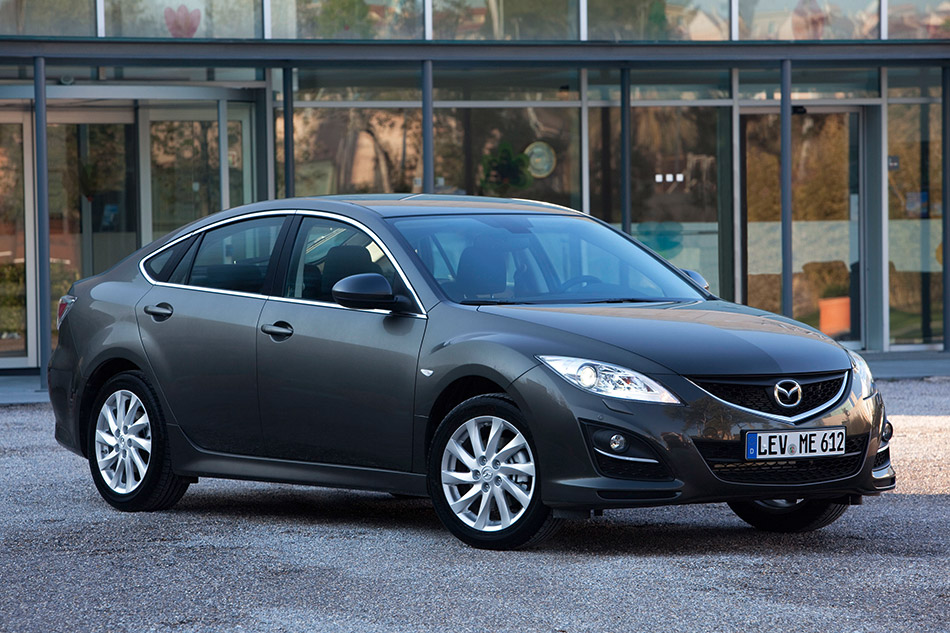 The winged motifs from the front are repeated by the rear combination lamps that have new chrome- plated winged decorations that make the lamps look wider and seem to low even further into the side panels. The lamps themselves are a combination of clear lenses and LEDs . Mazda 6 facelift also gets stylish new 17- and 18-inch aluminium wheel designs that twist slightly for a very sporty, three- dimensional look. These not only enhance the silhouette with a premium look, they are also one kilogram lighter than the wheels of the previous model.
Customers can choose between 10 body colours for the facelift, including two all-new colours to the Mazda line-up - Clear Water Blue Metallic , Midnight Bronze Mica - and two that are new to the Mazda 6 line-up - Graphite Mica and Black Mica.
Interior Design
The facelift interior has undergone a further refinement in materials for a higher quality feel. These include new chrome detailing with piano-black panelling, and chrome plating is newly added to knobs and switches that passengers use on a daily basis - for the climate control and audio dials, parking brake knob and the inner door handles. New piano-black is introduced for the audio and climate control panelling, the centre stack frame, around the shift gate and for the panel containing the steering wheel buttons.
There is also new surface finishing on all decorative panels - matte-silver coating for the standard model, and a silver-hairline finish in full-gloss look for the Sports Grade model. Completing the facelift interior updates are new line patterns in the upholstery of the seats, and newly-available brown leather for those looking for a premium feel.
Sports Grade
At the top of the range, the Mazda 6 facelift offers an updated Sports Grade model - for all body styles - that is ideal for those who want even more dynamic expression. Special features unique to the Sports Grade include a larger brand symbol in the front grille with body coloured wing-shaped mouldings extendingsideways,anewheadlampdesignthatholdsthenewswivel-typeadaptivefrontlightingsystem, wing-shaped position lamps, silver coating for the facelift's new fog lamp bezels, rear combination lamps have clear inner lenses and LEDs. On the inside, customers get a bright, silver-hairline, full-gloss finish on all decoration panels and blackout meters with metallic-look rings for sportiness and refinement. A special leather upholstery in either black or brown leather, or black half leather, is available. The fabric portions on the half-leather seats have a vertical pattern that creates a neat, sporty look.
Roomy and Functional
Like the outgoing model, the new Mazda 6 facelift is roomy and functional. It has a host of small storage compartments and a large and flexible floor console between the front seats. To this it adds a new storage compartment near the driver's seat. The ashtray has been replaced by a box large enough for small items such as cards and the keyless entry and start system's controller. Additionally, a newly-fitted sunglasses holder is placed just behind the rear-view mirror. Karakuri rear seat functionality is still onboard that automatically folds the 60/40 rear seats down by pulling on a latch in the boot side trim panel (Hatchback and Wagon), and there is a Karakuri tonneau cover that automatically moves up and down with the wagon liftgate . This unique cover deploys a net while opening that seperates the cabin and the boot area and helps prevent cold/warm air from getting into the cabin while loading/unloading the luggage compartment. Mazda 6 has one of the widest boot openings (1,066 mm , for the wagon) and one of the widest boot floors in its segment (1,146 mm). Boot volume with all seats up is between 510 litres (hatchback) and 519 litres (wagon/sedan), which is big enough for the suitcases of five adults. And the Mazda 6 wagon and hatchback can even transport more, if need be. With the rear seats down, the wagon and hatchback have a load floor length of 1,926 and 1,879 mm respectively, and a load volume of 1,702 and 1,751 litres (floor-to-ceiling).
Comfortable to be in
A quiet and comfortable cabin greets passengers of the Mazda 6 facelift. It inherits extensive sound- absorbing materials, optimized A-pillars, mirror shapes and extremely tight-fitting doors for low wind noise. The original model's sound-optimized centre floor structure is also retained, along with dash panel and roof reinforcements, more rigid wheels and dynamic dampers on the upper arms of the front suspension and on the rear knuckles - for low road noise.
For the facelift's 2.2-litre diesel engines, noise that can occur during cold start is reduced . Measures taken here include revising the pressures, pattern and timing of fuel injection, revising the control of exhaust-gas recirculation (EGR), and using glow plugs which assist combustion.
Human-Machine Interface now easier to Use
The facelift model has been upgraded with a newly-evolved human-machine interface system (HMI), now with instruments that are easier to use. The numbers in the driver instrumentation are larger and the ambient temperature indicator is no longer in the driver cluster, but in the centre display where the front passenger can also read it.
The new steering wheel switches have been revised to be more intuitive with one function only per switch. With the new Info button, for instance, the driver can efficiently monitor fuel consumption by scrolling through the driver information system (DIS) quickly, calling up the following data:
Current fuel consumption
Average fuel consumption
Driving range on remaining fuel
Average vehicle speed
Mazda 6's Bluetooth hands-free telephoning system is enhanced to be easier and more practical and now includes an audio connection for playing music wireless from portable music players.
Higher Quality Drive and Ride
The Mazda 6's superior combination of lively, cultivated engines, "one-with-the-car" handling and ride quality make it unique to this segment. Taking this as their starting point, chassis engineers made several important changes to the steering and suspension systems of the facelift to further refine the car's drive and ride quality. The facelift version was also developed according to Mazda's lightweight strategy to the benefit of both dynamics and fuel efficiency.
Improved Straight-Line Stability and Less Vibration
New suspension components for the facelift Mazda 6 are introduced to provide better overall handling stability, great steering response and less vibration. The high-mount double wishbone front suspension gets new front stabilizer bushes with a lower spring constant. These deliver more feedback when the steering wheel is first turned and contribute to better straight-line stability. The multi-link rear suspension now has new hub mounting bolts that are more rigid than before, which helps make the rear more stable during steering operations. Engineers also introduced a new location for the recesses on the crossmember bushes at the back axle. They are now placed further inwards, which increases rear stability during braking, and helps the crossmember better resist vibration.
Superior Ride Quality
Beside these new suspension components, engineers also re-tuned the suspension of the Mazda 6 facelift to deliver an even higher quality ride without compromising Mazda 6's acclaimed handling. They gave the front strut and perimeter-frame bush mounts a lower spring constant, inclined the cavity in the rear trailing-arm bushes forward, retuned the front and back dampers for less harshness from vertical input, and revised the rear axle's bump stoppers and damper bushes. These revisions reduce vertical vibration of the cabin in the 4 and 9 Hz frequency range and horizontal vibration in the 10 to 14 Hz frequency range, resulting in a smoother, more comfortable ride.
Steering
The Mazda 6 facelift steering system has been upgraded for reined stability-feel during straight- ahead driving on the motorway. New disc springs are added to the mounting points for the steering supportyokeandthecontrol-mapsoftwareforthepower-assistedsteeringrevised.Togetherthisdelivers better, more predictable steering feel. Added to this are new steering mount bushes with a reduced spring constant that deliver optimal compliance steer and greatly improved stability, especially when cruising on the motorway.
Aerodynamics
The new, highly sculptured front bumper gives the Mazda 6 facelift a strong athletic look. In addition to the horseshoe-shape front tyre deflectors, new plate-type deflectors are added, the front lip spoiler is extended, and the rear tyre deflectors enlarged. Together, these changes limit turbulence in airflow around the wheels and body sides, and contribute to improved aerodynamics. The drag coefficients of 0.27 for the sedan and hatchback and 0.28 for the wagon are both among the lowest in the CD-segment.
New MZR 2.0 DISI Petrol - Updated Activematic Automatic Transmission
For the facelift, Mazda replaces the mid-sized petrol engine of the original model with a 2.0-litre MZR DISI petrol that is more fuel-efficient, livelier and faster. This high-revving direct-injection petrol produces a maximum output of 114 kW/155 PS at 6,200 rpm and 193 Nm of maximum torque at 4,500 rpm. It injects petrol in a finely atomized spray directly into the cylinders, and when this vaporizes it lowers the combustion temperature. This is so effective at suppressing knock - usually a problem with direct-injection petrols - that a high compression ratio can be employed, which delivers power, high acceleration and good fuel economy.
Customers can choose between Mazda's precise-shifting six-speed manual transmission - with higher third, fourth and sixth gear ratios for fuel efficiency at higher speeds - or a new five-speed Activematic automatic gearbox with manual shift mode. The five-speed automatic transmission has newly optimized torque-converter characteristics that deliver an optimal combination of acceleration and fuel economy. This powertrain provides comfortable yet sporty driving while using just 7.6 litres per 100 km (combined) in the sedan and hatchback versions.
Despite producing 6 kW/8 PS and 9 Nm more torque than the naturally-aspirated 2.0-litre it replaces, the new DISI powertrain with the manual transmission uses just 6.9 litres fuel per 100 km. And its new single-nano technology catalyst is positioned immediately downstream of the exhaust manifold to ensure quick catalyst activation and emission reduction at cold start. With the DISI engine, the sedan and hatchback each produce 4.2 percent less CO 2 than the outgoing 2-litre petrol, and meet Euro Stage V emissions standards.
Diesel Powertrains - Reined for lower Fuel Consumption and CO2
All three derivatives of Mazda's powerful and sporty MZR-CD 2.2 turbo-diesel engine are quieter-running at cold start with newly revised fuel-injection timing, revised EGR control and glow plugs to assist combustion.
For the High and Mid-Power versions, engineers reduced the outlet diameter of the turbocharger's turbine impeller from 41.5 mm to 36 mm, which reduces turbine inertia by 24 percent and increases torque. As a result, the High-Power version provides substantially improved sixth-gear acceleration from 80 to 120 km/h. The Mid-Power version now has 10 Nm more torque where it is most needed — in the 1,400-1,600 rpm range — for an exciting acceleration feel.
The Mazda 6 facelift Standard-Power diesel offers a great combination of lively power and low fuel consumption. To achieve this, torque was increased by reducing the outlet diameter of the turbocharger's turbine impeller even further (from 41.5 mm to 32 mm), thereby reducing turbine inertia by approximately 51%, and by reducing the outer diameter of the compressor impeller itself from 57 mm to 47 mm, thereby increasing torque by 30 Nm in the 1,400 rpm to 2,400 rpm range.
This delivers high torque at low- and mid-range engine speeds, and great engine response. The Standard- Power version produces 95 kW/129 PS of maximum output at 3,500 rpm, and 340 Nm of maximum torque, while using only 5.2 litres of fuel per 100 km.
The Standard-power derivative is not only efficient and frugal, but cleaner as well. It produces low amounts of CO 2 by using an optimised shape for the cavity in the crown of each piston. This makes the combustion chamber more efficient at using drawn-in air and reduces CO 2 by about 1.2 percent versus the original crown shape. Engineers also raised this version's transmission gear ratios which, when combined with this engine's quick response, delivers better acceleration feel while producing only 138 g/km of CO 2 (sedan/ hatchback).
All three diesel derivatives of the Mazda 6 facelift are Euro V compliant and engineered with reduced thermal capacity exhaust manifolds and joint pipes, which allows for quicker cold-start heat up of the catalyst and lower overall CO 2 emissions. More precise settings for the exhaust-gas recirculation (EGR) and fuel-injection systems are introduced as well, which lowers NOx emissions. These technologies are combined with a diesel particulate filter that is made of a high thermal- resistant ceramic material and includes Mazda's independently-developed catalyst. This catalyst has stored oxygen in the base material and uses it, along with oxygen present in exhaust gases, to improve combustion of soot emissions.
This makes regeneration of the filter faster and more efficient. It also realises excellent emissions, contributes to lower fuel economy and reduces the number of regenerations without sacrificing performance or driving fun.
Single-Nano Technology Catalyst for all Petrol Engines
Part of the eco-evolution of Mazda powertrains includes the introduction of a unique catalyst developed by Mazda for its petrol engines. Traditional catalysts have precious metals that cause chemical reactions on their surfaces that purify exhaust gases. Because these metals are bonded to a base material, they tend to clump into larger particles over time, which reduces their ability to purify exhaust gases. To compensate for this problem, catalysts have traditionally used large amounts of precious metals. Mazda solved this problem by successfully embedding precious-metal particles in the catalytic base material that are nano-sized (< 5 nm) for the first time ever. These particles remain in place during long periods of exposure to high exhaust heat, which retains an effective surface area for purifying gases. Not only does Mazda's unique single-nano technology catalyst help petrol engine efficiency, it needs about 72 percent fewer precious metals, which preserves these rare natural resources and limits the cost of production.
MZR 2.5 Petrol - An Exclusive Driving Experience
The top-of-the-range MZR 2.5 petrol produces 125 kW/170 PS of maximum power at 6,000 rpm and 226 Nm of torque at 4,000 rpm. With a high-rigidity block, two balancer shafts, a dual-mass damper and a flexible flywheel this engine develops its power in a smooth, cultivated way. Under the bonnet of the new Mazda 6 facelift, this engine delivers a truly premium driving experience. Its compact size and light weight, along with fuel-optimizing technologies like sequential-valve timing (S-VT) and a variable intake system (VIS), maximize power delivery and torque across the speed range, while keeping fuel consumption to a minimum. Aerodynamic upgrades, revised gear ratios and powertrain control module (PCM) have reduced consumption slightly (0.1 litre per 100 km less), while chassis updates make it more stable while cruising; something this engine is very good at. It features the new single-nano technology catalyst and meets Euro Stage V emission standards.
MZR 1.8 Petrol - Now even more Frugal at the Pump
The MZR 1.8 petrol with five-speed transmission is a great combination of lively power and low consumption. With electronic throttle control, it delivers great drivability, and its VIS optimises the charging effect in the intake manifold according to engine speed by varying the length of the intake passages to ensure optimum power delivery throughout the rev range. It produces 88 kW/120 PS at 5,500 rpm, and 165 Nm of torque at 4,300 rpm, but has revised gear ratios to use less fuel than the current engine (approx. 6 percent less in the hatchback).
Passive Safety
Mazda 6 facelift's triple-H body structure is made of high-tensile steels and was launched with reinforcements to practically every part of the body shell so that it is very effective at dispersing impact energy away from the cabin and the fuelsystem. On the inside, Mazda 6 facelift's standard safety package includes active front head restraints, six airbags, brake and clutch pedals that do not intrude into the cabin during frontal impact, impact-absorbing trim on the pillars and roof side rails, and ISOFIX child safety seat anchors and top tethers at the outside of each rear seat.
Pedestrian Protection
Mazda 6 facelift has an energy-absorbing space between the bonnet and the engine, and structures for impact energy absorption in the cowl grille and fender brackets, which mitigate the chance of serious head injuries. It also employs energy-absorption foam in front of the front bumper beam and plastic reinforcements at the bottom of the front bumper, which help lower the seriousness of leg injuries.
Active Safety - New Technologies for on-road Safety
Active safety for the new Mazda 6 facelift is based on the same package of the outgoing model. It has large 299 mm front disc brakes with callipers that have 57 mm single pistons, and 280 mm rear discs with callipers that have 34.9 mm diameter single pistons. These form the basis of four-wheel ABS, electronic brake distribution, brake assist, electronic traction control (TCS) and DSC all standard. The Mazda 6 facelift also has a tyre pressure monitoring system and a parking sensor system. Mazda's rear vehicle monitoring system is also onboard. Employing two wide-angle, 24 GHz microwave radar units on the right and left side of the rear bumper, this system is a fully independent active safety feature that detects and warns the driver of an approaching vehicle from behind - when driving at speeds over 60 km per hour - before he has a chance to change lanes by mistake. It also detects vehicles driving in the blind spot area, and is effective even in bad weather conditions. The two radar units are positioned to face outwards from the vehicle's centre line to cover the left and right lanes at the back of the car within a range of about 50 m. These radar units emit microwaves, which reflect off a following vehicle - including smaller vehicles like motorcycles - and are picked up again by the radar units in the bumper. To this, the facelift adds the following four new active safety systems for even more peace of mind.
New Swivel-Type Adaptive Front Lighting System (AFS) with Bi-Xenon Headlamps
The Mazda 6 facelift is available with a new swivel-type AFS for even better night time visibility. The system uses driver steering input and car speed to better illuminate the curve. It swivels the left or right headlamp, depending on turn direction, by up to 15° to illuminate that part of the road that the car will reach up to three seconds later. It works with both xenon high and low beams.
New Hill Launch Assist (HLA) Function
Hill starts are easy with Mazda 6 facelift's new HLA system. When a driver stops on hill, the system automatically calculates the gradient of the hill using the acceleration sensor in the airbag unit. If the grade is 2° or steeper, it keeps the brakes applied when the driver releases the brake pedal to prevent the car from rolling backwards downhill. When the driver lets off the brake pedal and presses the gas pedal again, the brake-control functionality of the DSC system holds the car steady until there is enough engine torque to move the car safely up the slope.
Emergency Stop Signal (ESS)
If the driver has to brake suddenly in an emergency situation, Mazda 6 facelift sends an immediate signal to following cars that goes beyond mere brake lights. If the driver is travelling over 50 km/h and decelerates by a minimum of 0.7 G, the hazard-warning lamps lash rapidly to alert cars behind. Once car speed drops to 10 km/h or less, or comes to a complete halt, the hazard-warning lamps continue lashing but at a slower rate (their normal rate) to help prevent a rear impact when stationary. The hazard warning lights are automatically switched off again once the brake pedal is released.
Smart Turn Function for Signalling a Lane Change
Smart Turn Function is introduced on Mazda 6 facelift. It allows the driver to signal a lane change with the blinker by simply moving the turn lever slightly once: the turn signal then blinks three times on the side indicated.
Source: Mazda