Mazda Motor Corporation will unveil the Mazda MX-5 Miata 25th Anniversary Edition today at the New York International Auto Show. The special edition model was created to celebrate 25 years since the launch of Mazda's iconic roadster, the Mazda MX-5 (known as Mazda Roadster in Japan). Also today, the automaker will reveal a newly-developed SKYACTIV-Chassis that will be used in the upcoming next generation MX-5.
The MX-5 symbolizes Mazda's car-making philosophy and tireless pursuit of driving pleasure. Since its launch in 1989, the MX-5 has consistently offered the kind of fun that only a lightweight sports car can, and has won a huge variety of fans from different countries, cultures and age groups. More than 940,000 units have been produced and the model continues to hold the Guinness World Record for the best-selling two-seater open-top sports car (over 900,000 units sold).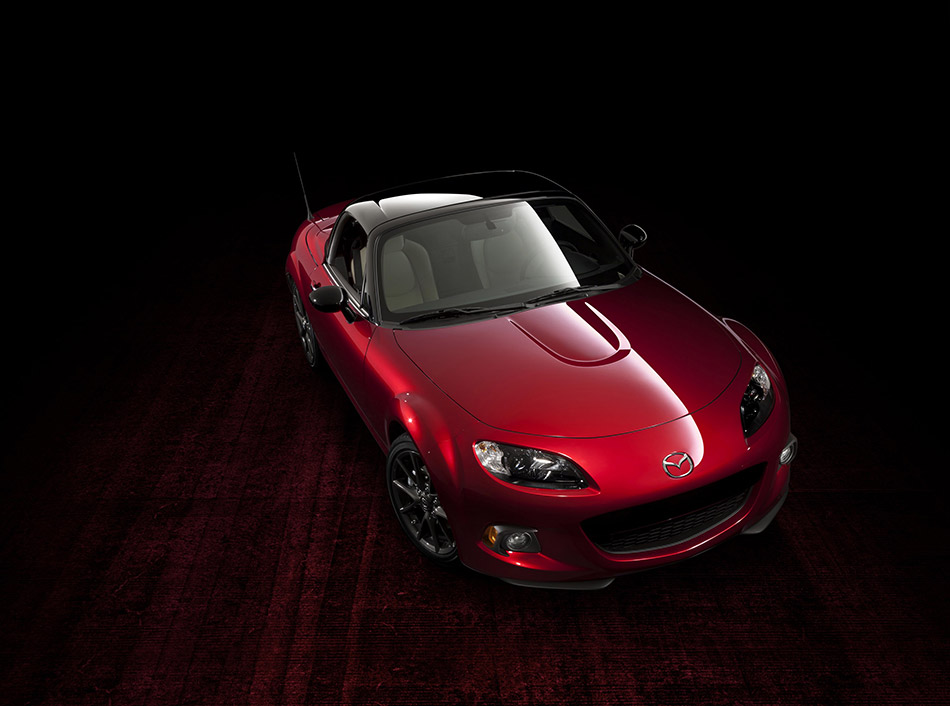 The Mazda MX-5 Miata 25th Anniversary Edition revealed in New York is a special edition model that brings together 25 years' worth of fun shared with fans. Based on the power retractable hard top model, and available with either 6-speed manual or automatic transmissions, it is available exclusively in Soul Red Metallic. Meticulous attention to detail has been paid in every area of the vehicle such as the black-painted roof, A-pillars, and door mirrors; off-white leather upholstery and door trim, hand-finished decorative panel, and the adoption of Bilstein dampers.
Mazda will also reveal the newly developed SKYACTIV-Chassis that will be used for the upcoming next-generation MX-5. The engine and chassis are exhibited together, and it will be the first time SKYACTIV technology has been displayed in front mid-ship engine rear-wheel drive layout. While the next MX-5 will feature the most compact configuration yet, the engine will be located more centrally and the center of gravity lowered. Also, while the upcoming model will feature outstanding rigidity and crashworthiness, Mazda is aiming to reduce the overall weight by more than 100 kilograms.
Mazda's Chairman of the Board, Takashi Yamanouchi said, "The original concept behind the MX-5 was so simple; to offer the pure joy of a lightweight sport car that moves precisely as the driver intends. While responding to increasing safety and environmental requirements, over the 25 years since its launch we have had to continually reinvent the MX-5—far beyond simple evolution—in order to stay true to that original ideal. The history of the MX-5 is one of changing everything in order to stay the same. A history of innovating, in order to preserve."
Source: Mazda
Gallery:
Mazda MX-5 25th Anniversary (2014)