The lot of advantages that has foil wrapping in comparison to car painting can't be denied. And it is likewise largely notified that this handicraft art, serving on the one side to improve the individual appearance of the car and conserving on the other side its value, knows a lot of differences. One of the first addresses for ambitious partial or full car wrappings is without any dept the Hannover, Germany, FOSTLA.DE company, the managing director of which, Mr. Darius WALLAT, together with his team of full blood professionals has again and again success to create masterpieces of art.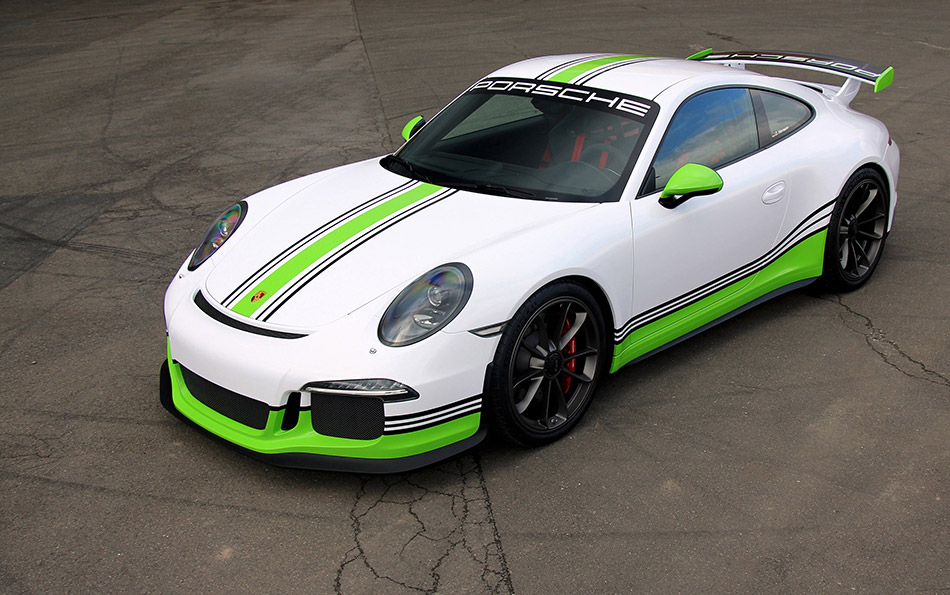 First of all, the object of experience – which was no less than a Porsche 991 GT3 – has been dressed by a glossing white complete wrapping. In order to resist against stone chips or other trials of the everyday automobile life, the front has been covered with double layer wrapping. Only after that, for FOSTLA.DE began the scrupulously precise work in detail. A bilious green design foiling goes around the lower corner of the car body – except the rear area. The upper edge of the air inlet in front forms the borderline to the white body area, manifesting itself on the body sides by three black stripes, while the middle stripe is some smaller than the others are. Behind the doors the borderline clearly mounts up to the rear wings.
 
In addition, there are to be mentioned the front bonnet, the roof and the rear motor bonnet with likewise bilious green longitudinal stripes, on the sides limited by black stripes each. Quasi as final touch, FOSTLA.DE has wrapped both outer mirrors, even as the rear wing diffusors on both sides in bilious green. Last but not least the upper front window corner is decorated by a wedge with Porsche logo.
 
This Porsche 991 GT3 justifies once again thoroughly the image of the FOSTLA.DE team as "man's clothier for cars". Looking at the result of all this, the price of the complete design wrapping with about 4,000 Euro must be simply accepted.
Source: FOSTLA.DE
Gallery:
Fostla Porsche 991 GT3 (2014)