The testers of the industrial magazine AutoBild used to have just one word for the engine of the Mercedes-Benz E63 AMG: "Aweeesome"! The truth though is that the initial disgust was immense when AMG disclosed that it was reducing the cubic capacity of the eight-cylinder engine from 6.3 to just 5.5. The adoption of double turbo power however enhanced the maximum performance of 525 horse power and even 575 horse power with the "Performance package".
Equally new and unusual for a sports limousine of this category: the automatic start/stop system, which switches off the engine when the traffic light turns red. On paper, this is expected to facilitate the reduction of fuel consumption to less than 10 liters for every 100 km.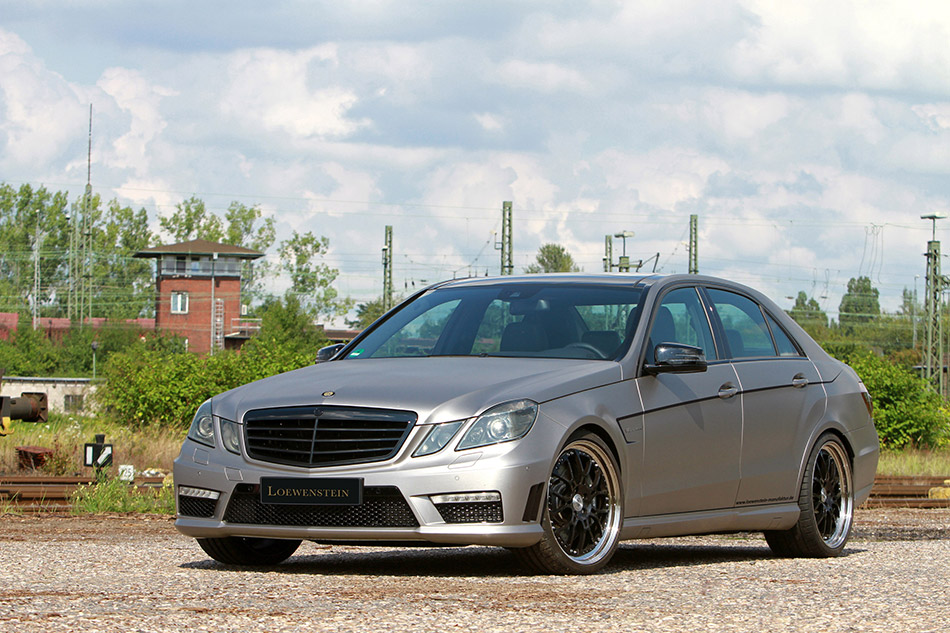 Rather unusual for a tuner: The Loewenstein Manufaktur from Wuppertal completely abandons the aerodynamic frippery in its E-LM63-700 and concentrates completely on the continued development of performance. In the process, it should have been assumed though that 525 or 575 horse power and the AMG-typical perfectly balanced chassis will leave almost nothing to be desired. Yet Loewenstein made a choice: Engine and chassis can easily stomach more than 700 horse power.
All said and done: Thanks to the comprehensive reprogramming of the electronic control unit of the engine and the installation of special sports catalyzers and a sports air filter of the company K&N, unbelievable 720 horse power and a maximum torque of 1,050 Nm now drag the drive shafts.
The fact that a power potential of this magnitude vehemently pushes the E-class that has been refined by Loewenstein is simply a matter-of-course. Particularly astounding is also the ease with which the 720 horse power is controlled. Always present as an acoustic back-up: the rattling and bubbling of the eight-cylinder biturbo, which however never acts pervasively but actually serves to always put a satisfactory smile on faces. The Loewenstein modifications on the AMG chassis are limited to the lowering by 25 millimeters through the threaded springs on the front axle as well as a mechanical adaptation of the serial airmatic system to the rear axle.
The new wheel/tire combination ensures a powerful grip and lateral dynamics: the company's own 3-part RENNSPORT wheel was installed in the front in 8.5 and in the rear, in 10.5x20 inches. The rims are covered in Michelin Super Sport-tires of the format 255/30R20 on the steering axle and 295/25ZR20 on the drive axle.
The singular visual reworking of the E-LM63-700 pictured here, is its complete wrapping in a ground aluminum look whose rough surface is a real eye-catcher.
Source: Loewenstein
Gallery:
Loewenstein Mercedes-Benz E63 AMG (2014)