The biennial GPEC fair (General Police Equipment Exhibition & Conference) is Europe's biggest industry-only special trade fair showcasing police equipment and security technology. As an important industry and technology fair, this eighth GPEC event will provide an international communication platform for trade visitors from police and other public safety services. The last event, GPEC 2012, attracted more than 6,500 visitors from 59 countries and almost 500 national and international exhibitors from 29 countries and five continents.
This year, BMW is once again presenting a diverse range of practical and purpose-designed emergency and security vehicles that meet the highest standards not only of performance, functionality and safety but also of efficiency and fuel economy. At GPEC, BMW will be showing seven emergency and security vehicles and motorcycles, including the new BMW X5 Security Plus (VR 6 – BRV 2009), as well as the latest, extensively revised BMW X3 xDrive. A helicopter stretcher in the BMW X5 Security (VR 4 – BRV 2009) will be shown for the first time. This BMW X5 Security model is suitable for a wide range of applications, and provides valuable assistance particularly in incidents where protectees require medical attention. Completing the range of car exhibits is a BMW 530d Sedan in an unmarked video pursuit vehicle version. The public authority versions of the BMW R 1200 RT and BMW F 800 GT motorcycle models will also be on show. The GPEC exhibits further include a range of special-purpose rider accessories and safety equipment.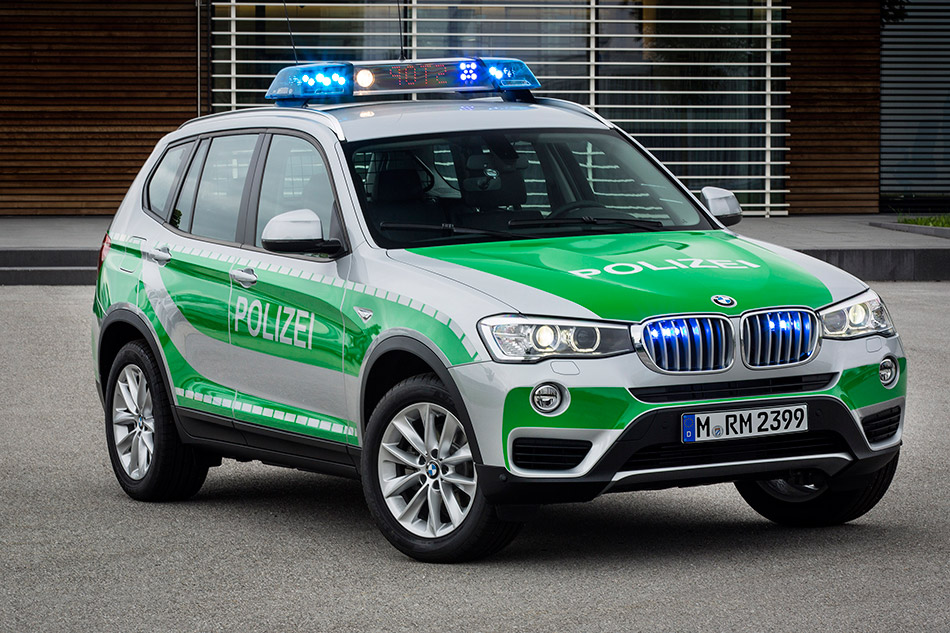 Purpose-developed products with a long tradition.
As a leading manufacturer of premium cars and motorcycles, BMW can draw on decades of experience in the development and production of special-purpose vehicles. In terms of quality, functional performance and safety, these vehicles in each case meet the same high standards as the base vehicle itself. Amongst other things this means that BMW EfficientDynamics technology and the BMW ConnectedDrive range of integrated driver assistance systems and mobility services are always standard features.
In all cases, the design of the base model includes provision for the installation of special equipment features and for the integration of such features in the volume production process. The BMW engineers work closely with specialist personnel at the client organisations and use state-of-the-art components developed by leading and experienced suppliers. Last but not least, BMW emergency vehicles, including all special equipment, are subjected to strict testing programmes, which often go far beyond the requirements of current test standards. This is the only way to ensure that the customer gets a tailor-made vehicle whose components all work together perfectly and meet the BMW Group's high standards of functional performance and quality.
The new BMW X3: multi-talented all-rounder for police work.
The new BMW X3 is a natural choice for the diverse challenges of police work. For more than ten years, this multitalented vehicle has been hailed as the epitome of robust agility, superior dynamics and interior versatility and flexibility. The raised seating position and low windowline also give occupants excellent visibility. For its third-generation models, BMW presented two 2.0-litre turbodiesel engines that combine increased power with reduced fuel consumption. With maximum power of 140 kW (190 hp), average fuel consumption of 5.4-5.0 l/100 km (52.3–56.5 mpg imp) and CO2 emissions of 141–131 g/km* in the automatic version being exhibited in Leipzig, the BMW X3 xDrive20d sets the benchmark in its class. The BMW xDrive intelligent all-wheel-drive system varies the power split between the front and rear axles and also between the individual wheels in line with road surface conditions, for maximised traction and directional stability. Innovative special equipment such as the additional energy supply, Police Stop sign and front and rear strobe lights produce a more visible warning effect, which is important not least for the safety of the police crews themselves.
Source: BMW
Gallery:
BMW X3 xDrive20d Police (2014)