With the V-Class Mercedes-Benz redefines the MPV. As the youngest and largest member of the passenger car family from Stuttgart, it sets new benchmarks in its segment with its design and a host of innovations. The new V-Class combines room for up to eight people and exemplary functionality with the high-class appeal, comfort, efficient driving pleasure and safety that distinguish the automobiles bearing the three-pointed star. This makes the Mercedes among MPVs the perfect vehicle for everyone who appreciates great spaciousness but does not want to sacrifice style and comfort.
Whether off on a shopping spree or travelling with the whole family, heading out for a mountain bike holiday with friends in the Alps or driving prominent guests to a red carpet event - the new V-Class provides optimum flexibility when it comes to use of the interior and always cuts an elegant figure at the same time. With the two equipment lines V-Class and V-Class AVANTGARDE, an Exterior Sports package and an Interior Design package for each line, two wheelbases, three body lengths from 4895 to 5370 millimetres, three engines and also many optional extras, the new MPV can be individualised to suit any taste and requirement. As a result it meets a wide variety of customer needs and is just as attractive for families as it is for people who need a variable and spacious interior for their leisure and sports activities. In addition, it is ideally suited as a luxurious VIP or hotel shuttle.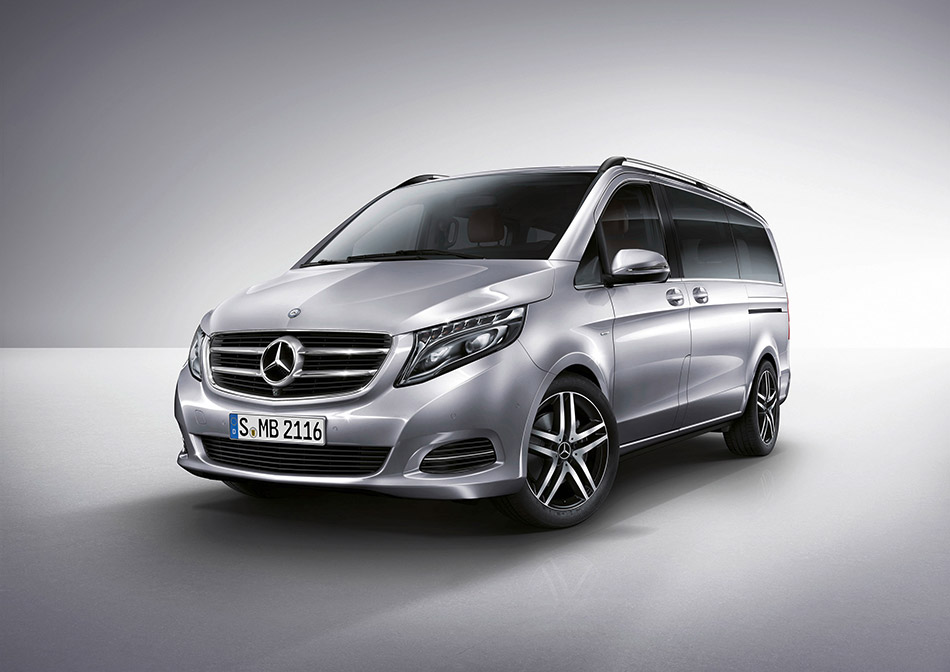 "With the new V-Class we are expanding the Mercedes-Benz premium passenger car range with a saloon for up to eight people", says Dr Dieter Zetsche, Chairman of the Board of Management Daimler AG and Head of Mercedes-Benz Cars Division. "Functionality is a must for an MPV. Comfort and style are the icing on the cake. The new V-Class combines both in a way no other vehicle in this segment can offer."
Emotional, dynamic appearance – size in a new guise
Even at first glance the V-Class is unmistakably a member of the Mercedes-Benz cars family and sets an emotional highlight in its segment. At the centre of the powerful front is the upright radiator grille with three-dimensional central star and the progressively designed headlamps, which for the first time in this segment offer all lighting functions in LED technology as an optional extra. The sculptured V-shaped bonnet merges elegantly into the chrome frame of the radiator grille and the headlamps. The lower air intakes and the radiator grille feature narrow louvres. In conjunction with the headlamps, which extend far into the wings, they emphasise the width of the vehicle and underscore the self-confident appearance of the new V-Class.
The clearly contoured side wall is structured by two elongated, taut lines. The interplay of concave and convex surfaces conveys a sculptural – and as such highly sensuous – character. Both lines smoothly continue the distinctive contour lines of the front bumper and rise slightly as they continue on towards the rear. The side view thus appears elongated and signals dynamism.
"The new V-Class demonstrates that an elegant and dynamic appearance is also possible in size XXL", says Volker Mornhinweg, Head of Mercedes-Benz Vans. "The V-Class is a versatile, multitalented vehicle which offers value, efficiency and safety at the highest level. As a result we are addressing a completely new customer group – among them those who are in need of a generous amount of space but never wanted to drive an MPV because style, a sense of well-being and also ride comfort have so far been lacking in this segment."
Modern style and high-class appeal
The interior redefines the meaning of spaciousness in an MPV. High-quality materials with a pleasant touch and feel and a harmonious colour concept, intricate details as well as a progressive and sensuous design idiom convey outstanding high-class appeal in the segment – and that hallmark "welcome home" feeling provided by Mercedes-Benz cars. Fine nappa leather is also available for the seats, steering wheel and shift lever. This inviting atmosphere is rounded off by subtle ambience lighting in three colours.
A particular eye catcher is the dynamically styled two-part instrument panel. The upper and lower sections are separated by a large, three-dimensional trim element that creates an impression of width and underscores the high-class appeal. The lower section is sculptural in design. This emphasises the generous sense of space while also making lightness tangible. For the first time in this class, a leather-look cockpit upper section with lavishly finished topstitching is optionally available.
Other highlights include the free-standing central display, the multifunction steering wheel with 12 function keys and DIRECT SELECT selector lever (plus steering-wheel shift paddles with automatic transmission) as well as the innovative touchpad, which allows all telematics functions by means of with gestures or by entering letters and characters like on a smartphone. The touchpad is available in conjunction with Audio 20 CD or COMAND Online. The latest generation of COMAND Online combines all audio, telephone and navigation functions and additionally offers an internet browser, the LINGUATRONIC voice control system and transmission of traffic data in real time. The optional Burmester® surround sound system with 16 loudspeakers and a bass reflex speaker delivers the perfect listening experience.
A new dimension of comfort
The V-Class also sets new standards in comfort and variability with a host of innovations. The Mercedes-Benz MPV is the only vehicle in the segment to offer optional 4-way lumbar support and active seat ventilation with reversing fans to ensure a consistent relative humidity at the contact area with the leather seat for driver and front passenger.
Also unique in this class of vehicles is the enhanced THERMOTRONIC automatic climate control system, which is available as an optional extra to replace the standard-fit TEMPMATIC system. It has various ventilation modes to offer individual climate control. The FOCUS, MEDIUM and DIFFUSE climate modes have distinct settings for air volume and distribution. In addition, the THERMOTRONIC system features automatic pre-entry climate control at the touch of a button on the vehicle key, an integral demisting sensor and distribution of cooled air to the driver and front passenger sides, the intensity of which is automatically controlled by the position of the sun.
Numerous seating and loading configurations
The seating in the rear allows numerous configurations to meet any requirements. As standard, the MPV is equipped with four individual luxury seats with armrests in two seat rows. Thanks to improved technology and operating logic, they can be folded forward intuitively to afford fast and easy access to the rear. An optional folding table can be installed between the individual seats in the first row.
As an alternative to the individual seats, a two-passenger bench seat with two-piece, individually folding backrest, or a three-passenger bench seat with two-piece seat cushion and three-piece backrest is available for both rear rows. The outer right-hand seat of the three-seater bench can be folded forward or taken out separately. The entire bench can be folded up to create space for large items of luggage, such as sports equipment or newly purchased furniture for the children's room. For overnight accommodation in the V-Class, the rearmost row also can be equipped with a three-passenger bench seat as a comfort berth. Drawers are located underneath the berth, which can also be used as a second loading level. Cargo also can be stowed under all other bench seats. Moreover, all bench seats and the individual seats are fitted with integrated three-point safety belts.
Very little effort is required to move the individual seats and benches fore and aft or to position them as vis-à-vis seats in the further optimised seat rails with quick-release system. They can all be removed as well to create a loading area tailored to specific needs at any time.
Separately opening rear windscreen and second loading level
For easy loading and unloading, the V-Class features another first in this segment in the shape of the separately opening rear windscreen attached to the upper tailgate frame. It can be opened and closed independently of the tailgate. This makes loading and unloading easier in two respects: on the one hand, it allows a second loading level; on the other – particularly in tight parking spaces – there is no need to open the large tailgate. The corresponding load-compartment organiser is easy to install and remove. It can bear up to 50 kilograms and has two recesses, each of which holds a removable and collapsible shopping basket. In the V-Class AVANTGARDE, the separately opening rear windscreen is a standard feature.
Another USP for the new V-Class: The tailgate is optionally available as an EASY-PACK tailgate which can be conveniently opened, closed and stopped in any position electrically. Even smaller people then have no difficulty closing the tailgate.
Mercedes-Benz Intelligent Drive – exemplary safety
A total of eleven innovative driver assistance systems ensure a high level of driving comfort and an exemplary level of safety. They are based on modern radar, camera and ultrasound sensors, which were introduced in the new E-Class and S-Class under the name "Mercedes-Benz Intelligent Drive". The standard equipment includes Crosswind Assist, which stabilizes the V-Class in strong gusts of crosswind, and ATTENTION ASSIST, which can warn of inattention and fatigue. Optionally available is Active Park Assist. It makes parking the new MPV as easy and convenient as parking a compact car.
Also optionally available are the 360-degree camera, DISTRONIC PLUS proximity control in conjunction with COLLISION PREVENTION ASSIST, Traffic Sign Assist with wrong-way warning, Lane Keeping Assist, Blind Spot Assist, the LED Intelligent Light System and Adaptive Highbeam Assist. Most of these assistance systems are available in this segment for the first time.
The PRE-SAFE® system familiar from the passenger car models is available as an optional extra to further enhance safety. When an accident threatens it initiates protective measures to ensure that the belts and airbags offer optimum protection during a collision.
Top efficiency: six-cylinder performance with four-cylinder fuel consumption
At market launch the new V-Class comes to the starting line with the state-of-the-art 2.1-litre four-cylinder turbodiesel engine with two-stage turbocharging, which has already proven highly successful in many passenger car model series from the A-Class to the S-Class, and which has now been further enhanced specifically for the MPV. It is available in three power output levels: the V 200 generates 100 kW (136 hp) and a maximum torque of 330 Newton metres. The V 220 CDI mobilises 120 kW (163 hp) and 380 Newton metres. This is an increase of 20 Newton metres in each case over the predecessor – but with fuel consumption down by around two litres per 100 km. With fuel consumption of just 5.7 litres per 100 kilometres and CO2 emissions of 149 grams per kilometre, the V 220 CDI occupies an absolute leading position in the segment.
The top-of-the-line V 250 BlueTEC engine has a power output of 140 kW (190 hp) and powerful peak torque of 440 Newton metres, plus as much pulling power and agility as the previous 3-litre V6 turbodiesel engine. At the same time, the new top-of-the-range mode offers very smooth running characteristics, and interior noise has been reduced significantly - thanks among other things to comprehensive insulation - compared with the preceding six-cylinder model. Fuel consumption is also considerably lower: at 6.0 litres of diesel fuel per 100 kilometres the four-cylinder turbodiesel runs on 28 percent less fuel than the six-cylinder while offering identical performance. Thanks to BlueTEC the top-of-the-range model is also the first vehicle in the segment to comply with the Euro 6 emissions standard. The V 250 BlueTEC is equipped as standard with the 7G-TRONIC PLUS transmission with DIRECT SELECT lever and DIRECT SELECT shift paddles. The convenient automatic transmission is available as an optional extra for the V 200 CDI and V 220 CDI models.
New standard of agility and driving pleasure
To enhance personal driving pleasure, the V-Class is the only vehicle in its segment to offer the AGILITY SELECT function in conjunction with the automatic transmission. At the push of a button the driver can select from four driving modes: economical, comfortable, sporty and manual. Engine, accelerator and transmission response are then adapted accordingly. If the driver activates the modes "Sport", "Comfort" or "Manual", an additional output of 10 kW and 40 Newton metres becomes available in acceleration phases ("over-torque"). As a result the V 250 BlueTEC for example develops 150 kW and maximum torque of a full 480 Newton metres.
Ground-breaking and unrivalled features in this category of vehicles are also the AGILITY CONTROL suspension with selective adjustment of the damping system to the road conditions, and the latest generation of ADAPTIVE ESP®, featuring many assistance functions for optimum driving safety. The light and precise electromechanical power steering likewise contributes greatly to the well-balanced driving comfort in the new V-Class.
Standard equipment: extensive and with stylish details
The new Mercedes-Benz MPV occupies the leading position in its segment thanks to its sporty character and comfortable appointments. The standard equipment even of the basic V-Class version is very substantial. It includes Audio 20 USB with free-standing 7-inch central display, piano-lacquer-look trim, 3-spoke multifunction steering wheel with 12 function keys and sporty DIRECT SELECT selector lever with steering-wheel gearshift paddles in the case of automatic transmission, a steering column adjustable for height and tilt, luxury front seats with thorax/pelvis sidebags, electric parking brake and active arrest for the rear sliding door.
The V-Class AVANTGARDE design and equipment line features additional highlights as standard, such as leather seats, leather steering wheel, ambience lighting, wood-look trim (also in the rear), LED High Performance headlamps with Intelligent Light System, separately opening rear windscreen with second loading level, an additional sliding door on the left, laminated glass windows for additional noise reduction, and the AGILITY CONTROL suspension with selective damping system for even better agility and ride comfort.
At market launch in late May 2014, the new V-Class will be available as a long-wheelbase model with a length of 5140 millimetres, a wheelbase of 3200 millimetres and lengthened overhang. It will be available to order from 6 March 2014. The compact and extra-long variants will follow in due course.
Exclusive model at launch: V-Class Edition 1
Like every new Mercedes-Benz passenger car model series, the V-Class will also start out with a limited Edition 1. The distinguishing features of the 140 kW (190 hp) special model with 7G-TRONIC PLUS automatic transmission include a sports suspension or optionally AGILITY CONTROL suspension with selective damper control, 19-inch 5-twin-spoke light-alloy wheels, tinted glass in the rear compartment, marron nappa leather seats, leather-look dashboard with contrasting topstitching, and dark anthracite ebony wood-look trim. Ensuring utmost comfort are active seat ventilation for driver and front passenger, THERMOTRONIC automatic climate control plus separate semi-automatic TEMPMATIC system in the rear, COMAND Online, Burmester® surround sound system, electric sliding doors on the right and left, electric EASY PACK tailgate with separately opening rear windscreen, and the Parking package with 360-degree camera. COLLISION PREVENTION ASSIST, Lane Keeping Assist and Blind Spot Assist plus the PRE-SAFE® system offer exemplary safety.
Source: Mercedes-Benz
Gallery:
Mercedes-Benz V-Class (2015)