The Spider 207, which received its world première in Paris, is developed from the 20Cup concept car but features a more conventional 4-wheel architecture and a rear transverse engine. This car, intended to be driven in a single class category, will provide intense and genuine driving pleasure, combined with the use of a production engine offering a high level of torque and reliability.
This category will be the curtain raiser to all five rounds of the Le Mans Series (LMS) and an extra event will also take place in France as part of the Rencontres Peugeot Sport. It is a racing car embodying the attributes of both LMP1 and LMP2 cars and complying with ACO regulations, particularly as regards rollover protection. Its rear design is reminiscent of the Sport Prototype cars of the 1970s, with its short engine cowling with no rear spoiler.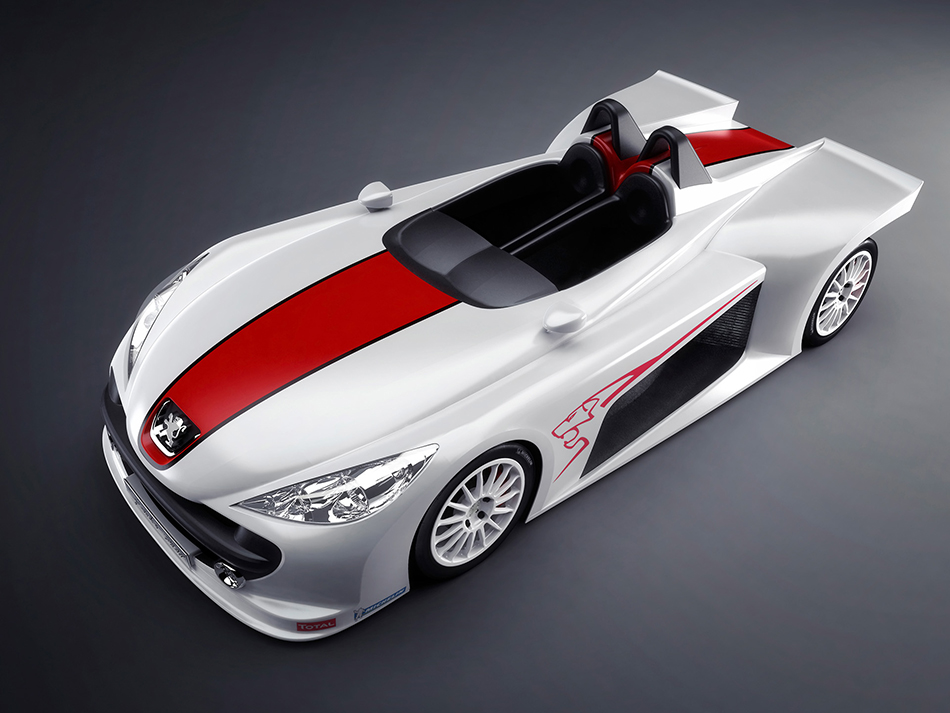 The chassis:
The chassis is tubular and consists of three main parts for reasons of repairability and the engine-gearbox assembly occupies a central rear transverse position. For driver safety, the car's structure (chassis, front and rear rollover bars, crash box, and steering column) meets the requirements of IAF regulations governing Sports Cars (LMP1 and LMP2).
Suspension, steering, brakes:
Double wishbone and spring-damper units - front and rear. A large number of components have been derived from Peugeot's current vehicles range.
An attempt has also been made to standardise as many parts as possible for the four suspension units.

The engine:
The 1.6 litre THP 16v EP6 DTS engine is the same as that of the future 207RC, developed as part of the co-operation with the BMW Group. It is a standard engine except for the intake and exhaust systems which are modified for the Spider 207. The power output is 128 kW, or 175bhp, at 5800 rpm.

The gearbox:
Sadev 6-speed dog ring sequential gearbox with selection controlled by "paddles" on the steering wheel.
Body and aerodynamics:
The Spider 207 has two diffusers, one located under the bonnet forward of the front wheels, the other at the extreme rear. They are separated by a wide, flat under floor covering practically the entire underside of the car. These diffusers and extractors help improve road holding.
Rear down force is also aided by the design of the imposing rear cowling, giving the car a specific style, but also making it possible to dispense with a rear spoiler, which can be very prone to accidental damage. The bodywork consists of 9 individual parts in order to reduce repair costs.
Electronics:
The car features the standard Bosch electronic control unit (ECU), adapted, however, to the requirements of the Spider 207, but "locked" to prevent any reprogramming or modifications.
A "black box" fitted to the car will continuously record the engine's operating parameters. This data will be used for technical evaluation during events, but will not be accessible by
competitors.
Source: Peugeot
Gallery:
Peugeot 207 Spider (2006)