Mitsubishi Motors is proud to introduce the latest additions to its diverse, rally-inspired range of Lancer vehicles. The Lancer Sportback adds five-door utility and large-displacement Mitsubishi Innovative Valve timing and lift Electronic Control (MIVEC) power to Mitsubishi's expanding line of high-energy compacts.
ROOM FOR THE FAMILY, PERFORMANCE FOR THE DRIVER
"Providing great products that offer utility and value is at the core of our brand. Lancer Sportback extends that promise as Mitsubishi Motors delivers an affordable, compact sport wagon with a distinctive sports-car attitude,'' said Finbarr O'Neill, co-chairman and chief executive officer of Mitsubishi Motors North America, Inc. (MMNA). "This newest member of the Lancer family shares its racing heritage in a bold, exciting package for young families.''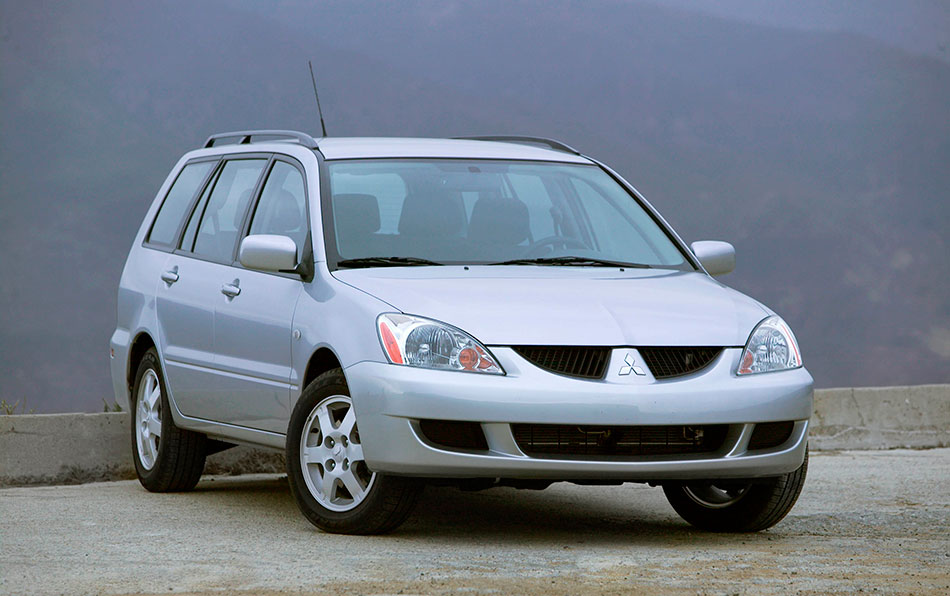 Based on the Lancer sedan and beefed up to haul the entire family-and the family dog-the Sportback helps to revive a nearly extinct species of automobile: the affordable compact sport wagon. Joining the decidedly light ranks of small, agile, front-drive wagons, the Lancer Sportback will compete for the practical minds and rev-happy hearts of people who want more than just a station wagon. With a big standard engine and an optional high-performance Ralliart model, this Mitsubishi is expected to rise to the top of consumers' shopping lists.
BASED ON A RALLY-READY PLATFORM
The Lancer Sportback gets its solid feel and stable demeanor from a Lancer unit chassis that was enhanced and made stronger for 2004. The Lancer Sportback adds unique reinforcements to compensate for the lack of a rear bulkhead, and a structural ring frames the cargo door opening, stiffening the body.
This chassis serves as a flex- and twist-resistant foundation for both the LS trim line's comfort-oriented suspension and the Ralliart's more aggressive cornering-oriented suspension.
MIVEC POWER
Both of the Lancer Sportback trim lines are powered by a new 2.4-liter Mitsubishi Innovative Valve timing and lift Electronic Control (MIVEC) engine. MIVEC provides two different cam profiles for the twin intake valves, with a hydraulic actuator that engages a more aggressive high-lift mode at 3500 rpm.
With more lift and duration from the high-speed cam lobe, the intake valves open further and stay open longer, which takes advantage of the airflow momentum built up in the intake system. The result is 162 horsepower and 162 pound-feet of torque on the Ralliart trim line and 160 horsepower and 161 pound-feet of torque on the LS. More importantly, the low-speed cam lobes allow torque to build at lower engine speeds, so the Lancer Sportback exhibits a more effortless lift-off from a stop. When the system switches to the higher cam lobe, higher-rpm horsepower is optimized and the engine rips to redline without gasping for breath.
Additional benefits of the MIVEC system include lower exhaust emissions and slightly better fuel economy.
The Lancer Sportback engine is based on Mitsubishi's internationally proven 2.4-liter iron block, alloy head design that features a single overhead cam, 16 valves, and dual counter-rotating balance shafts for smooth operation.
Both the Lancer Sportback LS and Lancer Sportback Ralliart combine the engine with an electronically controlled four-speed automatic transmission featuring driver-adaptive control and an aggressive 4.212 final drive ratio.
COMPACT EXTERIOR, MIDSIZE INTERIOR
Although the Lancer Sportback measures only 181.3 inches in length and 66.8 inches in width, the interior offers up to 95.3 cubic feet of passenger space. The driver and front passenger can stretch out with 43.2 inches of front legroom. The raised rear seat provides 36.6 inches of legroom, which is more room than you'll find in some midsize sedans. With the rear seat folded, both of the Lancer Sportback trim lines can swallow 60.7 cubic feet of cargo, easily offering all the space necessary for weekend errands and shopping.
LANCER SPORTBACK LS EQUIPMENT AND FEATURES
Designed to balance ride comfort and high-performance capability, the Lancer Sportback LS is equipped with the 160-horsepower MIVEC engine, four-speed driver-adaptive automatic transmission, fully independent front strut and rear multi-link suspension, front and rear stabilizer bars, four-wheel disc brakes, engine-speed sensitive rack-and-pinion steering and 195/60R15 tires.
Inside, the LS is fully equipped with air conditioning; a 140-watt AM/FM/CD audio system with four speakers; white-faced gauges; a height-adjustable driver's seat; tilt steering wheel; power windows, door locks and side-view mirrors; and remote keyless entry. The front shoulder belts are also fitted with pre-tensioners and force limiters.
The rear seat offers real-world practicality thanks to its 60/40 split-fold design, its ability to recline for comfort, and a center armrest that includes fold-out cup holders for convenience. In the cargo area, under-floor and side storage compartments, a 12-volt power outlet, and four cargo tie-down hooks are also standard.
All Lancer Sportback LS interiors are trimmed in contrasting gray with a black-wood-grain accent panel on the dashboard and titanium-style panels on the center and floor consoles.
An available Preferred Equipment package includes roof rails, color-keyed side-view mirrors, cruise control, cargo area tonneau cover and 15-inch alloy wheels.
LANCER SPORTBACK RALLIART EQUIPMENT AND FEATURES
Ralliart is Mitsubishi's international performance brand, and the Sportback Ralliart meets the requirements of the development gurus responsible for the high-performance Lancer Evolution. Any vehicle with the Ralliart badge is required to live up to its name.
As a member of the Ralliart family, the Lancer Sportback Ralliart takes to the street with a full sport suspension, including unique spring rates, specific damper tuning, tighter bushings, a stiffer steering rack and a particularly stiff three-point front strut tower brace. The tires are upgraded to V-rated 205/50R16 tires mounted on Euro-flange alloy wheels. Antilock brakes with Electronic Brakeforce Distribution are standard equipment, as is an exhaust system that's opened up to produce a more authoritative and enthusiastic sound.
The Sportback Ralliart shows off its rally style with a lower body kit that includes front, side and rear air dams, a unique grille, tinted headlamp lenses and projector-beam fog lights.
Inside, the high-performance Ralliart treatment continues with all-black interior materials, high-end sport seats, a white-faced sport gauge cluster, leather-wrapped steering wheel, shifter and parking brake lever and a carbon-style accent panel on the dash. Front and side-impact airbags are also included, along with a six-speaker audio system and standard cruise control.
THE LANCER LINEUP
The Lancer lineup now starts with the 2.0-liter Lancer ES, LS and O?Z" Rally sedans. Next up is the new Lancer Sportback LS, the 2.4-liter, 160-horsepower wagon with chassis tuning and equipment levels similar to the sedans.
Taking a step up the performance ladder is the Lancer Ralliart sedan, along with the new Lancer Sportback Ralliart. Both share the 2.4-liter 162-horsepower engine and the factory-tuned suspension that inspired the Ralliart name. Unique interior and exterior equipment bring the Ralliart sedan and Sportback Ralliart models one speed-shift closer to their international cross-country racing roots.
At the top of the Lancer family is the performance patriarch, the 2.0-liter, 271-horsepower, turbocharged, all-wheel drive Lancer Evolution. A street-legal version of the World Rally Championship model and a race-circuit celebrity, the Lancer Evolution shares its mechanical DNA with the entire line.
Mitsubishi Motors North America, Inc., (MMNA) is responsible for all manufacturing, finance, sales, marketing, research and development operations of the Mitsubishi Motors Corporation in the United States, Canada, Mexico and Puerto Rico. Mitsubishi Motors sells coupes, convertibles, sedans and sport utility vehicles through a network of nearly 700 dealers throughout North America.
Source: Mitsubishi
Gallery:
Mitsubishi Lancer Sportback (2004)