With roots that include the breakthrough 1955 and 2005 models, the new 2015 Chrysler 300 takes the nameplate's style and sophistication to new levels and highlights six decades of ambitious American ingenuity through iconic design proportions and inspired materials, world-class quality and craftsmanship, best-in-class 31 miles per gallon (mpg) highway fuel economy, plus class-exclusive innovations — including a state-of-the-art TorqueFlite eight-speed transmission now standard on every model, the segment's most advanced all-wheel drive (AWD) system, award-winning Uconnect Access services, all-new and segment-exclusive 7-inch full color driver information display (DID) and the newest generation Uconnect systems — putting boulevards and interstates on notice once again.
"At the Chrysler brand, we believe that hard working Americans deserve to be rewarded for their perseverance and convictions," said Derek Humphrey, Director of Chrysler Brand. "And for 2015, our new Chrysler 300 model lineup delivers with the quality, efficiency and refinement of the world's best sedans, and goes further by adding class-exclusive technologies, premium appointments and proud American styling, all at an attainable value."
The new 2015 Chrysler 300 is loaded with an array of state-of-the-art, innovative and easy-to-use features and services designed to keep consumers connected, engaged and informed, while keeping their hands on the wheel and eyes on the road.
"The new 2015 Chrysler 300 offers customers the ultimate combination of luxury and value, combined with an incredible driving experience with all the features and services that Uconnect has to offer," said Alan Amici, Head of Uconnect Systems and Services. "Our goal is provide drivers with a variety of ways to quickly connect with, and easily control, the information they want and need, while keeping them focused on the primary task of driving."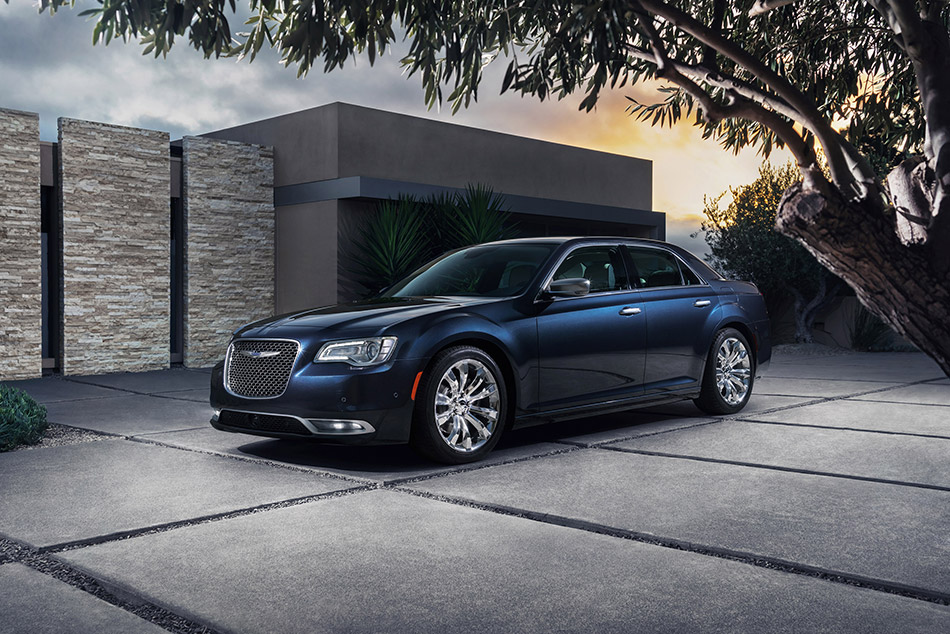 From award-winning Uconnect Access services, to the new 7-inch full color driver information display, to the new and easy-to-use 8.4-inch touchscreen to 3-D navigation, the 2015 Chrysler 300 delivers the latest high-tech features for the ultimate driving experience.
New 7-inch driver information display
The new 2015 Chrysler 300 features an all-new 7-inch full-color driver information display (DID), which enables the driver to personalize the information displayed in the instrument cluster. The 2015 Chrysler 300 driver information display is designed to visually communicate information, using graphics and text, quickly and easily.
The DID offers a wide range of customization options, from a basic digital speed read out to more detailed vehicle status information, such as tire pressure, fuel economy, audio, warning messages and turn-by-turn navigation.
Operation of the DID is intuitive and clearly communicated to users with easy-to-understand icons and instructions. Using buttons on the steering wheel, drivers can customize the screen with as much or as little information as they desire. There are three areas of the instrument cluster display that can be customized with time, temperature, audio, compass or speedometer. The main screens found inside the instrument cluster menu are: gears, fuel economy, vehicle messages, performance information, trip, audio and when equipped, advance driver assistance system information.
Once a main screen is chosen, it becomes the default setting and the vehicle will remember the user's selection upon restarting the new Chrysler 300. Vehicle concerns are instantly reported to the driver via pop-up warning messages on the display. Warning messages are then stored so a driver can review the message at their convenience.
Upgraded Uconnect systems
Each of the newest 2015 Chrysler 300 models come standard with an 8.4-inch touchscreen. The 8.4A is standard on the 300 and 300S, with the option to upgrade to the 8.4AN. The 300C and 300C Platinum models come standard with the Uconnect 8.4AN.
 
Uconnect 8.4A features and services are available via an 8.4-inch color touchscreen. The system includes a six-month trial of Uconnect Access service and five-year trial of Uconnect Access via Mobile. With its user-friendly touchscreen display and large, easy-to-use icons located along the bottom of the screen, the system offers touchscreen operation for the radio, personal audio devices with player controls, climate, phone and navigation (customer-activated navigation).
A range of features, offered by the premium Uconnect 8.4AN, provides customers with multiple ways to connect their vehicle; HD Radio, one-year trial of SiriusXM Radio (included), five-year trial of SiriusXM Travel Link and SiriusXM Traffic (included); and voice recognition technology to provide handsfree operation of mobile phones, music and texting. This system also includes a USB, SD card and 3.5 mm auxiliary input in the media console.
Uconnect Access: A suite of connected services
The Uconnect 8.4A and 8.4AN provide owners with an included 6-month or 12-month trial of Uconnect Access services. A variety of services leverage a built-in data connection. With the Uconnect Access app, users can remotely lock or unlock doors or start their vehicles via the web or a smartphone. The Uconnect system includes a 9-1-1 call button on the rearview mirror for a direct connection to emergency services. An Assist Call button also is integrated into the rearview mirror to summon help directly from a roadside assistance provider or connect with Chrysler Group's Chrysler Customer Care or Uconnect Customer Care.
Owners will be confident to know that the all-new 2015 Chrysler 300 is designed to be forward-thinking, providing the freedom to upgrade Uconnect Access services, without having to replace their factory installed Uconnect systems. Uconnect Access services are updatable over the air and will downloaded directly to the 8.4AN system, keeping services current and enabling customers to continually evolve their in-vehicle connectivity experience.
With their hands on the wheel, Chrysler 300 customers also can use Uconnect Access, a state-of-the-art voice recognition system that uses the embedded connectivity to access cloud-based voice recognition. When a compatible (check UconnectPhone.com for device compatibility) Bluetooth mobile phone with the Message Access Profile (MAP) is paired, Uconnect Access will:
    Announce receipt of incoming texts
    Identify the senders
    "Read" the messages aloud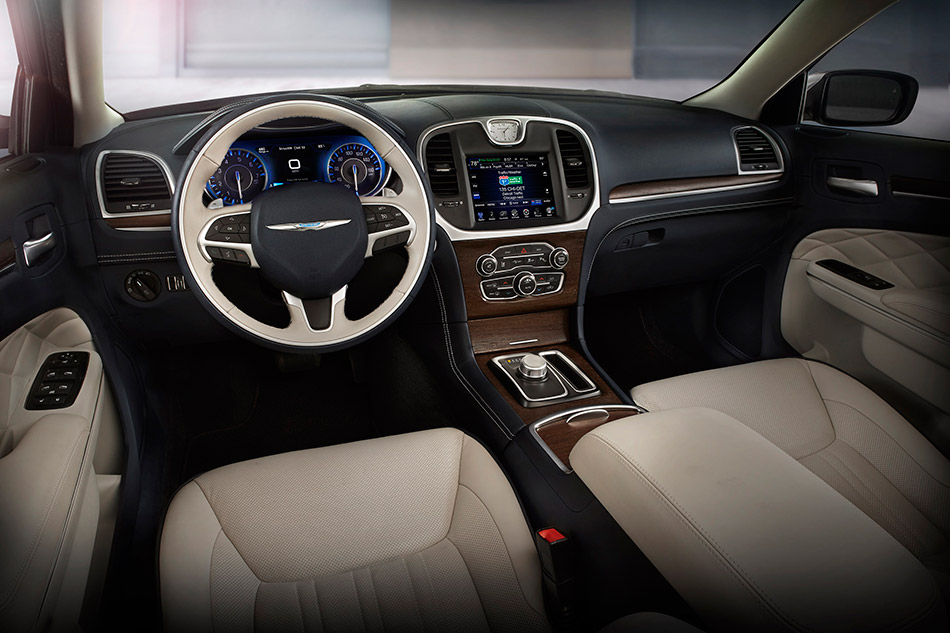 To respond or compose any new text, drivers need to simply dictate a message of 100 characters or less. The Uconnect system will send the message to a "cloud-based voice-recognition server," which converts spoken words to text and "reads" it back for accuracy before sending verbatim. And it can all be done handsfree, without having to memorize any pre-approved messages.
Drivers unsure of their destination and looking for popular locations around them can use their voice to conduct a Yelp search and simply say what they are looking for. En route, passengers also can check e-mail or browse news sites. On-demand Wi-Fi hotspot capability enabled by Uconnect Access provides in-cabin wireless Internet connectivity via laptop, tablet or smartphone, whether on the move or at the worksite. Passengers can purchase Wi-Fi for a day, week or month.
Uconnect Access Via Mobile
The Chrysler 300 includes Uconnect Access Via Mobile, an extension of Chrysler Group's suite of Uconnect Access services. Uconnect Access Via Mobile enables customers to enjoy their personal Aha by Harman, iHeartRadio, Pandora and Slacker Internet radio accounts and stream audio content using their own mobile device data plans. The result: a truly personalized listening experience.
With Pandora, for instance, customers can register their preferences by hitting the app's familiar buttons – "thumbs up" or "thumbs down" – which are displayed on the available 8.4-inch touchscreen. In addition, unique steering-wheel controls enable song skipping.
Voice recognition technology
The Uconnect system includes voice recognition technology that enables drivers to operate their mobile phone, music and navigation system handsfree, while they stay focused on the road ahead. When a compatible Bluetooth mobile phone is initially connected to the system, the phone book within a mobile phone is automatically downloaded, synchronizing as many as 5,000 phone book entries, which can then be selected by simply saying a contact name. The feature also allows drivers to switch radio modes, tune to SiriusXM Radio, AM, FM, and HD Radio (on Uconnect 8.4AN) and request real-time information (such as fuel prices) from the available SiriusXM Travel Link (on Uconnect 8.4AN) using natural voice commands. The handsfree option promotes driver focus, freedom, value and flexibility.
A variety of ways to control your content
The Uconnect system's controls are placed on the steering wheel in addition to the center stack. Chrysler Group LLC was the first vehicle manufacturer to integrate these rocker switches at the back of the steering wheel, where research has shown customers have a preference. Audio system controls, including next station, radio preset and previous station or track, are located on the left rear. Volume up or down and change audio source are located on the right rear of the steering wheel. This means drivers can keep their hands on the wheel while enjoying a variety of entertainment content sources.
Navigation features
The Uconnect 8.4AN offers navigation standard, including 3-D imagery of landmarks, city models and digital terrain. The Uconnect systems utilize the large, 8.4-inch touchscreen to deliver directions, lane guidance and points of interest. Directions are given audibly and also appear in the vehicle information center – so information is available when the driver needs it. The system features enhanced graphics and a one-step voice entry system so customers can easily say the address and navigate on the go.
Navigation can be activated, on the Uconnect 8.4A system, any time after the vehicle sale.
Entertainment features
HD Radio (on Uconnect 8.4AN), SiriusXM Radio and a variety of ways to access digital music, including, USB and 3.5 mm auxiliary inputs as well as a remote USB port in the media console all come standard.
Source: Chrysler
Gallery:
Chrysler 300 (2015)