Opel is offering a unique combination of flexible transport and dynamic performance in the form of its new 141 kW (192 hp) Zafira OPC. Opel Performance Center GmbH (OPC) has led the development of a sports van with a turbocharged engine and a top speed of 220 km/h; based on the company's highly versatile best-seller. Following the Astra OPC and this Zafira, Opel is planning to launch further OPC models. In the words of Chairman and Managing Director, Carl-Peter Forster: "We will be making very special offers under the OPC name to all people who value the sporty side of a car's character. This is one of the direct results of our 'Olympia' project to develop the image of the Opel brand. It makes active use of our many years of motor sport experience."
The Zafira OPC's exceptionally dynamic performance derives from its 2.0 16V ECOTEC four-cylinder engine. With its integral turbocharger system, this engine has supreme reserves of pulling power. The Zafira OPC's torque curve, for instance, reaches its maximum of 250 Nm at an engine speed of only 1950 rpm, and maintains this high level up to almost 5400 rpm. Yet despite its outstanding performance, the seven-seater vehicle, has an average fuel consumption of only 10.1 liters per 100 kilometers (MVEG) and already complies with the Euro 4 exhaust emission limits. This new top version in the Zafira range retains the full versatility of the Flex7 seat system and is ideal for all those looking for a family and leisure vehicle with exceptionally high performance. The DSA (Dynamic Safety) suspension is perfectly matched to the Zafira OPC's extra power. The 16-inch brake system has disks all round (308 mm diameter ventilated at the front, 264 mm diameter at the rear) and 7.5 x 17 alloy wheels with 225/45 R 17 tires. An electronic stability program (ESP) with integral TC Plus traction control is standard. Inside, the Zafira OPC features special Recaro sport front seats with leather upholstery, air conditioning and exemplary passive safety equipment with full-size curtain head airbags, front and side airbags, active front-seat head restraints and the patented Pedal Release System.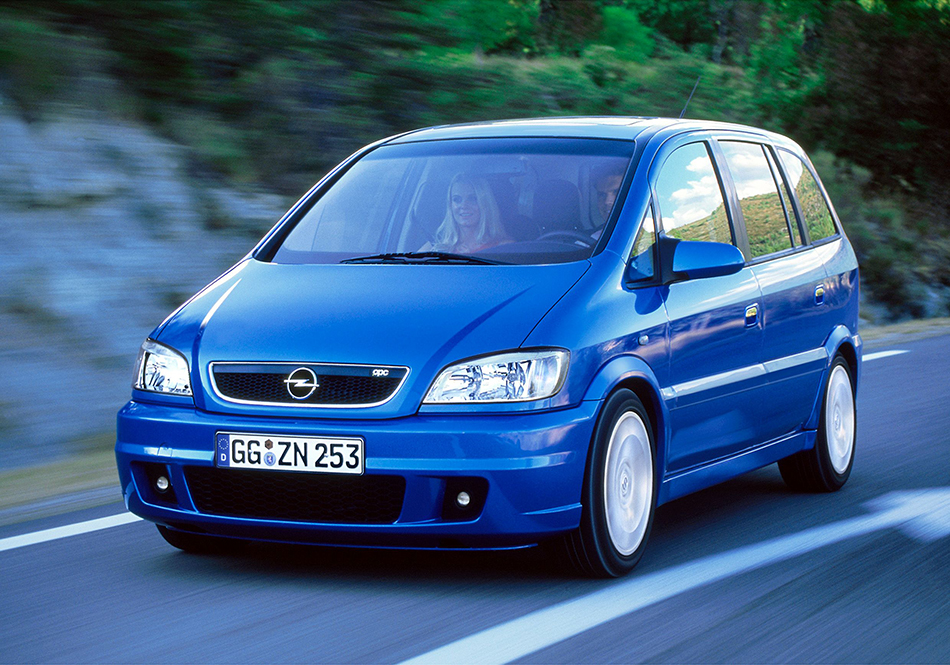 Following the successful Astra OPC, the Zafira OPC is the second production model to be launched by the Opel subsidiary, which was established in 1997. The Astra Coupe OPC X-Treme design study first shown in March 2001 and the turbo versions of the Astra Caravan and Cabriolet in "Linea Rossa" look, as seen at the recent Frankfurt Motor Show, demonstrate OPC's ability to develop exceptionally sporty, exclusive Opel models. Technical support is provided by OSV (Opel Special Vehicles) and the ITDC (International Technical Development Center). OPC cars are notable for powerful engines, agile chassis and suspension efficient aerodynamics, exclusive interior decor and dynamic, yet understated styling.
Brilliant all-rounder: the Zafira OPC combines two motor-vehicle concepts
The Zafira OPC proves that a sports car does not need a particular body style. The fascination of this new vehicle is that it performs both roles without entering into any compromises. On the one hand, the Zafira OPC is outstanding family transport, with the compact dimensions, an innovative space utilization concept, dynamic styling and excellent handling that have made the Zafira a best-seller and the benchmark in its class. On the other hand, it is a full-blooded sports car with a powerful turbocharged engine that sets high standards in performance and refinement. It has Opel's DSA suspension to provide the agility and handling precision that ensure high levels of driving pleasure and active safety. It also has luxurious equipment and trim that confirm its positioning as a high-quality premium vehicle.
This exclusive sports van is clearly tailor-made for enthusiasts who appreciate high technology, an unconventional approach and a degree of understatement. The Zafira OPC will attract potential buyers who have so far driven a variety of different vehicles; van or station wagon owners who want 'that little bit more', but who have been unable to indulge in a sports car until now for practical reasons. Or sports-car lovers who also want additional versatility, comfort and convenience.
Design: advanced technologies are the key
The Zafira OPC is a bold design, both elegant and dynamic in appearance and accented by the extra-deep front apron with large air intake, the individual styling of the bumpers and side sills and the impressive 17-inch wheels with 225/45 R 17 tires. The origin of the vehicle is announced by OPC badges on the radiator grill and tailgate, and "Turbo" lettering on the A- and B-pillars.
Inside the Zafira OPC there is a similarly sporty, elegant look. In addition to the Recaro seats, the door sill kick plates have "Turbo" lettering, the steering wheel is leather-covered and the white instrument dials add to the vehicle's exclusive character.
Powertrain: ample power from modern turbo-technology
At the heart of the Zafira OPC is an advanced high-performance power unit that has already propelled the Astra Coupe Turbo into the top sports car league. With power output of 141 kW (192 hp) at 5400 rpm) and an abundant flow of torque, the performance of the 2.0-liter ECOTEC four-cylinder engine rivals that of six-cylinder power units. One of its special features is the integral turbocharger system, with the exhaust manifold, turbine casing, waste gate and other components all combined into a single assembly. The advantages are compact dimensions and low weight: the casting weighs only 4.3 kilograms, the complete turbocharger system only 7.1 kilograms. The 2.0 16V turbocharged engine has the best power-to-weight ratio of all current Opel engines.
Back in 1991 Opel's Calibra Turbo demonstrated that turbocharged gasoline engines are ideal for high performance allied to moderate fuel consumption and exhaust emissions. That car's engine already had an integral turbocharger system and inspired other manufacturers to adopt this pioneering turbocharger layout. The Zafira OPC's engine is the latest stage in this development. High power density is a notable feature of forced-aspiration four-cylinder engines, which tend to be lighter, more compact and less expensive to produce than naturally-aspirated engines with the same power output. They are also superior in ecological terms, consuming less fuel and producing lower emissions.
Outstanding pulling power is in this engine's character
On the road, the Zafira OPC's integral turbocharger concept is notable for its spontaneous response to gas pedal movement and its exceptional pulling power, even at low engine speeds. Reducing the exhaust gas flow distance between the engine and the turbine, and the use of a compact, low-inertia turbine, result in a 'low-end torque' engine; the turbocharger boost pressure and the torque curve rise steeply above idle speed and peak at 250 Nm and 0.85 bar when the engine speed is still only 1950 rpm. This excellent torque figure remains available all the way up the rev band to almost 5400 rpm.
This results in supreme performance: Europe's fastest van reaches 100 km/h from a standing start in only 8.2 seconds and continues up to a top speed of 220 km/h. When accelerating at full load, the engine management electronics make additional reserves of power available by allowing engine speed to reach 6800 instead of 6400 rpm. The efficiency of this power unit is also documented by its compliance with Euro 4 emission limits and by MVEG fuel consumption of 10.1 liters per 100 kilometers, showing that high performance does not necessarily mean high fuel consumption.
High-tech for performance, refinement and clean exhaust emissions
For high mechanical strength, the engine has aluminum-silicon alloy pistons. Floating piston pins offset from the piston centerline toward the side where pressure is highest, and two balance shafts, are used to reduce mechanical noise and vibration. The four valves per cylinder, with the exhaust valves sodium-cooled, are actuated directly via hydraulic bucket tappets by the two overhead camshafts.
An oil cooler and a charge-air intercooler ensure that the engine runs at a consistent temperature. Movement of the gas pedal is transmitted electronically ('drive-by-wire') to the throttle butterfly actuating motor, to ensure smooth transitions when changes in pedal position occur.
The electronic engine management system features a hot film air mass meter, sequential fuel injection and direct separate-coil ignition with cylinder-selective knock control. A double catalytic converter system consisting of high-efficiency preliminary and main converters with metal monoliths and two lambda probes for oxygen sensing ensure high exhaust emission conversion rates even in the warm-up phase.
DSA sport suspension: a leader in agility and active safety
OPC's experts joined forces with engineers from OSV and the ITDC to extend the Zafira's already impressive agility and active safety still further and match it to the turbocharged engine's performance potential. This has given the vehicle an excellent balance, with handling and neutral steering response that can stand comparison with any conventional sports-car concept.
Despite these changes, the advantages inherent in the Zafira concept, as an amazingly versatile touring and family vehicle, have been retained in full. Neither the suspension travel nor the payload have been reduced, and although its settings are firmer the well-balanced sport suspension provides a high level of ride comfort.
The disk brake system with ventilated 308-mm diameter front disks and 264-mm diameter disks at the rear combines with four-channel anti-lock braking (ABS), electronic braking pressure distribution (EBD) and the ESP electronic stability program with integral TC Plus traction control to maintain high reserves of safety in critical situations. The 17-inch alloy wheels (7.5 J x 17) of OPC design are shod with size 225/45 R17-91 W tires, which not only contribute to the excellent road behavior but are also a harmonious and dynamic visual feature.
Equipment: full safety specification and many luxury details
Nothing is lacking from the Zafira OPC's safety equipment package. It includes front and side airbags and seat belt tensioner for the driver and front passenger, full-size curtain head airbags for the front two rows of seats, adjustable head restraints (active at the front) at all seats (leather-trimmed for the 2nd and 3rd seat rows), three-point lap and shoulder seat belts at all outer seats and Opel's patented Pedal Release System. The high level of protection which the driver and passengers enjoy is based on the exceptionally stable occupant cell with its pre-defined crumple zones and three load paths to absorb impact energy.
In every other feature of its equipment too, the premium status of this dynamic compact van can be clearly seen. Apart from standard items such as electric windows all round, central locking with radio-operated remote control, "Opel-Fix" child's seat mounts and heated outside mirrors with electric remote control, the Zafira OPC has front fog lamps, an automatic anti-glare inside mirror, a computer with multi-info display and Check Control, a folding carpet and cover in the load area, a steering wheel adjustable for height and reach, and a top-class audio system with CD player. For the pleasant driving conditions that themselves contribute to safety, air conditioning with clean-air and pollen filters is standard, aided by a "Solar Reflect" windshield and "Solarprotect" heat-insulating glass in the rear side windows.
Although its overall dimensions are compact, the Zafira OPC sports van is a highly versatile seven-seat vehicle. The innovative Flex7 seat system enables for the two third-row seats to be lowered into the floor in a few simple movements. If necessary, the Zafira OPC can be driven as a two-seater with a load area of up to 1700 liters (by the VDA standard measuring method). The second row bench-seat has a split back that can be folded in the proportions 40:60, or it slides lengthways to provide between 490 and 640 liters of load space if the rear seats are folded. If this is not sufficient, the second-row bench can be fully folded, pushed forward and secured behind the front seats.
Source: Opel
Gallery:
Opel Zafira OPC (2001)