With the Vivaro model line, Opel offers a wide choice of vans, Combis, buses and leisure vans. The Vivaro's characteristic cab lines combine stylish looks with practical functionality and economic efficiency in the 2.8-ton class. The Vivaro carries a maximum payload of up to 1160 kg, has a load area volume of up to 8.4 cubic meters in the panel van variant, and can comfortably transport up to nine people. It is available with two different wheelbases, two roof heights, in six basic variants (panel van, Combi, Tour, dropside, platform chassis and Life), as well as with five powerful and economical engines with outputs between 90 and 146 hp.
Design and packaging
The Opel Vivaro's most distinctive feature is its domed driver's cab "Jumbo roof", which creates a sense of generous space and makes getting into and out of the vehicle easier. The Vivaro's other visual elements include almond-shaped headlamps with integrated turn indicators, as well as radiator grille with dominant chrome beam and Opel logo. Accented side swage lines and pronounced wheelarches underline the Vivaro's dynamic appearance. The load area has a box body for optimal loading. Wide protective moldings on the bottom of the doors prevent minor scratches that require expensive repairs. The robust back bumper also serves as a step into the cargo area.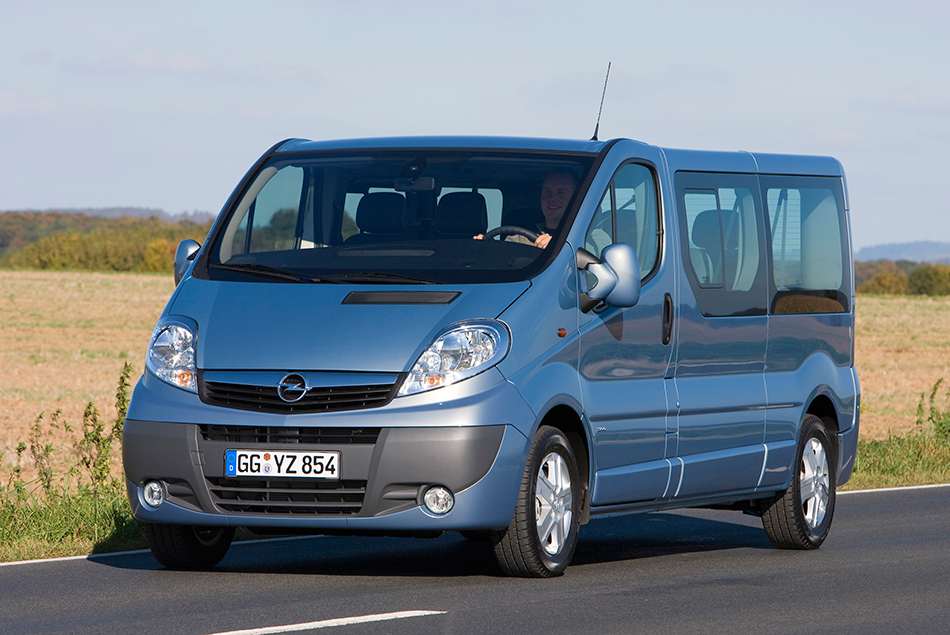 Model range
The Vivaro model range is based on the panel van – with double-wing rear doors that open up to a 180 degree angle and a sliding door on the right-hand side. A second sliding door on the left and a tailgate are optional. The panel van is available with a short or long wheelbase, a normal or high roof, and a 2.7 or 2.9-ton gross vehicle weight. Every Vivaro variant offers ample space. Even the van with the short wheelbase has a total load area capacity of nearly five cubic meters. The ideal partner for commercial customers who need a lot of transport space is the Vivaro panel van with high roof: a 1.91-meter standing height and 8.4 cubic meters of load volume speak for themselves. The Vivaro panel van with standard or long wheelbase can also be ordered with a double cab. In this configuration, it has five full-size seats and up to 3.7 cubic meters of transport volume behind a closed dividing wall with window.
The Vivaro dropside with standard load deck (load-area height: 910 mm) can be easily loaded on three sides thanks to the foldaway sideboards and offers additional storage in the underfloor storage compartments. In addition, the platform chassis offers the basis for various conversion solutions, such as a refrigeration unit.
Another Vivaro variant is the Combi, which comes standard with three rows of seats (optionally one or two) for nine passengers, a sliding door on the passenger side (also optional on the driver's side) and a large double-wing rear door.
The Vivaro Tour pampers up to eight passengers with high quality seat covers, carpeting, ceiling-high sidewall coverings, heated power exterior mirrors, power windows, stereo CD-Radio CD 30 MP3, radio remote control central locking, air conditioning and efficient heating for rear passenger compartment. Up to eight airbags, three-point safety belts and height-adjustable head restraints on all seats ensure high passenger protection.
The Vivaro Life, developed in cooperation with Westfalia, is a multi-functional leisure vehicle. The seven-seater features a second row with individual seats that swivel, a third row which can slide backwards and forwards as well as easily fold down to form a flat surface, a foldable table and numerous storage compartments. Thanks to extensive equipment, a timeless, practical interior and comfortably tuned chassis suspension, the Vivaro Life serves equally well as a representative company van and as a spacious leisure vehicle.
Passive safety
The Vivaro's stable body structure complements an extensive passenger protection package. All models come standard with an airbag and safety belt tensioner for the driver, as well as three-point safety belts and head restraints for all seats. Optionally, the Vivaro can be equipped with a front passenger airbag, which can be deactivated, as well as side airbags in front and head curtain airbags, also for the rear. The Vivaro panel van's fixed partition wall complies with the latest regulations on securing cargo in commercial vehicles. Thanks to stable anchorage points and lashing eyes for securing straps, cargo can be fastened even more securely.
Chassis and active safety
A high level of active safety and suspension comfort is provided by the front-wheel drive Vivaro's chassis with McPherson independent front-wheel suspension and rear torsion crank axle. The brake assembly has top marks in this vehicle category, with disk brakes all around (internally ventilated in front), brake assist and a four-channel Anti-lock Braking System (ABS) with Electronic Brake Force Distribution (EBD). A high degree of safety is ensured in critical situations by the Electronic Stability Program ESPPlus, which is optional with all engine variants (standard in Life).
Engines and transmissions
There are five four-cylinder engines available for all of the Vivaro variants: four common-rail turbo-diesels with 2.0 and 2.5-liter displacements, as well as one 2.0-liter 16V gasoline unit with 86 kW/117 hp. The entry-level 2.0 CDTI unit produces 66 kW/90 hp, delivers 240 Nm torque and reaches a maximum speed of 145 km/h. Providing more power for the same fuel consumption, the 2.0-liter CDTI engine produces 84 kW/114 hp, delivers 290 Nm torque and has a top speed of 160 km/h. The top-of-the-line Vivaro engine is the 2.5-liter CDTI with 107 kW/146 hp or 84 kW/114 hp. Both come with a maintenance-free diesel particulate filter as standard. The 146 hp unit with 320 Nm is the right choice for long-distance express use, with a top speed of 170 km/h. All engines come with a six-speed manual transmission as standard, while the 2.0 CDTI with 114 hp and the 2.5 CDTI with 146 hp are optionally available with the automated Easytronic six-speed manual gearbox, which can save up to six percent fuel. The diesel variants with the 90-liter fuel tank offer an operating range of up to 1200 km without refueling.
Source: Opel
Gallery:
Opel Vivaro (2009)