The 402 Andrea was a design prototype conceived by the renowned aerodynamic engineer Jean Andreau, commissioned by Peugeot to apply his theories of aerodynamics to the 402.
Five examples were produced in 1936, including this one, currently kept at the Peugeot Adventure Museum in Sochaux and presented for the first time at the Paris Motor Show in October 1936.
Extract from the description of this car at the 1936 event:
"Peugeot designs the first streamlined car bodies - for the motor car, it was necessary to create a body profile with lines conforming to aerodynamic laws, while at the same time meeting the requirements of passenger comfort.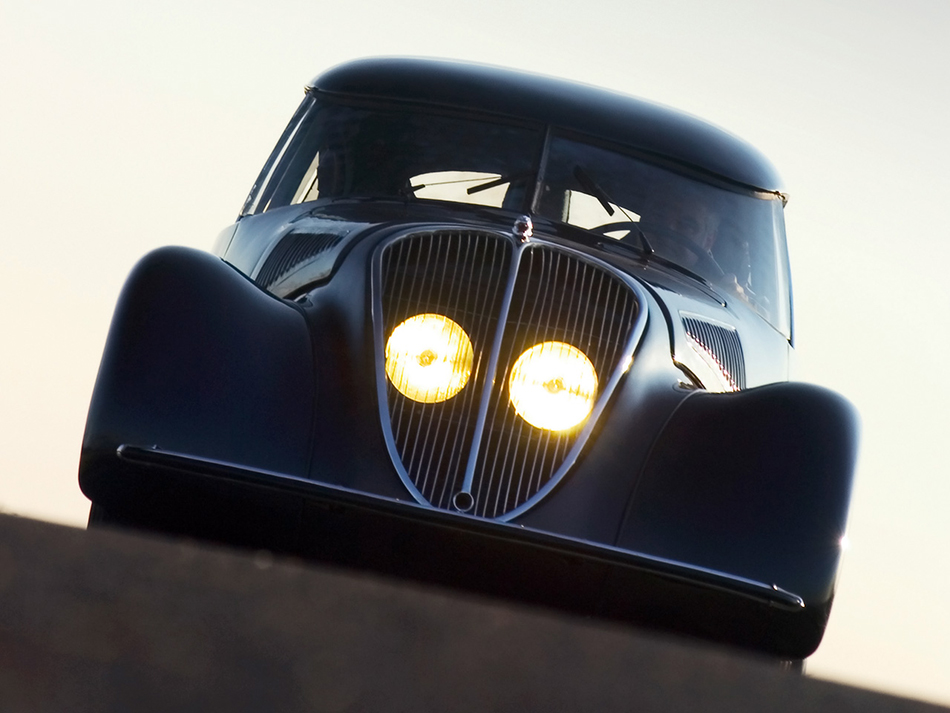 A scientific designed body - Reduction in vertical lift is important in achieving equilibrium at high speeds, by stabilising the vehicle through shifting the centre of lateral thrust rearward. The Andreau 402 was built on a standard 402 chassis with a 1991cc four-cylinder in-line engine and a gearbox with a Cotal electromagnetic clutch.
If, without modifying in any way the chassis that supports the ANDREAU body, the latter is replaced with an old body design, of the type built several years ago. The car with the ANDREAU body, on an equal power basis, achieves a gain in fuel consumption of 30%.
If the car with the ANDREAU body is pushed to its maximum speed, it can be demonstrated that the latter is 40% higher than that obtained by the same chassis with the old body.
The special ANDREAU body has been built as a design prototype only and is not yet on sale to the public. PEUGEOT drew much of its inspiration from the technical characteristics of this body to determine the profiled lines of the 402 and the 302. It is thanks to their low-slung body and their rationally designed aerodynamic shape that the 302 and the 402 exhibit such extraordinary road-holding ability and remarkable qualities of speed and fuel economy."
This 402, equipped with the characteristic rear spoiler that gives it the appearance of a terrestrial Nautilus, is the most impressive example of the famous "Sochaux tapered profile".
Source: Peugeot
Gallery:
Peugeot 402 Andreau (1936)