The Renault V6 engine had proved its worth since its launch in 1973. In that year it claimed its 1st victory as a sports prototype, followed by 5 others in 1974. In 1976 and 1977, the same engine was European Formula 2 Champion twice in a row with Jean-Pierre Jabouille (Martini-Elf) and René Arnoux (Elf-Switzerland).
In 1975, it was boosted by a turbocharger, a technique patented by Louis Renault back in 1902, raising its power from an original 285 bhp to 500 bhp.
The V6 Gordini-Elf came close to victory in the Le Mans 24 Hours in 1977, finishing 2nd behind Porsche. It took revenge in 1978, when 2 of the 4 Alpines entered finished 1st and 4th.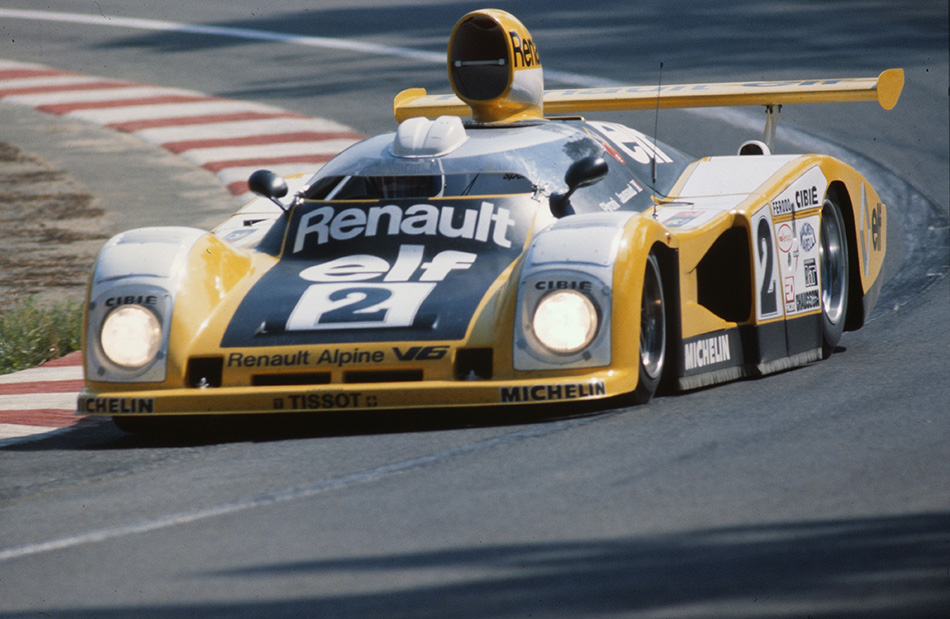 Winning the Le Mans 24-hour event is never simply a question of luck. The car that won in 1978 had its beginnings in 1973, when Alpine decided to make a comeback to top-level motor sports with the support of Elf. Its success can be attributed to several factors: a highly skilled team founded by Jean Terramossi and subsequently led by Gérard Larousse; a V6 engine designed by Bernard Dudot with the new turbocharging techniques; the involvement of Renault through Renault Sport, founded in 1976; and the presence of talented, consistent drivers such as Jabouille, Jaussaud, Jarier and Pironi.
Over the space of 5 years, the 1st normally-aspirated A440 became the 441 then the turbocharged 442, notching up regular wins in Sport world championship events. In 1977, victory at Le Mans was within reach, but the 3 cars entered had to pull out owing to broken engines. The team had to find a training track where it could reproduce the constraints of the Hunaudières straight, top speed for 50 seconds!  The following year, 2 Renault Alpine vehicles finished 1st and 4th. But on the evening of the same day, Bernard Hanon, President and CEO of Renault, announced that the firm was pulling out of the Le Mans program to focus on Formula 1. The end of an era.
Source: Renault
Gallery:
Renault Alpine Le Mans A442 (1976)