Vel Satis belongs in the E1 segment alongside the Mercedes E Class, the BMW 5 Series, the Audi A6 and the Peugeot 607. It is a world governed by the symbolic codes of established social norms and conformity. Even so, a less conformist type of customer is starting to emerge, one who is gradually moving away from the conventional saloon and choosing a coupé, estate, cabriolet or monospace. It is in response to those changing expectations that Renault has taken its own route to the top of the range, thereby demonstrating its innovative approach to design.
With Vel Satis, Renault is aiming for 3% of the E segment in Europe from 2002. Taking maximum advantage of the investments made at the Technocentre and the Sandouville plant as part of the D/E programme, Vel Satis has had the benefit of restricted programme costs of EUR 548.7 million.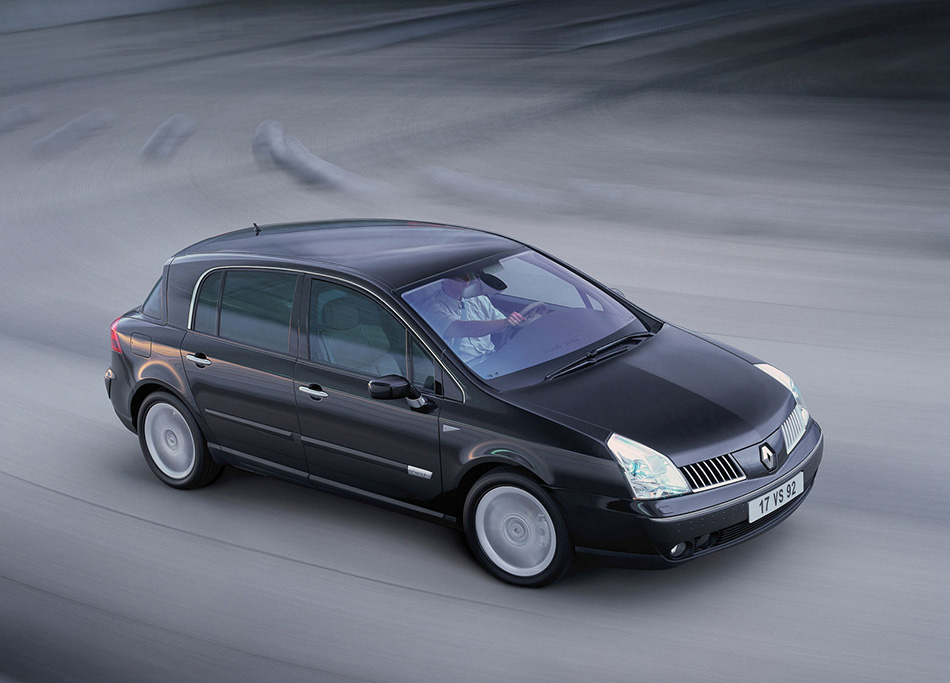 Original architecture and elegance for new sensations of well-being on board
Among the characteristics customers expect in the top of the range are generous proportions, a long bonnet and a noble and distinctive prow. Vel Satis has all this and more; it reinvents the tall saloon - 13cm taller than conventional saloons - to make travel more pleasant for the occupants. The Vel Satis doors are designed so that you can get into the car without bending over. The interior is both spacious and luminous, giving an impression of luxury, peacefulness and serenity. The seats, inspired by the form of a wave, are designed like contemporary furniture, inviting occupants to sit back and admire the scenery moving by.
Another top-range feature is attention to detail, and Vel Satis offers an extra touch of Frenchness that subtly combines tradition with modernity. Items in the cabin are designed in the same way as decorative objects in a living space, such as the marquetry and drawers that could come from a piece of furniture. You become aware of these details only gradually. The range of colours is deliberately limited and the lighting is intimate. Vel Satis radiates charm and refinement.
Vel Satis was designed around the occupants, reflecting a deliberate approach to comfort. The idea was to remove as many restrictions as possible to give them a unique feeling of well-being.
Vel Satis displays its innovative side by adding useful features to improve comfort rather than cramming in more gadgets. The manual hand brake is no more, but the driver can still see exactly how it is being controlled automatically. To make long journeys even more enjoyable, the seats are of first-class airline quality. The double-hinged backs enable passengers to adjust their position with great precision. Another feature is seat-mounted safety belts to ensure an ultra-comfortable fit.
The vehicle also sports a full range of driving aids, including adaptive cruise control and a GPS Carminat navigation system that picks up traffic information, while many routine operations such as turning on the headlamps or windscreen wipers are automatic.
In-cabin comfort lets occupants choose their own heating or air conditioning options, and rear-seat passengers have a DVD player available. And to make the journey complete, the Vel Satis cabin is designed like an auditorium, offering the choice between an Alpine radio and a 6-CD multichanger hooked up to 4x40W Cabasse speakers.
Top-range features for travelling comfort and complete peace of mind
The top of the range is also synonymous with high performance and top-quality equipment. To succeed in the segment, it is vital to respect all the fundamentals. The slightest jarring note is inadmissible. Vel Satis aims to achieve excellence while maintaining its distinctive personality. All the necessary technology is in place, but it does not announce its presence because its sole aim is to satisfy the driver.
The engines available on Vel Satis are those that offer maximum flexibility and driving pleasure. The top versions will be equipped with either the 3.5 V6 24V petrol unit delivering 245bhp with torque of 330Nm at 3600rpm or the 3.0 dV6 diesel engine developing a generous 180bhp at 4400rpm and torque of 350Nm at 1800rpm. Two four-cylinder engines providing ample power complete the range: the 2.0 16V turbo unit (165bhp at 5000rpm, torque of a constant 250Nm from 2000 to 4250rpm) and the 2.2 16V dCi diesel unit (150bhp at 4000rpm, torque of 320Nm at 1750rpm). Two types of transmission are available: a six-speed manual gearbox and the five-speed automatic Proactive transmission.
Vel Satis manages to combine driving pleasure with reassuring road behaviour and low noise levels. The top-range platform has been adapted to the car's high performance. A new compact type of trigonal rear suspension provides ease and precision of steering, and driver assistance features are among the car's advantages. Renault is uncompromising on passive safety, which reaches an unprecedented level on Vel Satis.
Renault also set out to achieve excellence in giving the driver peace of mind. Checks and processes have been made more stringent to guarantee reliability that is beyond reproach. The durability of certain parts has been doubled, which helps to space out service intervals, and multiplexing and the Renault Card system make the car more burglar-proof.
Source: Renault
Gallery:
Renault Vel Satis (2001)