Scion today announced full details for its 2013 FR-S compact rear-wheel drive sports car. The high-performance coupe is the fifth model to join the Scion family and will go on sale in June. 
"The FR-S will definitely be Scion's halo car," said Scion Vice President Jack Hollis. "While the brand has been iconic with the xB, adrenalized by the tC, and groundbreaking with the new iQ, the addition of the FR-S expands the brand into a new dimension of driving performance."
Authentic Sports Car at an Affordable Price
The FR-S provides the automotive landscape with an authentic sports car at an affordable price, with a MSRP of $24,200 when equipped with a six-speed manual transmission, and $25,300 when equipped with a six-speed automatic transmission that features paddle shifters and Dynamic Rev Management technology. 
"Scion's goal was to create an affordable sports car that true driving enthusiasts could enjoy," Hollis said. "We accomplished that with a starting price under $25,000, which is a total home run for buyers! Add in Scion's complimentary Scion Service Boost, our dealers' no-haggle no-hassle Pure Price, and Scion's network of about 1,000 dealers, and the FR-S is a grand slam."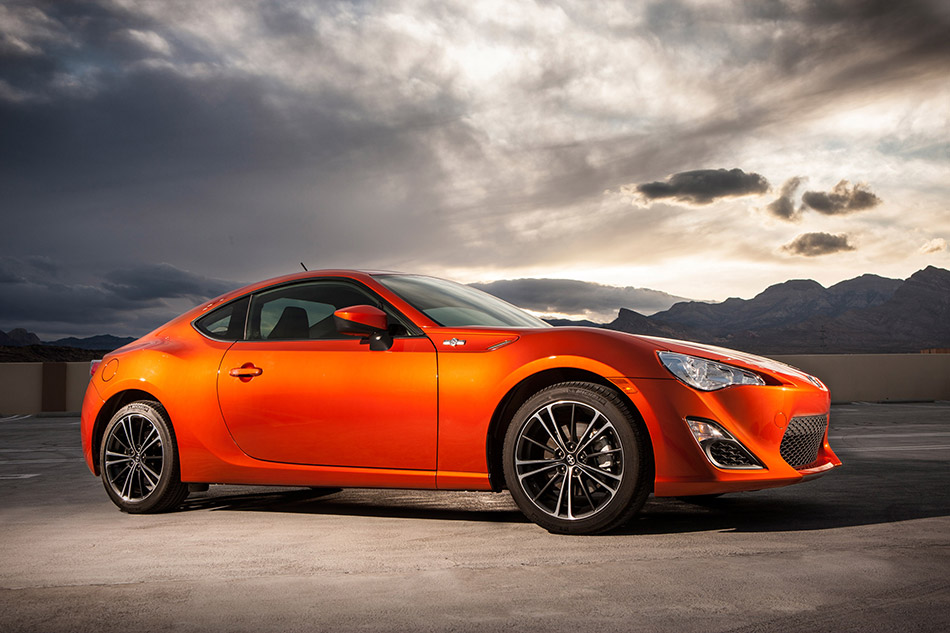 "Pure Balance"
The FR-S, which stands for Front-engine, Rear-wheel drive, Sport; is Scion's definition of an authentic rear-wheel-drive sports car with exceptionally balanced performance and handling, compelling style, flexible utility and surprising fuel efficiency.
The FR-S is a true "scion," born into a lengthy history of Toyota performance cars and motorsports. During planning and development, it was most inspired by the AE86 generation of the Corolla, better known as the Hachi-Roku, meaning "8-6" in Japanese. The AE86 was a front-engine, rear-wheel-drive coupe that was lightweight and well balanced, making it a solid choice for driving enthusiasts.
Inspired by the AE86, the FR-S is designed around the core goal of achieving "Pure Balance," which begins with the strategic use of the world's only flat boxer engine in a front-engine, rear-wheel drive configuration. The engine's compact size and flat shape allow it to be mounted mid-ship and extremely low, giving the car a dynamically favorable front-to-rear weight ratio of 53:47 and a low center of gravity comparable to some exotic supercars. 
The FR-S's 2.0-liter, naturally aspirated four-cylinder engine is the result of a joint development between Toyota and Subaru. The partnership begins by combining Subaru's newly developed, horizontally opposed engine and Toyota's cutting-edge D-4S injection system,which incorporates both direct and port injection for each cylinder, one injecting fuel directly into the combustion chamber, the other a port injector located above the intake valves. Adopted from the Lexus IS F, D-4S injection is a new technology for the Scion family. 
The D-4S system uses the direct injectors at all engine speeds. Both the direct and port injectors are used at certain engine speeds and under certain engine loads to help fill out mid-range torque. The D-4S is also a key technology that reduces vehicle emissions. FR-S heads utilize dual variable valve timing, making adjustments to the intake- and exhaust-cam timing to help optimize power, torque, and fuel mileage. The D-4S system, partnered with a high 12.5:1 compression ratio, results in an impressive 200 horsepower and 151 pound-feet of torque. 
Despite the engine's powerful 100-horsepower per liter, the FR-S has EPA-estimated ratings of 34 mpg on the highway when paired with the automatic transmission, and EPA-estimated 30 mpg with the manual transmission. 
The flat-four mates with either a six-speed manual or a six-speed automatic transmission. The manual offers quick, precise shifts with a short-throw; while the automatic features aggressive up shifts and sporty rev-matched down shifts that are initiated by steering-wheel-mounted paddle shifters. The automatic features Dynamic Rev Management technology that quickly raises the engine speed to help match engine revs to gear ratios on downshifts, limiting driveline shock and adding to the visceral experience of driving the car.
The automatic transmission also features Sport Mode that quickens shift timing as well as throttle response. In Sport Mode, the transmission will also hold gears longer at higher revs before upshifting, making it easier to exploit the torque and horsepower in the upper reaches of the rev range.
Both transmissions have the same 4.10:1 final drive ratio. To help bring the rear-wheel-drive design to life, FR-S features a Torsen® limited-slip differential, apportioning power to the rear wheels with precision and immediacy.
The idea of "Pure Balance" is further realized by the FR-S's lightweight design and compact size, a combination that allows it to be quick and nimble into and out of corners, with dynamic maneuverability and confident handling. The coupe weighs in at an impressive 2,758 pounds when equipped with a manual transmission and 2,806 when equipped with an automatic. The FR-S is kept to a minimum weight by utilizing an aluminum hood, a solid roof, and by featuring a trunk design instead of a hatchback.
The FR-S's low weight is complimented by a dynamically tuned suspension setup consisting of MacPherson struts up front and a double wishbone system in the rear. Excellent steering feedback and input is provided by Electronic Power Steering with a sporty 13:1 steering ratio. Lightweight 17x7-inch alloy wheels and ventilated disc brakes are standard on all four corners. 
For the sake of experienced performance driving enthusiasts, the Vehicle Stability Control (VSC) and Traction Control (TRAC) can be set in combination of five configurations.
Powerful Exterior Design
The fierce exterior of the FR-S is a solid reflection of its inner power. The profile, inspired by the Toyota 2000GT, reveals a hood and roof-line that is remarkably sleek and low, giving it an aerodynamic shape that channels air cleanly over to the top. The low stance continues to exaggerate the coupe's menacing face, which is made up of sharp lines, a wide lower intake and angular headlights that house the projector-beam halogen lamps. The aggressive front fenders protrude upward and boast the iconic '86' piston emblem, which highlights the car's AE86 heritage as well as its unique new boxer engine. The rear fascia sits low and wide, with aerodynamic lower treatments that surround the sporty dual exhaust system. LEDs illuminate the edgy taillights, while center-mounted backup lights finish the muscular design. 
The FR-S will be available in seven colors including Raven, Asphalt, Hot Lava, Argento, Ultramarine, Firestorm and Whiteout.
Performance-focused Interior
The FR-S's interior includes a 2+2 seating configuration that is designed with both form and function in mind. The comfortable yet assertive front seats feature deep bolsters and are mounted extremely low, while the rear seat folds down flat, creating flexible space. It will also come standard with unique FR-S badged floor mats. 
The large center-mounted tachometer is the focus of the three-gauge cluster and features a programmable shift-indicator, which has a small but intense indicator that lights up when redline is reached. The driver can set the warning to go off in 100-rpm increments, starting at 2,000 rpm. A chime can be programmed to sound when redline is approached. Speed is monitored by both digital and analog gauges. 
The FR-S features a performance-oriented, 365-millimeter diameter, leather-trimmed steering wheel that has both tilt and telescopic adjustment.
The soft-skin dash top has a "flat horizon" design, influenced by the simple purity of the Toyota 2000GT dash. At the center of the dash top is a raised rib, which functions as a "centerline" that reflects at the base of the windshield, helping a skilled performance driver intuitively find the center of the car. 
The FR-S will come standard with an eight-speaker AM/FM/CD/USB 300-watt maximum output Pioneer™ audio system. Standard features also include HD Radio™ technology and Bluetooth® connectivity that allows both hands-free phone connection as well as streaming audio capability.
The FR-S will be the first Scion to offer a connected multimedia audio system called BeSpoke™, powered by Pioneer's Zypr™. When connected to an iPhone®, Scion's BeSpoke system will offer a higher level of connectivity features and personalized content like Facebook, Twitter, Internet radio, among others.
Sports Car Performance with Excellent Safety Features
FR-S comes standard with six airbags, including dual-stage advanced driver- and front-passenger airbags, front-seat-mounted airbags and side-curtain airbags. 
Like all Scions, the FR-S features the Star Safety System that includes Traction Control (TRAC), Electronic Brake-force Distribution (EBD), Vehicle Stability Control (VSC), Brake Assist (BA), an Anti-lock Braking System (ABS), and Smart Stop Technology (SST).
Source: Scion
Gallery:
Scion FR-S (2013)