Launched in 2009, the Cruze is the Chevrolet brand's most successful nameplate globally and has sold over 1.3 million units worldwide up to the first quarter of 2012. With the arrival of the much anticipated station wagon variant at dealer showrooms across Europe, Chevrolet will be offering a car that will particularly appeal to families and individuals with an active lifestyle.
"We believe 'Cruze + wagon' is a winning formula for European drivers," said Susan Docherty, President and Managing Director of Chevrolet Europe. "The new Cruze station wagon offers space and versatility, fuel-efficient new engines and Chevrolet's cutting-edge MyLink infotainment technology," Docherty said.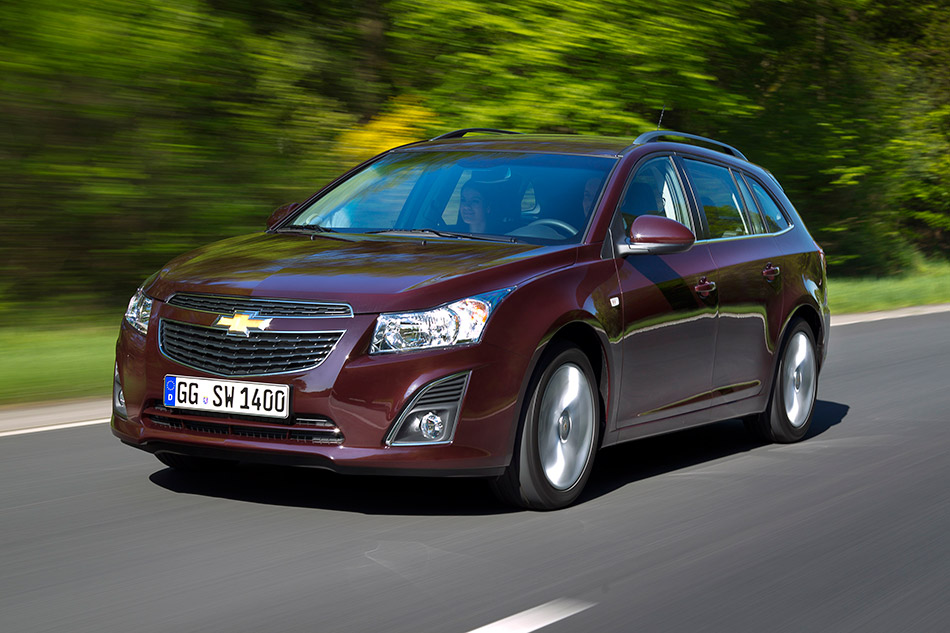 Compact cars represent the largest segment in Europe, accounting for about 17 percent of all vehicles sold, of which station wagons in turn constitute a share of around 22 percent. Buyers of station wagons appreciate the extra amounts of space in their cars yet desire the vehicle's size, performance and overall feel to be comparable to that of a compact hatchback or sedan.
The Cruze station wagon has been designed with these needs and customers' diverse lifestyles in mind. Its particular blend of features make it an ideal family hauler and vehicle for sports excursions or extended holiday trips. The new station wagon is equally suited to the requirements of the suburban commuter who will enjoy the freedom and flexibility the stylish compact car will bring to his life. For outdoor enthusiasts, Chevrolet will be offering a range of useful accessories.
Every bit as sharp as its siblings
The station wagon carries forward the sporty design language embodied by the Cruze sedan and hatchback. Its confident posture is emphasized by a "wheels out, body in" stance, a powerful concave shoulder line and a single arch roofline that tapers off toward the D-pillar. The slim roof rails are a standard feature and contribute to the vehicle's poised looks.
A dual-port grille, with the golden bowtie positioned in the center, instantly communicates the station wagon as a Chevrolet. Among the design changes incorporated into all model year 2013 Cruzes are an angular drawn fascia with horizontal slats. The enhanced front bumper with fog lights that are accommodated in newly styled housings accentuates the car's sporty looks.
The interior features fluid lines and Chevrolet's signature dual cockpit, with wrap-around front fascia which flow into the driver and passenger door. Cars that come with the brand-new Chevrolet MyLink infotainment system will boast a new seven-inch high resolution touch screen located in the integrated center stack.
Also, in cars equipped with MyLink or the new base and mid-level radios to be launched on model year 2013 Cruzes (left-hand-drive markets), the layout of the instrument panel and HVAC outlets next to the radio unit has been re-designed. The small compartment in the upper instrument panel has been moved closer to the radio unit and now also houses USB and aux-in sockets.
Vehicles equipped with Start/Stop will feature an instrument cluster display with an eco-drive assistance menu. Thanks to Passive Entry, Passive Start (PEPS), a new option on the Cruze, drivers will be able to keep the car key conveniently in their pocket when unlocking, locking and starting their vehicle.
Infotainment offers new levels of connectivity
As of this summer, Chevrolet MyLink, a brand-new and sophisticated infotainment system, will become available in the Chevrolet Cruze. It brings smartphone capabilities into the vehicle.
Chevrolet MyLink aggregates content from a smartphone onto the seven-inch, high resolution, full color touch-screen display. Connectivity will be ensured via USB or Bluetooth for mass storage devices, including MP3 players, iPod, iPad, etc. There is also a dedicated plug-in outlet for certain personal music devices and smartphones that do not use USB or Bluetooth connections.
MyLink enables:
the caller to choose a name from the stored directory, touch the call function and project the call through the vehicle speakers, thereby obviating the cumbersome process of having to manually dial a number
easy access to personal playlists, photo galleries, phone books, other stored media and data
playback of videos and personalized slide shows when the car is stationary
customers to download special apps such as navigation which will be offered for download later in the year
Manufactured by LG electronics, the seven-inch color touch screen has a clean intuitive design with five menus, each of them comprising a list of easy-to-select functions. The MyLink radio unit can be operated through steering wheel controls used for digital audio broadcasting (DAB). Six speakers will provide excellent sound quality for all occupants.
A rearview camera will be standard in cars with MyLink as well as in vehicles whose infotainment package features the proven integrated navigation device. This package also includes Bluetooth technology for streaming and hands-free connectivity, aux-in and USB jacks, steering wheel controls, CD player and six premium speakers.
Spacious trunk and practical interior layout
Space is abundant in the Cruze station wagon, both for the occupants and the cargo they wish to transport. The carpeted trunk measures 1,024 mm in length in its basic configuration and allows for storage of up to 500 liters up to the window line. When the rear seatbacks (60/40 split) are folded flat, some 1,478 liters of cargo be packed under the roof of the car.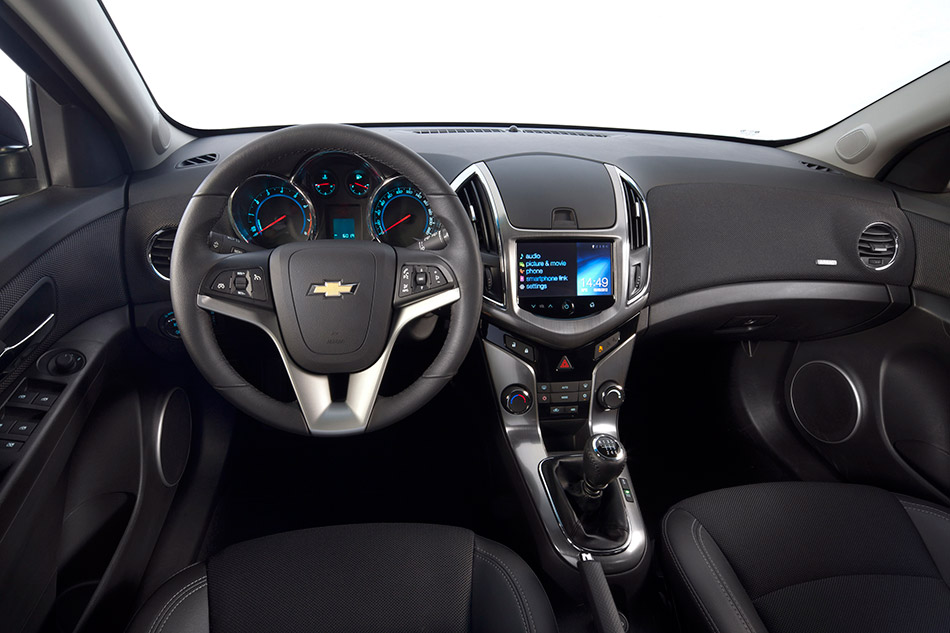 Further trunk highlights include:
a luggage compartment cover that retracts fully into a cassette. The fully expanded cover can be moved up and out of the way for better access into the trunk
a storage tray with three storage compartments between the rear seatbacks and the cassette for the luggage cover
a separate small load space below the rearmost section of the cargo deck which holds the standard tire repair kit
two extra storage compartments, located behind the wheel arches
several ears on the sides of the cargo deck for tying down bulky cargo
Smaller stowage spaces inside the car include door pockets with integrated bottle storage (1.5 liters front, 0.5 liters rear), a large illuminated two-tier glovebox, seat-back pockets sufficiently large to carry slim laptops, and a compartment for stowage of smaller items in the instrument panel.
Available accessories may include cargo nets, a cargo organizer box with flexible partition walls, a roof box, as well as bicycle, ski and surf board carrier systems.
Enhanced engine line-up: more punch at each stroke
Under the hood, a 1.4L turbocharged gasoline engine and a 1.7L diesel engine will complement the powertrain line-up, in addition to the 1.6L and 1.8L gasoline and 2.0L diesel engines already on offer.
The 1.4L turbocharged gasoline engine delivers a performance comparable to engines of a larger displacement while requiring less fuel and producing a smaller carbon footprint. Matched to a standard six-speed manual transmission, it develops 140 hp (103 kW) and a maximum torque of 200 Nm at 1,850~4,900 rpm while 0-100 km/h acceleration requires 9.5 seconds. On a combined cycle, the 1.4L turbo gasoline engine consumes 5.7 liters/100 km, which corresponds to 134 g of CO2 per km.
The 1.7L diesel engine, equipped with an intercooled turbocharger, standard Start/Stop and electric power steering, cranks out 130 hp (96 kW) that propel the station wagon to 100 km/h in 10.4 seconds, and to a top speed of 200 km/h. This solid performance is matched by impressive peak torque ratings of 300 Nm at 2,000~2,500 rpm.
With a fuel consumption of 4.5 liters per 100 kilometers on a combined cycle and 119 g of CO2 emissions per kilometer, the 1.7L diesel unit is the most frugal ever to have powered a Chevrolet Cruze.
On the Cruze station wagon, the 1.6L gasoline engine variant will incorporate standard electric power steering (EPS), which helps reduce the fuel consumption and CO2 emissions of this unit. In a number of European markets, EPS as well as Start/Stop will also be incorporated on the 2.0L diesel engines as of this summer.
The 1.4L turbo gasoline, the 1.7L and the 2.0L diesel engines will come with a six-speed manual gearbox whereas the 1.6L and 1.8L gasoline engines will be mated to five-speed transmissions. Both the 1.8L gasoline and the 2.0L diesel engine will also be offered with an automatic transmission.
Proven architecture puts safety first
Chassis and suspension engineers have made sure that the station wagon's dynamics match the vehicle's nimble looks. The experience gained on the race track in the World Touring Car Championship (WTCC), which the Cruze has won for two years in a row, in 2010 and 2011, has been put to good use in the further development of the road car.
The Cruze station wagon shares the same planted, confident stance as the sedan and the hatchback, as well as the highly rigid unibody structure, more than 60 percent of which is made of high-strength steels. Proven McPherson strut front and compound crank type rear suspension designs have been specifically tuned for the car's mission and contribute to the vehicle's low center of gravity, balance of ride and responsive handling.
Steering is electrically power-assisted on the 1.4L turbo and 1.6L gasoline, the 1.7L diesel and the 2.0L diesel engine with Start/Stop, providing the driver with a solid on-center feel. Customers who order a navigation or Chevrolet MyLink infotainment system will be able to use a rearview camera, a novelty on the Cruze which is rather uncommon in the segment. Cruise control is also available, depending on the trim level.
The safety architecture of the Cruze station wagon is nearly identical to that designed for the sedan, a compact car that has earned top five-star safety ratings from both EuroNCAP and the U.S. National Highway Traffic Safety Administration (NHTSA).
In addition to the vehicle's sophisticated body structure, six standard airbags, Eletronic Stability Control, Traction Control, as well as four-channel anti-lock brakes contribute to its excellent safety performance. Five three-point seatbelts, ISOFIX anchoring system on the two rear outboard positions and a collapsible pedal assembly are also standard.
Source: Chevrolet
Gallery:
Chevrolet Cruze Wagon (2012)