Toyota will unveil the new Auris at the Paris motor show in September, a car that will deliver improved dynamics, more distinctive styling and higher equipment levels, while also being cheaper to run.
New Auris is the latest model to reflect Toyota's determination to engineer cars that are more appealing and dynamically engaging to drive, while building on its long-established reputation for quality, durability and reliability.
As well as presenting a more confident exterior design and a higher quality interior, new Auris also benefits from improvements to driving dynamics and efficiency enhancements to its powertrain line-up, including the full hybrid system that powers the flagship Auris Hybrid model.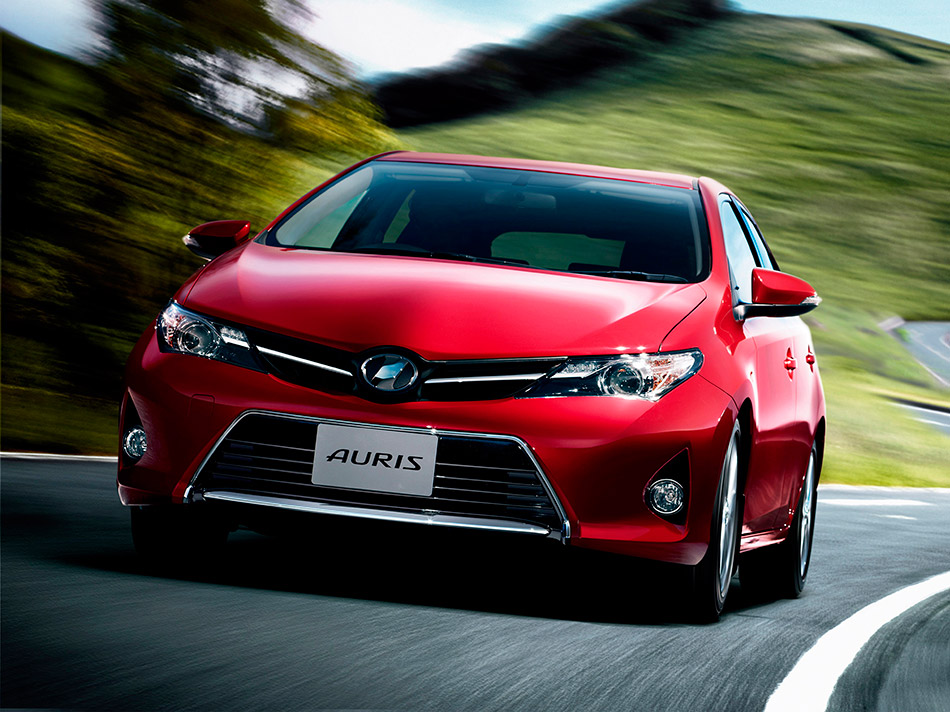 The car's exterior and interior are all new, and it has the distinction of sitting lower than any other mainstream C-segment model. The overall height is 55mm less than the current model and a lower front end design helps deliver excellent aerodynamic performance with a Cd0.28 drag coefficient, supporting better handling stability and lower fuel consumption.
New Auris adopts the new "face" of Toyota in the design of its grille and the sharp-edged appearance of its headlights and LED daytime running lights, giving the car a more powerful road presence.
In profile there is another dramatic styling change with the extension of the side glazing into three panels. The effect will be rendered even more eye-catching in some versions with a piano black finish for the B-pillars and a dynamic treatment of the C-pillars above a stronger and more pronounced chrome-trimmed rising belt line.
At the rear new Auris has a wider opening tailgate, with an interplay of convex and concave surfaces, a wrap-around combination lamp design and new bumper profile, strengthening the car's broad stance.
The new interior is more spacious and comfortable, and introduces Skyview, one of the largest panoramic roofs in the segment. Toyota has paid special attention to the sensory quality of the cabin and worked in detail to achieve a greater sense of visual unity through consistency of lighting, colours, finishes, and even the font used for the graphics.
The air vent and meter surrounds, centre console and transmission tunnel trim share a high quality satin silver finish, and on higher grades the dashboard itself is leather trimmed. The tactile quality of the interior surfaces has been improved, with baseball-stitched nappa leather used to trim the steering wheel, and soft touch materials featured on the instrument panel's upper surface. The assist grips and door grips have a soft texture finish, the door armrests are padded and the pillars are fabric-trimmed.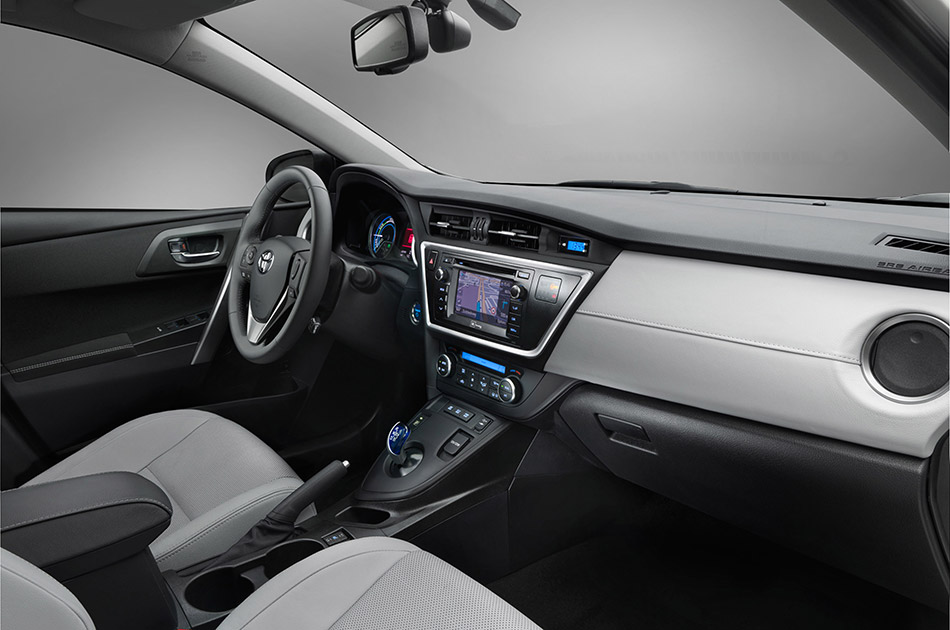 Smart packaging has improved the driving position and added 20mm to rear seat knee room and 90mm to the loadspace length. All hatchback versions provide more luggage space, at 360 litres. Repositioning of the battery pack beneath the rear seat has ensured Auris Hybrid has the same load capacity as other models in the range.
New Auris further benefits from a lower ride height, driving position and centre of gravity. The steering and suspension have been revised to help give a more comfortable, responsive and enjoyable drive.
Attention has also been paid to weight management, with greater use of high tensile steel, particularly in the upper part of the body structure. This contributes to a 10 per cent increase in body stiffness and an overall vehicle weight saving of up to 40kg (according to version), while also helping to lower the car's centre of gravity.
Toyota was the first manufacturer to offer a choice of three powertrains in the C-segment and this continues with the new model. Efficiency and dynamic improvements have been made to the Hybrid Synergy Drive system, which will be offered in Auris Hybrid. Within the UK the new model will also feature 1.4-litre diesel and 1.33 and 1.6-litre petrol engines. Europe-wide Toyota expects an even one-third share of sales for each powertrain type – full hybrid, diesel and petrol –reflecting how hybrid has matured to become a mainstream rather than a niche choice.
New Auris has been designed for Europe and will be built exclusively at Toyota's Burnaston factory in the UK, alongside Avensis, supported by investment that demonstrates the company's commitment to its European operations.
The new model will be given its European premiere on 27 September at the Paris motor show, with petrol, diesel and full hybrid versions on display. Details of UK sales introduction, specifications and prices will be announced at a later date.
Source: Toyota
Gallery:
Toyota Auris (2013)