Only a handful of supercars exist that can rightfully lay claim to achieving 200 mph and beyond. With a serious injection of horsepower from Hennessey Performance (HPE), the new Corvette Stingray has entered that exclusive club. On December 11, 2013, an HPE-upgraded C7 Corvette, driven by company founder John Hennessey, achieved a top speed of 200.6 mph, making it the first C7 Corvette to break the double-century mark. The run was verified with both the VBox GPS-based data acquisition system and by radar courtesy of Texas DPS State Troopers who were on hand.
The record run took place on a closed section of the newly completed segment E of Texas State Highway 99, also known as the Grand Parkway that's located west of Houston. The new toll road section, which opens to the public on Saturday, December 21st, connects Interstate 10 with Highway 290.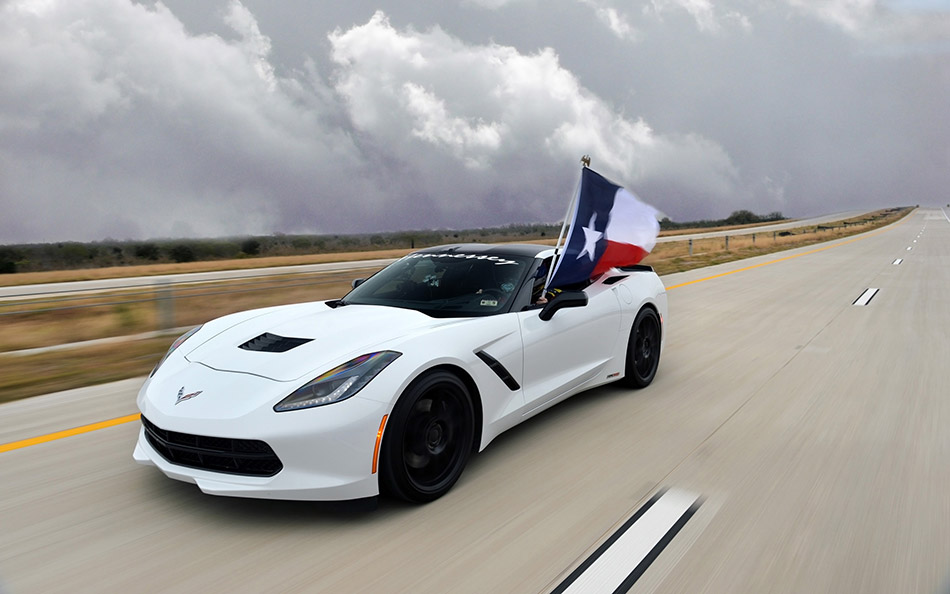 "The road is perfectly smooth and the Corvette was very stable and easy to drive at 200 mph," said driver and company founder John Hennessey. "I'd put the Texas highway system up against any other highway in the world, including the German Autobahn. Our roads have proven to be smooth and safe at speeds well above 200 mph. Of course, under normal driving situations, drivers should observe speed limits that have been determined to be safe for travel on the road."
Said Don Goldman, Hennessey CEO: "We're thrilled to have validated our upgraded C7's performance at one of the best possible venues not only in America, but the world."
In 460-bhp production form, the production C7 Corvette Stingray straight from the Bowling Green factory is certainly no slouch—it's a true 180-mph road car. But as aero drag increases with the square of velocity, the Corvette needed to supply serious power—700 bhp at 6500 rpm—to break through the aerodynamic brick wall and achieve that extra 20 mph. The record-setting C7 utilized the HPE600 package (long-tube headers, ported factory cylinder heads, high-flow cats, HPE camshaft and HPE tune) plus a Nitrous Express 100-hp nitrous oxide system to break the 200-mph barrier.
Hennessey Performance will soon be releasing its HPE700 supercharged upgrade—also capable of 200-plus-mph performance, but without nitrous—that employs a TVS2300 supercharger, HPE custom camshaft, air induction system, high-flow heads, long-tube headers and HPE tune. Installed price for the package is $22,500.
In addition to the 200-mph C7, Hennessey also brought out its first HPE600 supercharged Chevrolet SS that, despite being gear-limited, easily achieved 164.2 mph on the Grand Parkway.
About Hennessey® Performance: 
Established in 1991, Hennessey® Performance (HPE) now operates from a new facility comprised of a 36,000 square foot building that is located adjacent to Lonestar Motorsports Park, the company's test track and IHRA sanctioned ¼ mile dragstrip. The 143-acre complex is located about 45 minutes west of Houston, Texas along Interstate 10. Hennessey® offer a wide variety of dyno-proven, track-tested parts for modern performance vehicles. In addition, Hennessey® operates Tuner School, the world's first fully state-licensed school dedicated to teaching and training future performance vehicle tuners.
Source: Hennessey
Gallery:
Hennessey Chevrolet Corvette Stingray HPE600 Toll Road (2014)