The located at Hoesbach near Aschaffenberg VAETH car and engine techniques company is not only the best specialist for Mercedes tuning, if the matter concerns car ennobling, power enhancement, exhaust systems, chassis, light alloy rims, carbon aerodynamics, interior or other, but here one can find also competent information to give new life to classic cars.
 
The E 63 AMG 4Matic S model is not at all "child of sadness" – already when leaving the production place at Affalterbach. But the VAETH professionals, nevertheless, could not do otherwise than to give the finishing touches for a real thunder bird.
 
The basic engine of the Swabian vehicle with 585 HP (= 430 kW) has been pepped up by tuning kit named V 63 RS Export. This means an individual fine tuning of the engine electronics including Vmax boost. Furthermore, to this kit belong the modified VAETH turbo charger, the VAETH oil chilling system, a downpipe system reducing exhaust counter pressure and increasing, this way, the engine power and a VAETH axle back exhaust. This bundle of well pointed measures costs on the one hand 24,740.00 Euro, but on the other hand sensibly increases the pulse frequency of interested parties only when reading the performance characteristics: Out of 5.461 cm³ cylinder capacity come impressing 750 HP (551 kW) and electronically limited 1,000 Nm of torque! This allows – with corresponding tire approval – Vmax of 350 kmph (220 mph).
By the way – a MOT/certified version with 680 HP (= 500 kW) is also available.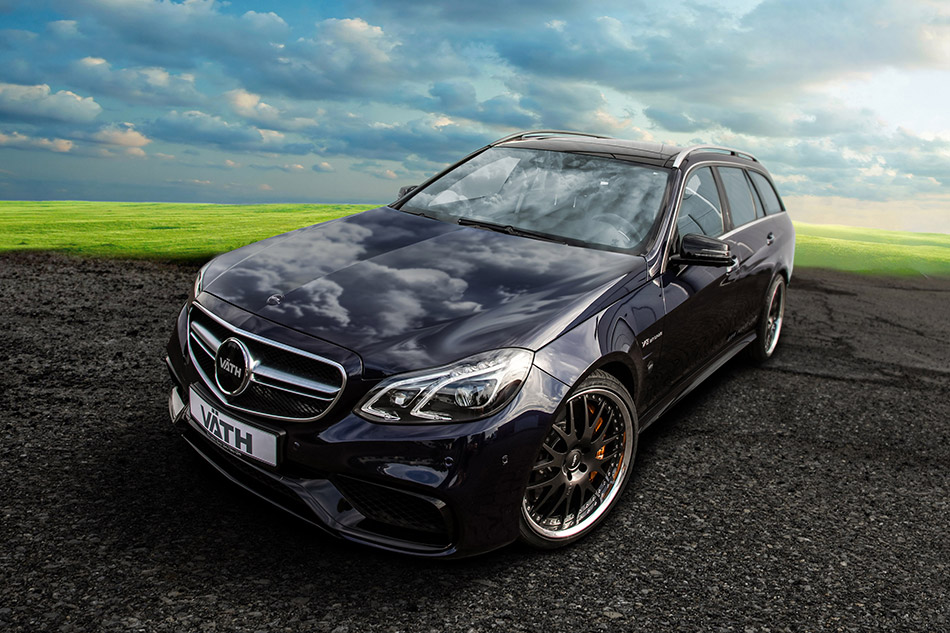 After – of course optional – lowering by 20...40 mm using corresponding springs with coilovers on the front axle and electronic adaption of the rear axle for 1,166.20 Euro (plus 297.50 Euro for mounting including axle alignment) and considering the output volume, the time has come at least now to think about a suitable reinforcement of the serial ceramics braking system. VAETH suggest to take a set of racing braking pads and Castrol SRF racing brake fluid including flexible steel brake tubes.
 
Since chilled fuel is of higher density, its efficiency is being sensibly higher. The consequence of the considerably improved combustion are excellent exhaust values, less fuel consumption, lower combustion chamber temperature and more of power in the end. VAETH offers a fuel chiller for 1,773.10 Euro plus 416.50 Euro for mounting and air condition service.
 
It is now high time to talk about the absolutely optimal junction between car and road: the wheel-tire-combination. The VAETH team has installed three part forged rims with tinted in titan stars, in 9.0 x 20 in. on the front axle with tires 265/30ZR20 (1,542.24 Euro) and in 11.0 x 20 in. on the rear axle with tires 305/25ZR20 (1,832.60 Euro).
 
In order to improve aerodynamics, for lowering the lift and last not least for a more sportive and noble outfint a front spoiler made of high quality sight carbon has been installed, for which VAETH demands 1,416.10 Euro. To be added still another 238.00 Euro for mounting and MOT-certificate, each. Against upcharge, VAETH offers a rear diffusor for the E 63 S model tail end, also made of sight carbon, with fins and underbody extension for 2,011.10 Euro plus 178.50 Euro for mounting.
 
The interior parts, such as air conditioner frame, ashtray cover in front, central cover panel, controller frame, door frames left and right, fan frame left and central decoration cover panel are ennobled in classic black carbon in exchange against the original parts. For this VAETH demands 3,927.00 Euro plus 238.00 Euro for mounting. Highest precision in manufacturing and perfect fit are prime principle in case of handmade in Germany products. Colored oder even multicolor carbon imply extra charge. The sports steering wheel in leather/leather costs 1,297.10 Euro, on demand available also with carbon or fine wood applications. At the end we should talk about the speedometer extension up to 360 kmph/220 mph (for 1,535.10 Euro plus 119.00 Euro for mounting).
Source: VATH
Gallery:
Vath Mercedes-Benz V63 RS Export (2014)