This is our latest work of art – BMW Bullshark. The name of the project comes from the English name for the species Bull shark. Our goal was to bring back part of the forms of the sea predator, which are typical for the older models and to weave them harmoniously with the future in the way we see it.
We have succeeded to create the design and afterwards to realize it in one year. We have also created the project with the idea to change the 6 Series by following its lines. From this vehicle, which is a generation of BMW 6 Series before the last one, we have kept only the roof and the doors unchanged.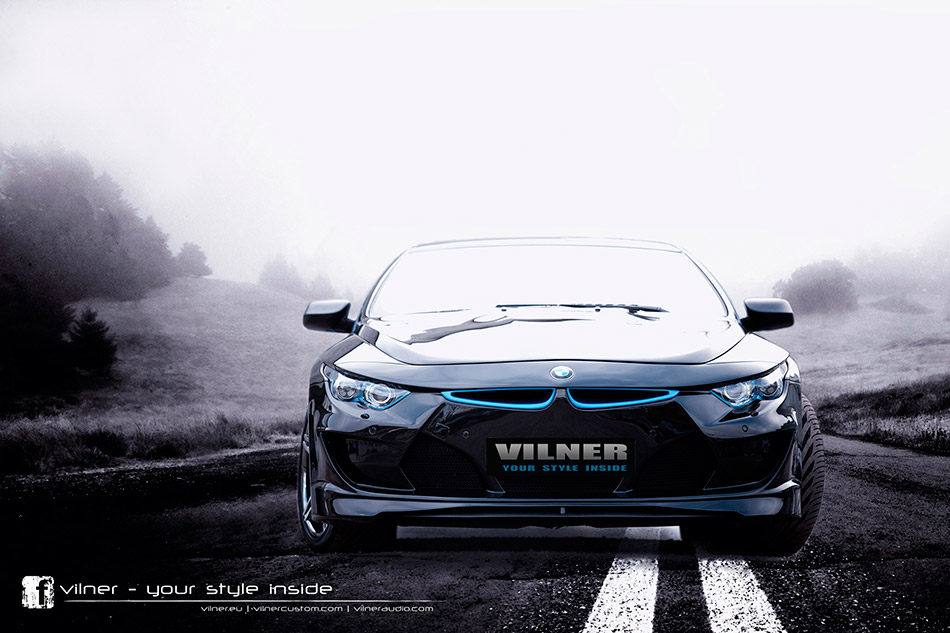 In order to create the details we have used composite materials, and this is how they now have a completely new design and in addition are lighter when compared to the production ones. We have utilized blue accents in the interior and exterior, combined it with brown, and from the interior we have transferred the same design language again onto the exterior.
Outside as well as inside, the blue accents are very fine. In the coupe they are present almost everywhere in the form of decorative stitching – on the seats, sun shields, rearview mirror, the upholstery on the doors as well as on the seat belts and floor mats.
On the outside – on the mirrors, strips next to the side windows, "kidneys", exhaust caps and the lights "taken" from Infiniti FX. Carbon fibers are the natural solution for the bumpers, door-sills, rearview mirrors and the spoiler above the rear window.
Additionally we have inserted LEDs in the lights. The tail-lights are taken from the facelifted E63, while the indicators are a slight reference to Z4. In the silhouette of the Bullshark is unobtrusively implied the presence of the shark.
The interior: The seats have been completely replaced with sport ones from the M Series of the same model. The steering wheel is individualized and also includes a change in the form. We have shortened the gearshift lever and have created a new brown dials with blue rings for the mileage-meters. Leather and Alcantara are wrapping even the rearview mirror, the seat's housing, dashboard, doors, side panels to the rear seat, trunk.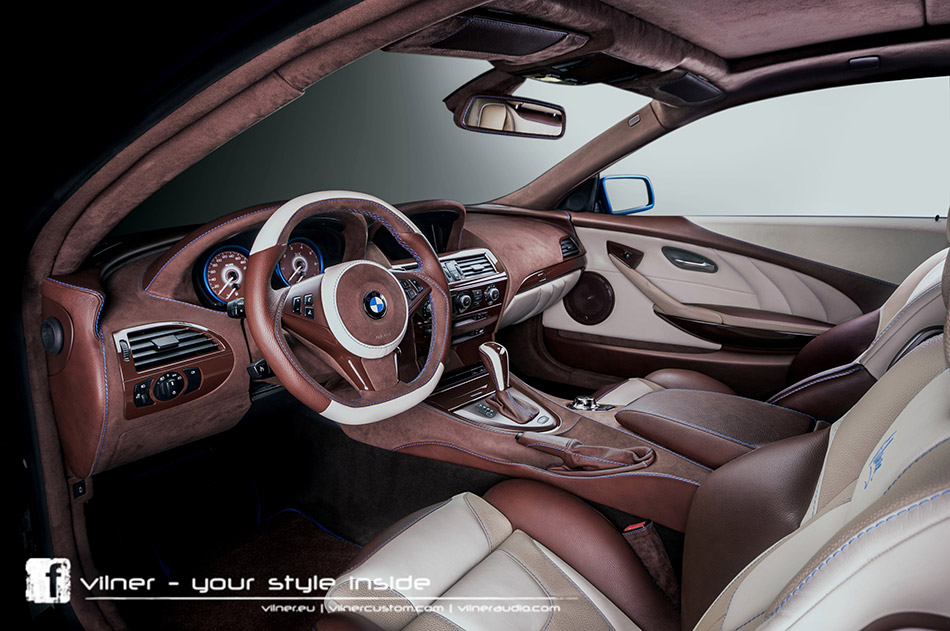 The project wouldn't be completely finished without a High-End sound. We have mounted 2-band systems with Ground Zero speakers at the front and rear, and for the optimal precision of the sound control takes care the Audison processor. The coupe is entirely noise-insulated.
Power tuning: chiptuning, generation AC Schnitzer; max. power ca. 370 hp; max. torque 522 Nm at 3420 rev / min
Wheels: Z Performance, 8,5 x19 front, rear 9.5 x19
As a final touch we have created for the client an individual traveling bag made in the same style and materials as the car.
Source: Vilner
Gallery:
Vilner BMW Bullshark (2013)