The Hoesbach VAETH company with its sections car and engine techniques is well known either for car tuning in all its facets and for reconstruction of Mercedes-Benz classic cars. Worldwide numerous examples for automobile art and feats in engine techniques can be admired.
 
The mentioned V18 tuning kit has been applied to a silver colored C 180 CGI T-model with more than 156 serial HP (= 115 kW) with the result that now the 1,595 cm³ of engine size release 192 HP (= 141 kW) with 300 Nm of max. torque at 2,800 rpm, which means max. speed of 230 kmph (140 mph). For the V18 tuning kit VAETH demands 1,249.50 € plus 238.00 € for mounting.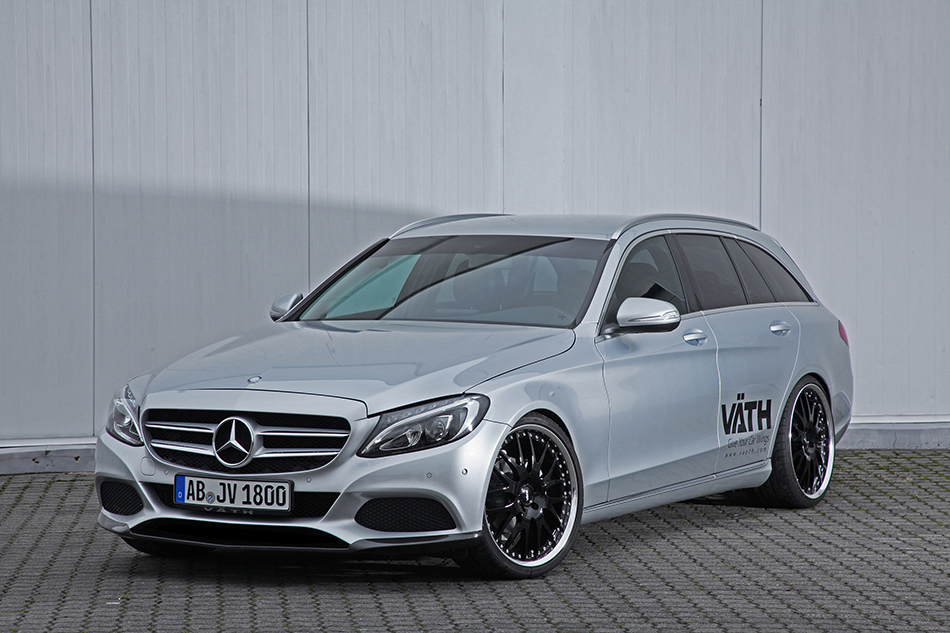 The sports exhaust consists of the components down pipe system (271 EVO) with 200 trimetal stainless steel cells cat warranting for 5 to 8 % more of power and a two flood stainless steel axle back exhaust system with two oval end pipes 115 x 85 mm each right and left, end pipe edges and Vehicle type approval. For both components VAETH demand 2,011.10 € each and twice 297.50 € for mounting.
 
A lowering set for 345,10 € lets the VAETH team give the C-class a sportive look, nevertheless being comfortable and safe, 30 mm nearer to asphalt. Mounting including axle alignment demand another 434.35 €.
 
Three part forged VAETH rims with titan colored star (available also in silver or car color) join car and road. The four forged rims cost 6,111.84 € incl. VAT: Dimensions 8.5 x 20 inches in front (1,485.12 € incl. VAT each) and 10 x 20.0 inches in the rear (1,570.80 € VAT included), optionally narrower, of course.
 
A made of high-class sight carbon front spoiler for 1,416.10 € plus 178.50 € for mounting warrant for better aerodynamics, less uplift and last but not least for noble and sportive optics. They also made of sight carbon rear diffuser with fins is identical in price for sedan (vehicles with Avantgarde exterior only) and T-model costing 1,654.10 € plus 238.00 € for mounting. For perfectionists VAETH offers aluminum pedals set for the interior of automatics and a set of wear resistant black velours footmats with the company's silver logotype.
Source: VATH
Gallery:
VATH Mercedes-Benz C-Class V18 (2015)