As a rule, the automobiles of Mercedes-Benz brand from Daimler AG have the reputation of being of the highest level both technically and qualitatively. On the other hand, there are countless examples, which show that even these vehicles still have an optimization potential, which cannot be underestimated. Many of these aforementioned examples originate from the pen of globally operating Tuners VÄTH Automobiltechnik in Bavarian Hösbach, whose motto is "Give wings to your car".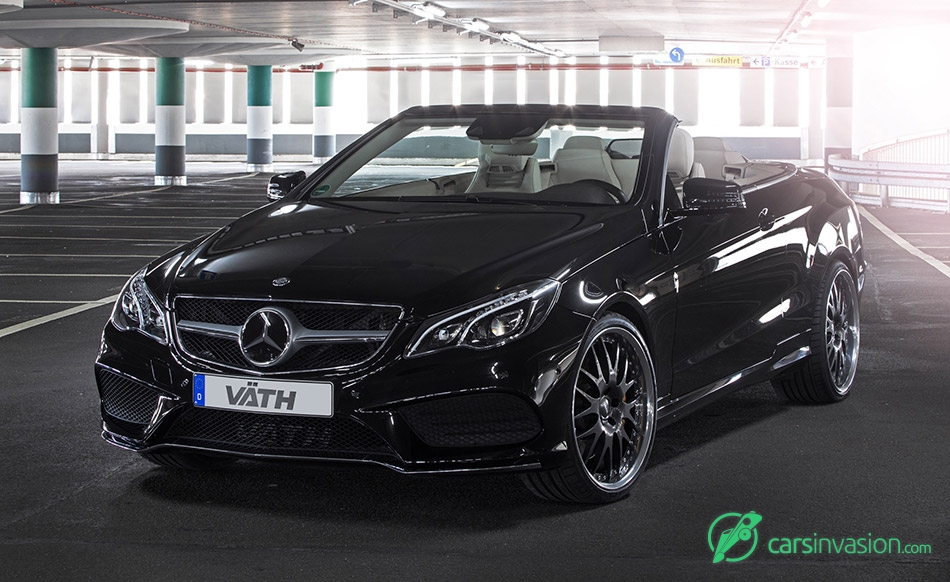 No other than black E 500 Cabrio (W207) had to "serve" this time. V50RS tuning-kit makes available individual fine-tuning of engine electronics with (with appropriate tire approval!) Vmax-increase to 300 km/h, in-house charge-air cooling system and comprising VÄTH-rear silencer system – enables V8-engine, instead of standard values now 550 hp (= 404 kW) as well as 830 Nm max. torque from 2.100 U/min. This should cost about 10,591 euro. In this context, it should also be mentioned that chip tuning is possible from 1,890 euro or – for small motorized models – from only 1.250 euro.
If you want to have a rear silencer system made of VA-stainless steel with flap control system and two oval tailpipes in 115 x 85 mm on both sides as well as flanged edge tailpipes, then we can help you for 4,629.10 euro. VÄTH has also installed a rear diffuser of carbon with fins and larger underbody for 2,011.10 euro. The lowering by 30 mm is carried out by set of springs for the price of 618.80 euro. Super-class braking system should go without saying for this balance of power: VA 6-piston brake callipers with high-efficiency coating, which bite into potted 390-mm-brake discs and brake fluid Castrol SFR flows into the steel braided-brake lines (Warning: this braking system requires minimum 19-inch rims with corresponding H-level at the VA). This maximum braking power is offered at 5,355 euro.
The connection between car and road is taken over by rims E 500 in 8.5x20 with tyres in 235/30R20 in front or in 10x20 with 275/25R20 at the back optimally adapted by VÄTH. Then it is necessary to mention trunk lip spoiler of carbon fibre (1,761.20 euro) as well various accessories, including carbon interior, sports steering wheel and aluminium pedals.
Source: Vath
Gallery:
Vath Mercedes-Benz E500 Cabrio (2015)