In the first quarter of this year Volkswagen will be adding the Touran to its model programme. This compact van was shown to the public for the first time today in Wolfsburg. With its full safety, comfort and convenience equipment specification, which includes six airbags, active front-seat head restraints, ESP, a Brake Assistant and a radio with CD player, the versatile world of the Touran starts at the attractive price of 19.950 Euro for the Touran 1.6 with 75 kW (102 bhp) engine, which can be ordered from May onwards.
The production model adopted in the new factory in Wolfsburg is also highly progressive. 'Auto 5000 GmbH', as it is called, has created 3,500 new jobs. The new employees receive expert training and are integrated into an innovative production, sales, marketing, logistics and quality assurance concept - measures that will give a considerable boost to Volkswagen AG's ability to compete. The new Touran production facility and the associated production model can be regarded as a prime example of how to ensure job security in Germany. Volkswagen's new production company, Auto 5000 GmbH, demonstrate that vehicles can still be built competitively to top quality standards at locations within Germany.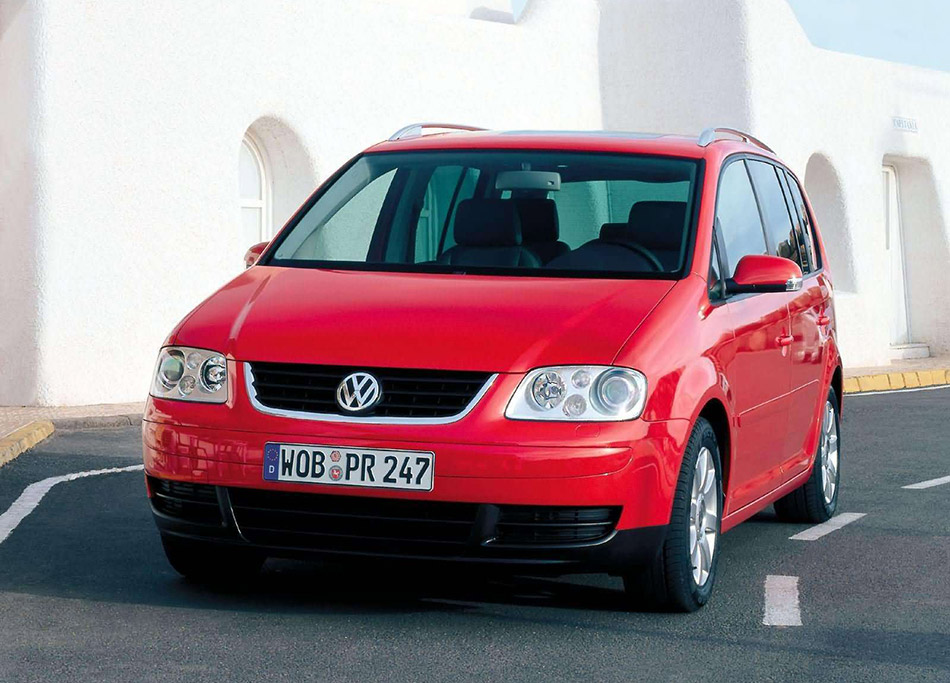 The Touran is being launched with a choice of one FSI engine and two TDI engines. The Touran 1.6 FSI (85 kW/115 bhp) will sell at a basic list price of 21,100 Euro. The TDI models are listed at 21,800 Euro (Touran 1.9 TDI, 74 kW/100 bhp) and 24,350 Euro (Touran 2.0 TDI Trendline, 100 kW/136 bhp). The two-litre turbocharged direct injection diesel is an entirely new development with four valves per cylinder. All these engines comply with the EU 4 exhaust emission limits and thus qualify for a tax concession on their German home market.
A unique feature in this market segment is that the FSI and TDI models have a six-speed gearbox. At a later date, the TDI-engined versions will be available with an innovative direct shift gearbox (DSG), also with six forward ratios. This new unit combines the advantages of an automatic transmission with the agility and economy of a conventional manual-shift gearbox. The FSI engine can also be combined with a new six-speed automatic transmission designed with the emphasis on refinement. Apart from the New Beetle Cabriolet, the Touran is the only car in the world to be equipped with a transversely mounted six-speed automatic transmission.
The body, interior, running gear and many aspects of the powertrain have been newly developed for use in the Touran, which has five or, as an optional extra, seven seats. Among the most impressive features of this well-planned van concept are the adaptable interior layout and the exceptional amount of space provided. The interior has up to 39 different shelves, bins and storage compartments; its practicability and safety will prove ideal for owners who attach great importance to mobility. The Touran will satisfy the demand for a highly versatile family, leisure or business transport.
The exceptional agility and safety for which this new Volkswagen model is noted in all driving situations is also due to its newly developed running gear, with McPherson front suspension and innovative four-link rear suspension. The new running gear ensures the highest possible standards of dynamic stability and ride quality. For the first time on a Volkswagen model in this segment, there is electro-mechanical power steering. Compared with conventional power steering systems, this uses less energy and therefore improves fuel economy; the degree of power assistance is dependent on road speed, and the system can be matched more easily to the characteristics of the car to which it is fitted.
The Touran's body, laser-welded and exceptionally rigid, offers a high level of passive safety. With front airbags and front side and head-level airbags as well as active head restraints on both front seats, the Touran has a comprehensive occupant protection system. Lap-and-shoulder seat belts are standard at all seven seats. Disc brakes (with ventilated discs at the front are fitted all round, and ESP with Brake Assistant and ABS are also standard features that guarantee high active safety.
A third row of passenger seats can be installed in the Touran as an optional extra. The two seats in the third row are capable of accommodating adult passengers, and can easily be folded away separately into the floor of the interior when not needed. The highly efficient load area can be varied in size according to the number of seats in use: in the classic five-seat configuration it holds up to 695 litres, but this figure can be increased to as much as 1,989 litres if the rear seats are removed. The maximum payload is more than 660 kilograms.
Source: Volkswagen
Gallery:
Volkswagen Touran (2003)