Today, Volkswagen unveils the latest Beetle Convertible, the third-generation of the iconic VW ragtop. Like its predecessors-the type 15 from 1949 and the 2003 New Beetle Convertible-the curvaceous convertible offers the perfect combination
of practicality and fun for four.
In creating the latest version of the Beetle Convertible, Volkswagen has reinterpreted the Beetle Convertible's timeless design with a sportier and more dynamic silhouette, just as it did with the latest Beetle coupe. The combination of a flatter roofline and a more upright windshield gives the car a shape that's more closely aligned with the first generation of Beetle convertibles.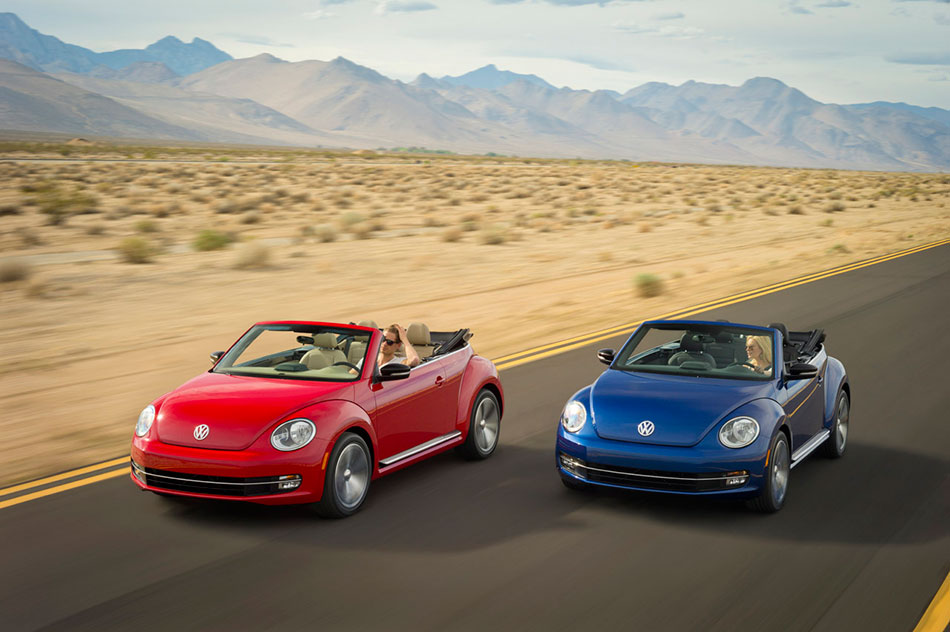 Volkswagen decided to stick with a traditional soft-top rather than incorporate a folding hardtop on the car. When the top is down, it lies flat, giving good rear visibility. Although the top looks compact when furled, it's actually wide and long when in place, an action that takes a little over 10 seconds at the touch of a button.
Inside, the Beetle Convertible retains the design cues that have made the latest Beetle such a hit with consumers, such as the body-color dashboard and the stylish gauges and trim. The spacious cabin has space for four full-size adults and is able to carry plenty of luggage: a
fold-down split rear bench seat increases the practicality even further.
In any Volkswagen, safety is paramount and to that end, the company has developed an Automatic Rollover Support System. Two roll-over bars are concealed behind the back of the rear bench seat, activated by the computer that deploys the airbags in the case of a crash.
Along with the fixed A-pillars, they provide effective protection for the occupants of all four seats within milliseconds. Driver and front passenger combined head-thorax airbags are also among the standard equipment.
The new Beetle Convertible will be available in the United States with three engine options. The entry-level powerplant is the familiar 2.5-liter five-cylinder engine that makes 170 horsepower and 177 pound-feet of torque, mated to a six-speed automatic transmission. Volkswagen's fuel-efficient 2.0-liter TDI® Clean Diesel four-cylinder engine makes 140 hp and 236 lb-ft, but just as importantly delivers an EPA estimated fuel economy figure of 41 mpg on the highway with the six-speed manual transmission. (A six-speed DSG® dual-clutch automatic is also available with this engine.) Finally, the 2.0-liter turbocharged TSI® four-cylinder, which makes 200 hp and 207 lb-ft, can be ordered with either a six-speed manual or DSG automatic.
Beetle Convertible pricing for the U.S. will be announced closer to launch, which occurs in the last quarter of 2012.
Source: Volkswagen
Gallery:
Volkswagen Beetle Convertible (2013)