The idea
Multivan Alltrack – the name speaks for itself. A vehicle for all roads and any track. And above all: a Multivan. Its flexibility is legendary. Its numerous features ensure that every conceivable task and any associated luggage can be handled with ease, making it suitable for even the most demanding of transportation tasks. The design of Volkswagen Commercial Vehicles' Multivan Alltrack differs significantly from other models in its segment; its high-gloss 19" wheels, precise details to its exterior body – finished in 'Moonstone Mother of Pear' paint – and its sophisticated interior really set the Multivan Alltrack apart.
Well equipped
The robust front and rear bumpers, offset in grey and with integrated underbody protection in matt silver, contrast with the discrete, elegant exterior, as do the wheel arches, protective side strips and boot sill protector. This apparent contradiction is intentional - a metaphor for the two worlds of the Multivan Alltrack: turning in a first-class performance both on and off the road. This concept has also been consistently transferred into the vehicles' interior cabin. It features high quality, durable materials with great functionality and the rugged charm of a widely travelled globetrotter: Finely stitched grey-blue Poltrona Frau seats, upholstered in the finest natural leather form a contrast to the dark brown genuine wood boat floor, which is produced using Vinterio technology. The hand-width decorative trim beneath the window's edge which is framed in aluminium is also made of this porous material. This trim strip runs at hand-rail height along both sides of the vehicle leading into the cockpit, forming a visual link with the central, easy-to-see infotainment system. Its functions are accessed via an eight-inch touchscreen. Supplying the desired sound quality is a Dynaudio Surround Sound System.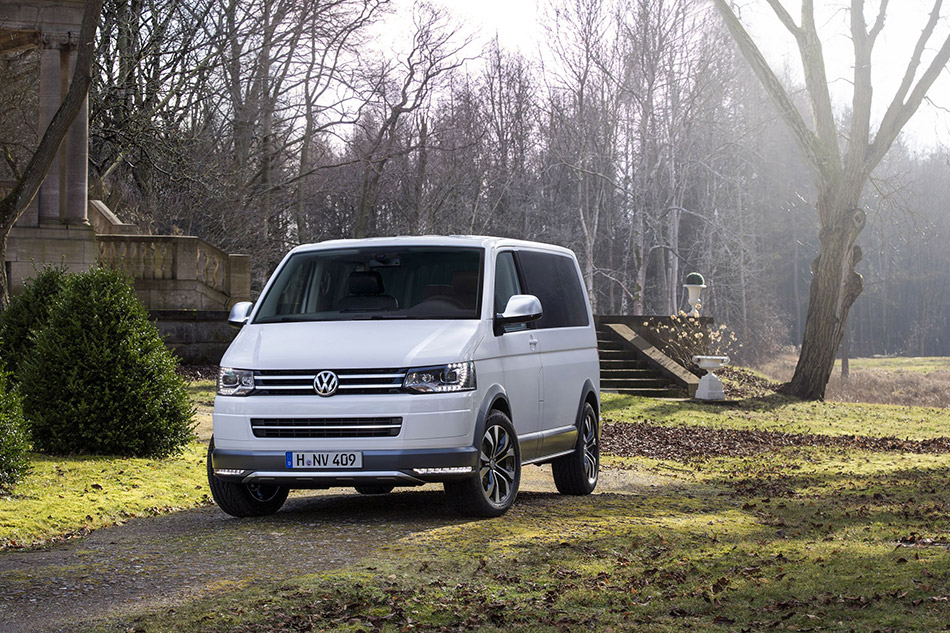 A floor track system contributes to the tremendous versatility in the use of interior space. In addition to serving as a base for movable individual seats, it can also be used to securely mount a mobile kitchen module, which can be positioned either on the left side of the vehicle or behind the front seats – perpendicular to the direction of driving. Along with a cooling box, the module – which is easy to install or modify – also provides a gas cooker and sink with a fresh water tank. It can be individually removed for use outside of the vehicle or the entire module can be stowed in a garage, should it not be required on a specific journey.
At home off the beaten track. Of course, the Multivan naturally has more than just a striking appearance. The drivetrain gets its power from a 2.0 TDI (132 kW/180 PS) engine which is transferred to a Haldex multi-plate coupling mounted to the rear axle. It has an approach angle of 21° and a departure angle of 15°. Together with its solid 19" alloy wheels it is ready to tackle the most challenging of tasks.
Built to last
Volkswagen Commercial Vehicles is underlining the enormous potential of this classic vehicle. Built in the state capital of Lower Saxony, the founder of this market segment continues to be the vehicle by which all others in the class are measured. The combination of reliable quality, efficiency, flexibility and class-leading appeal stands for everything that customers value about their Volkswagen MPV.
This concept vehicle also emphasises Volkswagen Commercial Vehicles' all-wheel drive expertise which began 29 years ago with the T3 Transporter - both as a minibus and a van. For the last five years, the Caddy 4MOTION has been peerless in its market segment. Since 2010, the Amarok pick-up has also set new benchmarks in its class.
This has been in response to genuine customer demand: one in every five commercial vehicles sold by Volkswagen in Europe is ordered with all-wheel drive. No comparable manufacturer enjoys such popularity with this technology.
Source: Volkswagen
Gallery:
Volkswagen Multivan Alltrack (2014)