Flagship of the Volvo Cars fleet, the Volvo S80 T6 is big, mean and green, offering abundant cabin space and luxury, 272 hp, fierce performance, nimble handling and advanced low-emission engine technology. And all packaged in a car that has achieved excellent results in both European and American crash tests. The heart of the Volvo S80 T6 driving experience is the smooth, powerful inline six-cylinder, twin-turbo 2.9 liter, transversely mounted petrol engine. Delivering maximum torque (380 Nm) from just 1,800 revs, it then continues to pull powerfully throughout the rev range, catapulting the Volvo S80 T6 from 0-100 km/h (62 mph) in a breathless 7.2 seconds.
Add stiff chassis structure, well-tuned suspension, and world class safety engineering, and the Volvo S80 T6 suddenly turns cool Scandinavian design red hot – especially since for all its luxurious storming panache the Volvo S80 T6 also meets Volvo Car Corporation's non-negotiable environmental care commitments.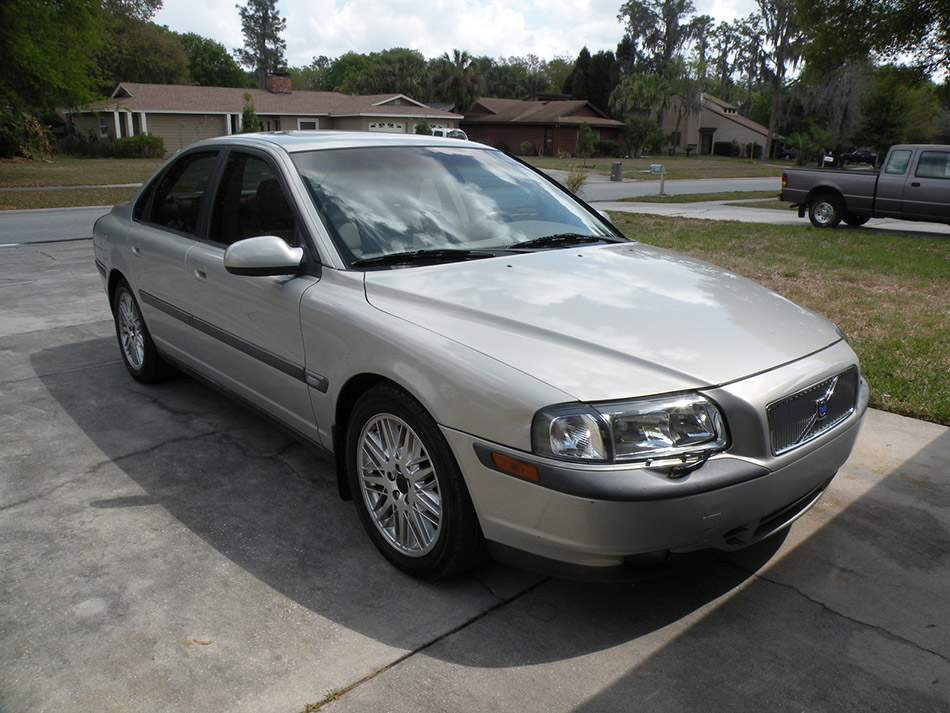 "What's really interesting about the Volvo S80 T6 is not just its exhilarating road performance and luxury, but the fact that the engine also delivers sophisticated pro-environment technology," says Niklas Gustavsson, Environmental Manager Volvo Car Corporation Governmental Affairs.
"The Volvo S80 T6's high efficiency petrol engine reduces fuel consumption and thereby also emissions of carbon dioxide. Volvo's advanced engine emission control technology actually eliminates 95-98 per cent of carbon monoxide, hydrocarbons and nitrogen oxides from the exhaust gases."
Volvo Car Corporation's engineers chose to site the Volvo S80 T6's catalytic converter directly beside the engine so it gives full exhaust conversion more rapidly after a cold start. The engine also features special PremAir® catalytic coating in the radiator that tests have shown converts up to 75 per cent of the ozone in the radiator cooling air into oxygen.
The Volvo S80 T6's designers and engineers have also created a healthy interior environment, using a cabin filter to stop dust, particles and pollens from gaining entry through the ventilation system.
Volvo's efficient Electronic Climate Control (ECC) can be supplemented with an interior air quality system that monitors incoming air, ensuring the carbon monoxide level does not rise too high inside the cabin when driving along congested city streets, stuck in traffic or in tunnels. Not only does the system shield occupants from unpleasant odors, it also filters gases such as nitrogen oxide, ground-level ozone and hydrocarbons from incoming air.
As one of the fastest, most powerful cars in the Volvo range, the Volvo S80 T6 certainly lives up to Volvo Car Corporation's stated mission 'to create the safest and most exciting car experience for modern families'. Safety is paramount with side airbags for front passengers, head air-curtains for front and rear passengers, side-impact protection systems, pre-tensioner seat-belts, whiplash-reducing headrests and ISO-FIX child seat attachment points.
Scoring excellent results in both the coveted European Euro N-CAP and American US N-CAP crash tests, the Volvo S80 T6 offers drivers ABS and stability and traction control to enhance stability and automatically help counteract skids. A Geartronic transmission, combining a 4-speed automatic with a manual alternative, adds to the motoring experience. An optional Active Chassis with Four-C Technology can be switched between 'Comfort' and 'Sport' modes to provide exceptional ride comfort and handling in response to changing driving conditions.
What else can an owner of the Volvo S80 T6 expect apart from exhilarating performance, hugely comfortable, refined handling, one of the world's most effective safety systems, and low emissions? The list is gratifyingly long, but includes cruise control, dual electronic climate control, multi-disc CD player and one of the most advanced audio systems in its class.
Source: Volvo