As just the first copies of the new Huracan LP 610-4 left the hallowed halls in Sant'Agata Bolognese, german cartuner Wheelsandmore developed a stunning and powerful upgrade package.
The modified wheels are noted at first because Wheelsandmore applied their new wheel model F.I.W.E. and converted the Huracan into a racing car with central locking optics colored as wll as the applied outlines .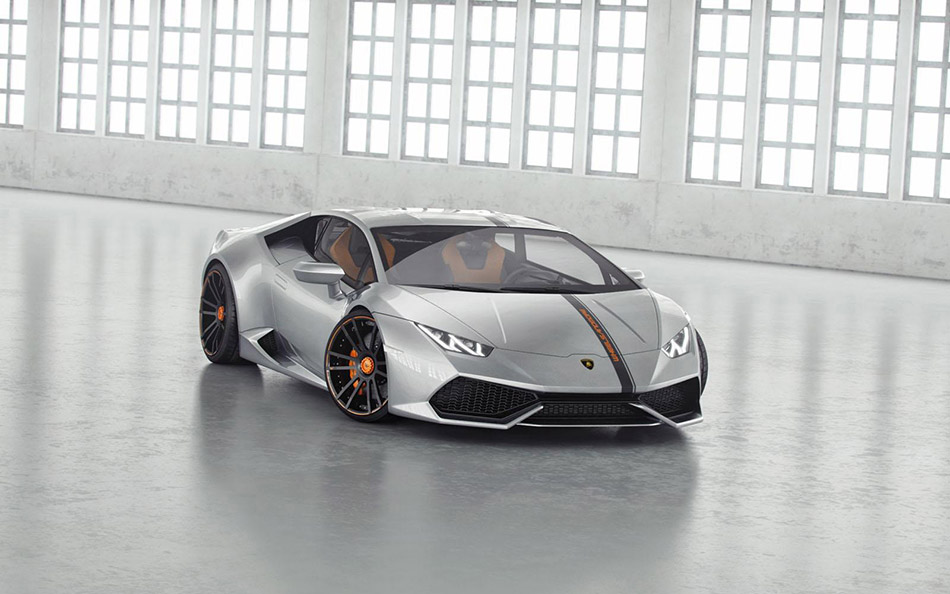 The multi-piece concave forged wheels for the Huracan were taylored sizing 9.5 x20 inches on the steering axle for stock tires size 245/30/20 and on the guide axis in 11.5 x21 inches for much flatter 305/25/21 tires. The modular three-piece construction allows an individual customizing according to customer´s specifications. Means that the center, the outer rim, the central locking and even the small connecting screws of the wheels can be finished in color and surface up to infinite combinations.
For those who aren´t satisfied with the factory offered 610 hp and 560 nm of torque, Wheelsandmore has developed 3 different power upgrades. With stage 1 the noble tuner combines a hand-made stainless steel exhaust system with digitally program-able , wireless remote controlled flap control with customized software and carbon-frame air filters and elicits the V10 aggregate 30 horsepower and 40 Nm additional torque. In the second stage the luxury refiner implanted the V10 engine a compressor kit with reinforced clutch and a differential lock.
If the solvent customer is bored with these 777 hp and 700 Nm, Wheelsandmore offers also a third and final tuning stage 3 on brute 850 hp and 730nm! Currently, there is a hydraulically adjustable racing suspension with adjustable train and compression damping in the development and will timely integrated into the Wheelsandmore portfolio for the latest throw of the Italian sports car manufacturer.
Source: Wheelsandmore
Gallery:
Wheelsandmore Lamborghini LP850-4 Huracan Lucifero (2014)