From the beginning of March 2020, the VW T6.1 will have a new top athlete in its ranks: Thanks to the ABT Power Performance Upgrade*, the most powerful standard engine bulks up from 199 hp (146 kW) and 450 Nm to 226 hp (166 kW) and 490 Nm. Of course, a 'Super Bulli' also needs a suitable outfit. The world's largest tuner of VW and Audi vehicles has therefore developed the ABT Aero Package. The main material is PU rim, which is also used in the original equipment sector. The following components can be supplied individually or as a set from ABT Sportsline: Front skirt add-on, front grille add-on, side skirts for both long and short wheelbases, rear skirt set with four glossy black end pipes and rear wing.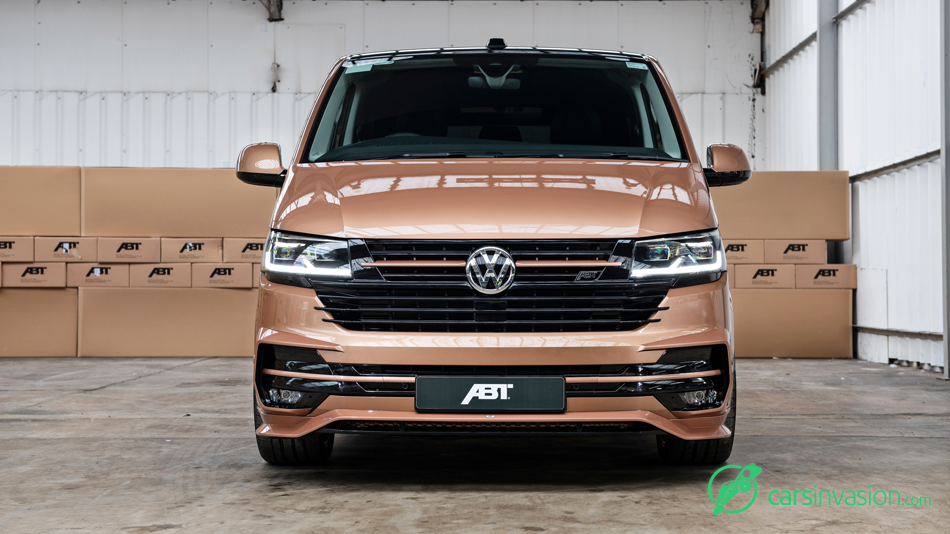 The ABT Aero Package is of course not exclusive to the top diesel model but is also compatible with the smaller engine variants. In addition, for the mid-sized 2.0 TDI, there is also a performance upgrade based on the high-tech control unit ABT Engine Control(AEC). This boosts the engine from 150 hp (110 kW) and 340 Nm to 180 hp (132 kW) and 400 Nm.
The BILSTEIN Height Adjustable Suspension Kit enhances driving pleasure even further and emphasizes the sporty look. Both front and rear can be lowered between 40 and 70 mm. As an alternative, ABT Sportsline is also currently developing special suspension springs, which will be available soon.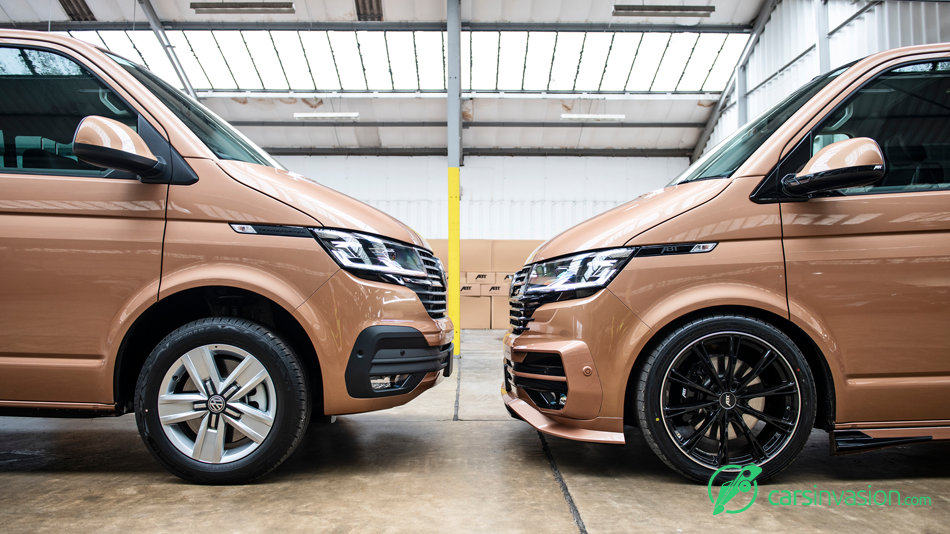 With or without aero package, attractive alloy wheels are of course a matter of pride for the new Bulli. Here, customers at ABT Sportslinecan choose between the DR in 8.5 x 19 inches – mystic black – or the GR in 9.0 x 20 inches. The latter can be ordered either in matt black with a diamond machined finish or glossy black with diamond machined rim flange. For a full and continually updated overview of all available products, go to the ABT Configurator.
*The engine performance data is in accordance with the stipulations of EWG/80/1269. The process and dynamometer manufacturer have been certified and authorized by the vehicle manufacturer.
Gallery:
ABT VW T6.1 Aero Package (2020)