It is sportsmen's desire to get ever better and to aspire to new heights. Premium tuner LARTE Design has therefore turned the RANGE ROVER SPORT into a WINNER. This SUV, first presented at the Essen Motor Show 2014, combines an exceptionally talented basis car with an exciting tuning kit.
A real champion will rise to any challenge, which is why LARTE Design gave the WINNER a very aggressive and dynamic face. The uniquely designed front guard is a real factor here and characterized by three trapezoid frames. Acute observers will make out fine blue demarcation lines, which can also be found at other places and lend this design package an artistic air and character.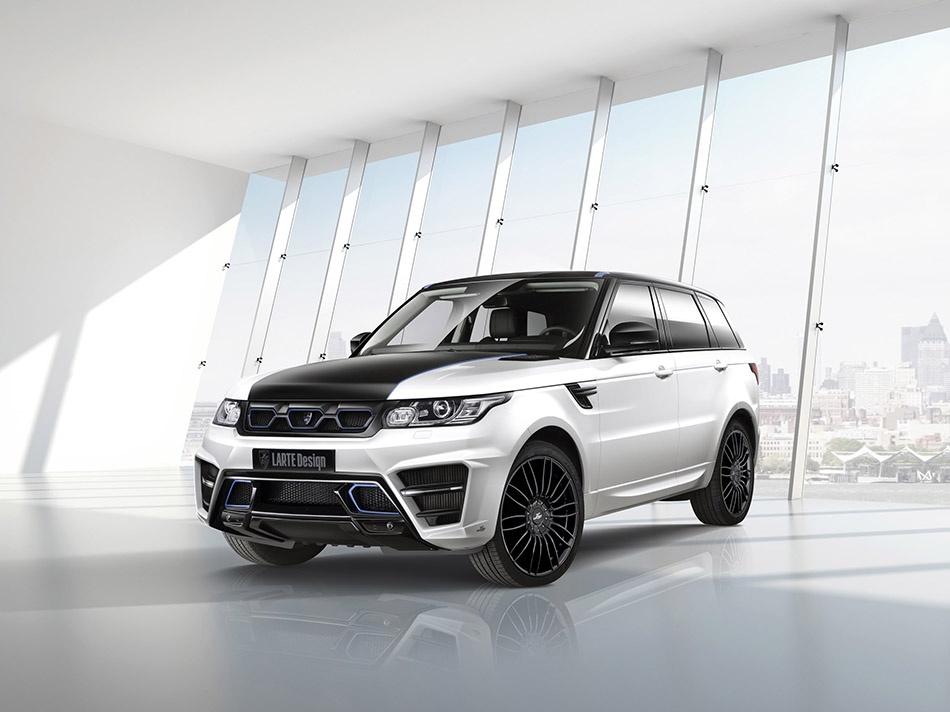 The front apron is the icing on the martial and assertive design cake. Various polygons, air inlets and lightsteps make the bumper appear almost as if it consisted of muscles or bones, covered by plastic. The central part, standing out from the white sides in black, with its large air grids visually breaks up the front's monolithic appearance and thus contributes some extra dynamism and sportiness. Another interesting stylistic element are the LED daytime running lights by the German supplier Nolden, hidden in the upper spoiler fins.
From the front, the eye wanders along the black "sport band", which extends the roof and connects it with the rear. Here, the RANGE ROVER SPORT WINNER reveals its elegant aspect. Fine, horizontal lines in a contrasting dark shade make for the air of a sporty yacht and lend the rear part extra mass and width. Small spoiler fins and fine air inlets loosen up the design. The necessary dynamism is provided by boomerang-shaped grids on the sides, stretching into the wings. Some extra excitement is made for by the black lower part, characterized by irregular polygons. This is also the home of the four-pass Remus exhaust system, which with its black-chrome-plated tail pipes looks extremely bold. And finally there is the central LED brake light, which is now becoming a hallmark of large LARTE SUVs. It goes without saying that the internationally renowned tuning company also provides the right glossy black alloy wheels.
Source: LARTE Design
Gallery:
LARTE Design Range Rover Sport Winner (2014)