The BMW i8 is revolutionising its vehicle class as the first sports car to have the fuel consumption and emission values of a small car. Now thanks to AC Schnitzer, this revolution is being followed by another: the AC Schnitzer special equipment for the BMW i8 emphasises even more clearly the sporting performance and innovative design of the powerful, environmentally-friendly coupé.
Lowered by 25 mm at the front and 20 mm at the rear, the i8 by AC Schnitzer hugs the tarmac more closely than the standard vehicle and can therefore develop maximum efficiency and dynamics on the road.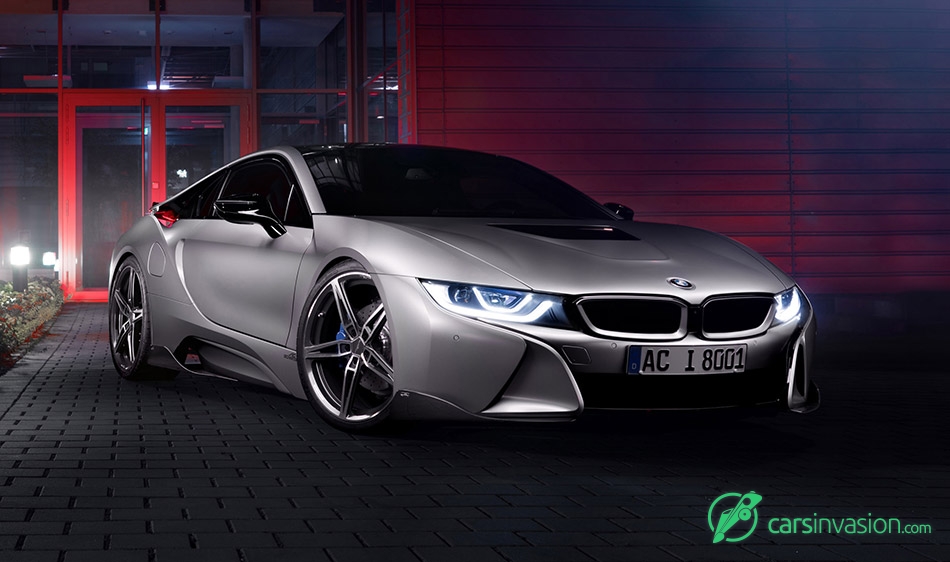 AC Schnitzer carbon front spoiler elements, carbon side skirts (left and right) and a carbon rear wing also ensure that the driving pleasure can be fully enjoyed on acceleration from both the powerful petrol engine and from the electric motor. The AC Schnitzer logos on the vehicle sides show that the Aachen-based BMW tuning professionals have been at work here.
The tuning specialists also have something up their sleeve for the wheelset of the BMW i8: the new AC1 forged alloys from AC Schnitzer are perfectly designed for the sports car, combining the hybrid look with a sporting design. With corresponding tyres and in BiColor, the new generation of wheels from Aachen perfectly suits the innovative plug-in hybrid from Munich - especially as it is available in any colour you want.
With the AC1 wheel, AC Schnitzer has reinterpreted the classic double-spoke design. With sophisticated style, the spokes form triangle tips towards the rim which widen into the wheel centre forming five trapezoids. These guide the eye straight to the single classic element of the AC1 rim: the 5-cornered hub cap with the AC Schnitzer logo.
The AC1 forged alloy rim saves around 30% weight compared with a conventional cast wheel, leading to a perceptible reduction in unsprung mass and centrifugal forces on the car, and significantly improving driving dynamics.
On the i8, the new AC1 wheels are fitted in 8.5J x 21" with 245/35 R 21 tyres on the front, and in 9.5J x 21" with 285/30 R 21 tyres on the rear.
In comparison with the BMW i8 "Turbine 625", the AC Schnitzer AC1 wheelset is 4.4 kg lighter. If we compare the weights of the complete wheelset, these are identical, although the tyres on the AC1 wheelset are 1 inch higher and significantly wider. Thus means improved transverse dynamics without a weight compromise.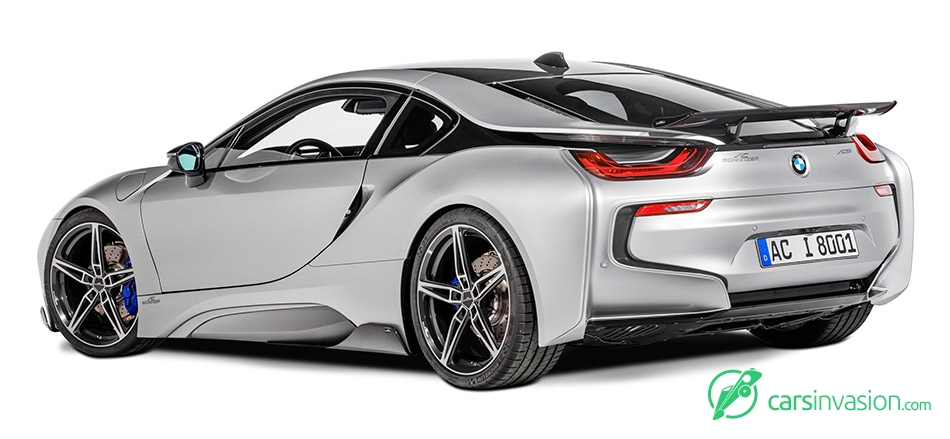 The theme of the suspension, wheelset and aerodynamic components continues into the interior: aluminium pedal set, aluminium root rest and velours floor mats all stress the lightweight nature of the interior design while retaining the car's sporty and sophisticated looks.
Emphasise strengths and refine innovations: the tuning package for the BMW i8 once again proves that the AC Schnitzer special accessories for BMW bring true refinement when it comes to transferring automotive revolutions to the road.
Source: AC Schnitzer
Gallery:
AC Schnitzer BMW i8 (2015)